Home (amp tone and effects placement)
---
ADA/Rocket Amplifiers - RA 10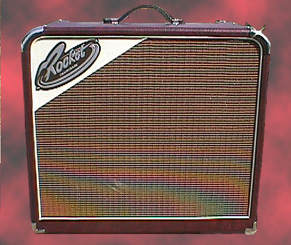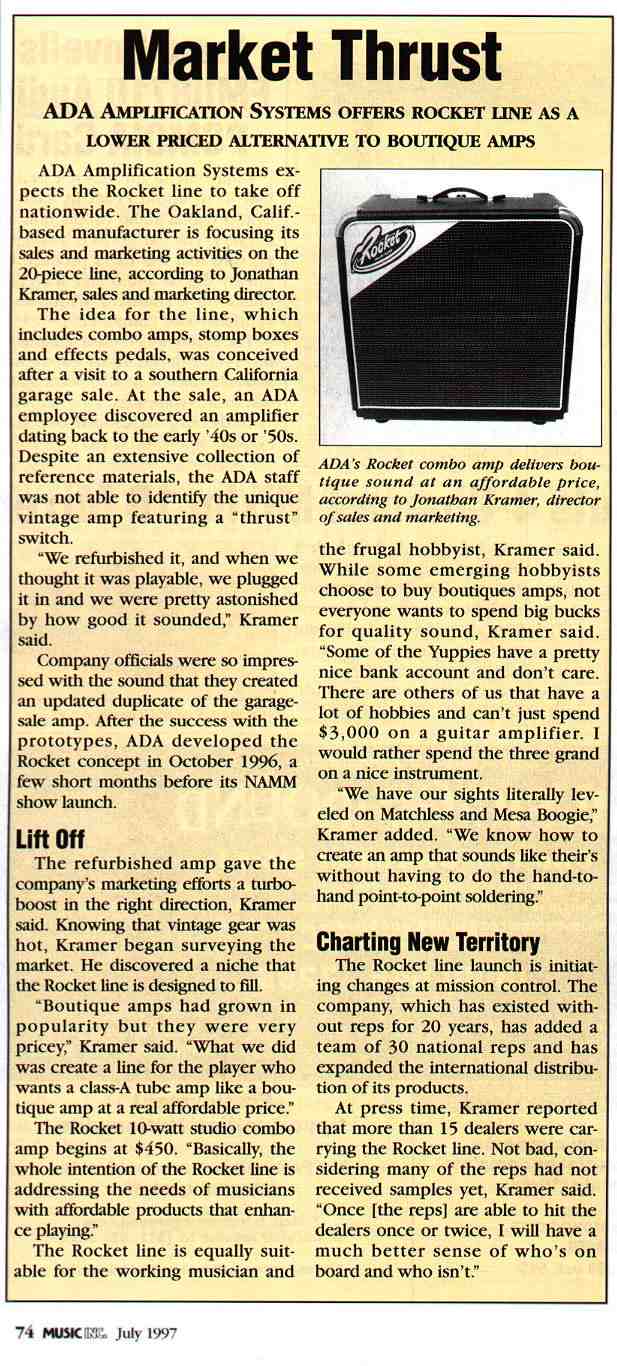 Rocket 10-watt tube amp. In production as of August 2000.
Speaker- 12" custom Eminence v30 clone
Output tube- Single class A el84
Preamp tube- Single 12ax7
Controls- Volume/Treble/Bass/Bright/Gain/Power amp thrust (negative feedback)
Power 10 Watts
Output transformer- oversized 100 watt push pull made by schumacher
Price $400 US - Shipping $25 in the continental US
Kit
Chassis
Output transformer-4.8k into 8 ohms 2.4k into 4 ohms 1.2k into 2 ohms
Power transformer-ac 360-0-360 and 6.3volt taps
Example schematic
Eylet boards - on rigid material $20 extra
Base kit (chassis and transformers) $90
Board parts for example circuit- $30 with 1/4 watt resistors (where appropriate) $40 with 1/2 watters- If you get this the base kit and the board you will only need to supply pots/knobs - tubes (1 6l6 1 12ax7) - switches - jacks - fuseholder and line cord.
"This kit has a chassis that is easy to house. It mounts Marshall style with 4 skb rack nuts. The transformers are most suited for a single 6l6 single 12ax7 amp - so that is the example schemo- but you are free to play around with it since there is no pc board- the turret board will be very versitile as well. Other ideas include using a 6x4 rectifier with the amp- and the most obvious thing- an outboard reverb platform. I am taking submissions from anyone wanting to come up with housing designs for me to offer or provide. I've even built one as a stereo 6bq5 amp for the house."

Harmony Central reviews of the kit

Harmony Central reviews of the 10-watt amp
---
Newsgroup postings about "rocket" AND "ada" 40+ hits
Amptone.com ultra gear-search page
---
Home (amp tone and effects placement)