Home (amp tone and effects placement)
---
Aiken GoldBrick Speaker Emulating Direct Box (cabinet simulation filter), $85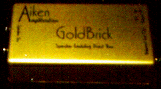 Official GoldBrick page - "The GoldBrick direct box acts as a microphone eliminator, allowing you to connect your guitar amplifier directly to a mixing console. It faithfully reproduces the tone of a miked speaker cabinet without the problems associated with the use of microphones. Connects directly in line between the output of the amplifier and the speakers. This is the only way to faithfully capture the real tone of a tube guitar amplifier. The guitar amplifier interacts with the speakers, which shapes the tone and provides a major portion of the "feel" of the amplifier. Standard preamp line outputs do not capture this interaction, it can only be obtained from the actual speaker signal."
Provides complete isolation - no signal leakage or noise from other sources
No phase cancellations from multiple-speaker enclosures
Consistent tone in every venue and studio
Quick setup - no need to worry about critical mic positioning.
Completely passive - no batteries to replace
Low impedance, transformer-balanced XLR output compatible with stage and studio mixers.
Silent recording possible using a speaker load box or attenuator
Use in conjunction with a microphone, panned to opposite sides for unique stereo recording depth and tone
Use in conjunction with an attenuator to be able to adjust stage volume up or down while FOH mix volume stays constant
Ground lift switch for ground-loop hum elimination
Highest quality components, including extra heavy .090" thick PC board with full ground plane, magnetically shielded inductors, precision resistors, and Switchcraft connectors
Price: $85 US, plus shipping, temporarily out of stock, awaiting new updates.
Specifications:
Input: Two 1/4" unbalanced phone jacks in a loop-through configuration for connection between amplifier and speakers
Input compatible with any amplifier up to 100W RMS
Input impedance: 10K ohms
XLR balanced, line-level output (Pin 1: ground, Pin 2: +, Pin 3: -)
Output impedance: 100 ohms
Switches: Ground lift switch: down grounded, up lifted for ground loop hum elimination
---
Amptone.com ultra gear-search page
Newsgroup posting query: aiken and brick
---
Home (amp tone and effects placement)