Home (amp tone and effects placement)
---
Alessandro - Plott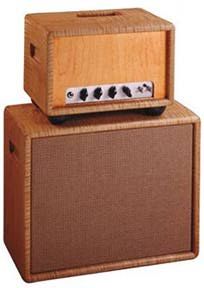 Class A amp for classic "English" sound and the early 50s "American" sound. It features a 2 x 6V6-based power amp, and a 2 x 6SL7 all-octal preamp. Pictured here in a custom flame-maple cabinet, with a matching 1x12 speaker cabinet.
As is the case with all Alessandro amplifiers, the hand-made cabinetry is available in a stunning array of woods, including oak, flame maple (shown here with a matching 1x12 cabinet), cherry, mahogany and walnut, to name a few, with an optional, custom-made, Reunion Blues heavy-duty padded gig bag.
Matching speaker cabinets in different configurations are also available.
---
Amptone.com ultra gear-search page
---
Home (amp tone and effects placement)