Home (amp tone and effects placement)
---
Alien Connections - ReValver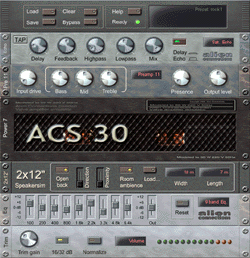 >Cakewalk new distributor of Alien Connections' ReValver - Stockholm, Sweden and Boston, US, Nov. 01, 2000 -- Twelve Tone Systems Inc, (the makers of software like "Cakewalk Pro Audio", "Guitar Studio" and "Guitar Tracks") are now distributing Alien Connections' guitar amp simulator, ReValver via electronic distribution. The agreement will cover a new eCommerce channel beginning Nov 1st 2000.
>"With this new distributor we wish to expand our market share of DirectX plugins", Michael Ljunggren of Alien Connections says. "Buying products online is the most efficient way of purchasing ever. Manufacturing costs are negligible and distribution is more about marketing than transportation. In Cakewalk we have found a marketing giant."
>ReValver is a guitar amplifier simulator, modeling many common amplifier sounds in modern music.
>Digital River is handling the electronic distribution
---
Research links
revalver

Click these custom links to find the latest information and discussion about this product.

user reviews for this manufacturer at Harmony Central - not found

product news for this manufacturer at Harmony Central - not found

search newsgroup postings at Deja.com
---
Amptone.com ultra gear-search page
---
Home (amp tone and effects placement)