Home (amp tone and effects placement)
---
The AX84 project: a low-power tube amp kit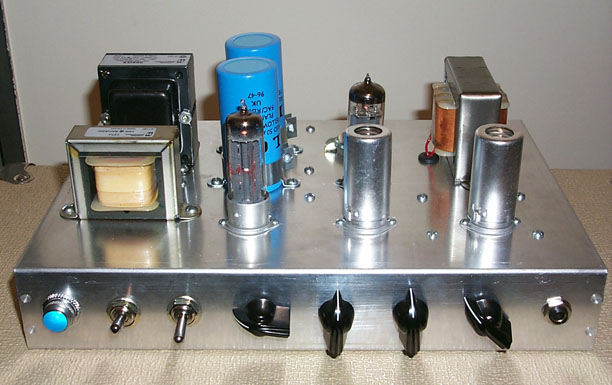 Dave Sorlien's build from http://www.ax84.com/gallery/davesorlien/dsax84front.jpg

DIY 5-watt tube amp for $160 - AX84 now offers prebuilt 5 watt tube amps for just $200. $160 for kit. I recommended adding a Line Out with dummy load and level pot, to be followed by eq, another power amp, and guitar speaker pushed to 1+ watt.

AX84 is a community and framework for collective amp-design activities, covering several amps and variations. The primary goal is to make information available to people who want to learn about and build tube amplifiers, and to foster an atmosphere of camaraderie between the experts and the newbies.

AX84 P1 Amp -- 5-watt mini amp that features a single 12AX7, an EL84, and an optional EZ81 tube rectifier. You can build it in the form of a head or a combo, but probably not a pedal, since it only features speaker out at this point, rather than a dummy load and cab-sim filter. A simple power-attenuator design is available as well, and applies to most any of our projects. The P1 is now ready for anyone to build.
High-Octane P1 Amp -- has an improved tone stack and an extra gain stage; the High-Octane prototype has been designed and built.

AX84 P1 Chameleon -- supports experimenting with various tube types.
AX84 November Amp -- 12-watt push-pull Plexi-type amp. It is intended to have reverb, tremolo, and direct outputs. The current version does not have these features yet, and is still evolving. Like the P1, the November can be made into a head or combo, depending on your plans. A lite version of the November will emerge shortly. Again, an attenuator is available now. The prototype has been designed and built.

Moonlight Amp -- 1-watt amp which can be built as a head or a combo. The prototype has been designed and built. My Moonlight Amp page

To find out more about the AX84 Project, please visit the official website at http://intsys.net/ax84. You will find the latest versions of all schematics and associated documentation along with discussions about these and other projects at the official website.

Here is my summary of the AX84 goals as described in the FAQ and introductory pages.
Design and build a simple tube guitar amp, with parts costing less than $200. Make the initial design as simple as possible, with an eye on expansion and variation. Anybody with basic electronics skills should be able to build the initial device, learning about its design along the way.
Sound - Warm clean, nice breakup for classic rock.
Promote an atmosphere of learning and camaraderie between folks who know and folks who want to know.
Make the design freely available.
Clarify the design decisions and make modifications easy, such as additional gain stages, different tone controls, or different output tube selection.
Provide a framework for other projects. Discuss the designs and apply them to future projects.
Pictures
The AX84 Website - includes pictures, sound files, and discussion forum.
Dave Sorlien's photo of his assembled AX84 amp, at the AX84 site (http://www.firebottle.net/ax84/gallery/davesorlien/dsax84front.jpg):
Possible applications of the AX84 Project
My version of this list is derived from the official FAQ.
Low-Volume Amplifier - All-Tube Guitar Amp with an output of 3W or less. Hopefully much less. Power Tube Drive at a low volume is the goal.
All-Tube Saturation Device - Like a conventional preamp, but using power tubes as well for a more convincing tube sound. Use this to feed a solid-state poweramp and a guitar cabinet. Like an H&K Crunch Master. [For this application, you would need a low-power dummy load, such as Bruce Collins' load or attenuator for low-power amps (.pdf), Dave Sorlien's attenuator or load (.pdf)]
Power-Tube Effect - Configured as an effects device and deployed in an effects loop, apply the characteristics of an all tube amp on guitars or other instruments. Not strictly for high-gain applications, but also for soft compression and breakup. A power-tube effect would be good for post-amp time-based effects, to preserve clarity of power tube saturation.
You could also do: conventional amp head's preamp -> AX84 amp -> guitar speaker -> mic -> time effects -> conventional head's power amp -> full-range speakers, mixer, headphones.
Some contributors
Chris Hurley
Clay Kent
Dan Ramage
Dave Sorlien
Kevin Wade
Michael Cameron
Randall Aiken
Stephen Delft
Ted Matsumura
http://www.firebottle.com/ax84/ - discussion forum
---
Messages 1-67 of exactly 67 matches for search "ax84":

        Date   Scr        Subject                     Newsgroup           Author

   1. 98/12/07 026 Re: AX84, LXH2: inexpensive  rec.music.makers.guit Michael      
   2. 98/12/06 024 Re: AX84, LXH2: inexpensive  rec.music.makers.guit pietrzak       
   3. 98/12/05 024 Re: AX84, LXH2: inexpensive  alt.guitar.amps       Randall Aiken  
   4. 98/12/05 024 Re: AX84, LXH2: inexpensive  rec.music.makers.guit Megamanic      
   5. 98/12/04 024 Re: AX84, LXH2: inexpensive  alt.guitar.amps       Michael      
   6. 98/12/04 024 Re: AX84, LXH2: inexpensive  alt.guitar.amps       Michael      
   7. 98/12/03 024 Re: AX84, LXH2: inexpensive  alt.guitar.amps       Steve          
   8. 98/12/05 023 Re: AX84, LXH2: inexpensive  alt.guitar.amps       pietrzak       
   9. 98/12/04 023 Re: AX84, LXH2: inexpensive  alt.guitar.amps       chrishurley    
  10. 98/12/04 023 Re: AX84, LXH2: inexpensive  alt.guitar.amps       Michael      
  11. 98/12/03 023 Re: AX84, LXH2: inexpensive  alt.guitar.amps       Michael      
  12. 98/12/03 023 Re: AX84, LXH2: inexpensive  alt.guitar.amps       Michael      
  13. 98/12/03 023 Re: AX84, LXH2: inexpensive  alt.guitar.amps       Michael      
  14. 98/12/02 023 Re: AX84, LXH2: inexpensive  alt.guitar.amps       Bill Cleveland 
  15. 98/12/03 022 Re: AX84, LXH2: inexpensive  alt.guitar.amps       Not A Speck Of 
  16. 98/12/03 022 Re: the lowest power tube am alt.guitar.amps       Michael      
  17. 98/12/03 022 Re: AX84, LXH2: inexpensive  alt.guitar.amps       lxh2           
  18. 98/12/02 022 Re: AX84, LXH2: inexpensive  alt.guitar.amps       L'Entarteur    
  19. 98/12/02 022 Re: AX84, LXH2: inexpens#2/2 alt.guitar.amps       Michael      
  20. 98/12/01 022 AX84, LXH2: inexpensive #1/2 alt.guitar.amps       Michael      
  21. 98/12/01 022 AX84, LXH2: inexpensive #2/2 alt.guitar.amps       Michael      
  22. 98/12/01 022 Re: AX84, LXH2: inexpensive  alt.guitar.amps       Charlie Escher 
  23. 98/12/02 021 Re: AX84, LXH2: inexpensive  alt.guitar.amps       Mark Garvin    
  24. 98/12/02 021 Re: AX84, LXH2: inexpens#2/2 alt.guitar.amps       lxh2           
  25. 98/12/02 021 Re: AX84, LXH2: inexpensive  alt.guitar.amps       lxh2           
  26. 98/12/01 021 Re: AX84, LXH2: inexpensive  alt.guitar.amps       Gary Watts     
  27. 98/10/18 021 ToneHog2----Re: Thanks for t alt.guitar.amps       ToneHog2       
  28. 98/12/02 020 Re: the lowest power tube am alt.guitar.amps       L'Entarteur    
  29. 98/12/02 020 Re: AX84, LXH2: inexpens#1/2 alt.guitar.amps       Michael      
  30. 98/12/02 020 Re: AX84, LXH2: inexpens#1/2 alt.guitar.amps       lxh2           
  31. 98/10/18 020 Thanks for the mail link to  alt.guitar.amps       ToneHog2       
  32. 98/10/18 020 Re: ToneHog2----Re: Thanks f alt.guitar.amps       ToneHog2       
  33. 98/08/28 020 AX84: DIY Tube Amp Project N alt.guitar.amps       chrish         
  34. 98/07/26 020 AX84 Chat 7/30/98 at ampage  dejanews.members.tech chrishurley    
  35. 98/07/21 020 AX84 Website Moves           alt.guitar.amps       chrishurley    
  36. 98/07/20 020 AX84:Schematic Posted        alt.guitar.amps       chrishurley    
  37. 98/07/13 020 Re: AX84: 12ax7 and EL84 Pro alt.guitar.amps       Puentstein     
  38. 98/11/11 019 Re: Building an Amp          alt.guitar.amps       LarrySB        
  39. 98/11/08 019 Re: one tube amp             alt.guitar.amps       Michael Cameron
  40. 98/10/28 019 Re: Low-watt power-tube devi alt.guitar.amps       chrish         
  41. 98/07/16 019 Re: AX84: 12ax7 and EL84 Pro alt.guitar.amps       Puentstein     
  42. 98/07/16 019 Re: AX84: 12ax7 and EL84 Pro alt.guitar.amps       chrishurley    
  43. 98/07/16 019 AX84 Project Resource Summar alt.guitar.amps       chrishurley    
  44. 98/07/15 019 AX84 Dejanews Discussion Gro alt.guitar.amps       chrishurley    
  45. 98/07/15 019 Re: AX84 Dejanews Discussion alt.guitar.amps       chrishurley    
  46. 98/07/13 019 Re: AX84: 12ax7 and EL84 Pro alt.guitar.amps       chrishurley    
  47. 98/12/01 018 Re: the lowest power tube am alt.guitar.amps       lxh2           
  48. 98/11/30 018 Re:the lowest power tube amp alt.guitar.amps       lxh2           
  49. 98/11/08 018 Re: 1-to-10 watt tube power  alt.guitar.effects    r. bennett     
  50. 98/10/25 018 Re: block diagram/schematic  alt.guitar.amps       JDW            
  51. 98/10/24 018 Re: Low-watt power-tube devi alt.guitar.amps       LarrySB        
  52. 98/09/30 018 DIY Tube Guitar Amp Project  alt.guitar.amps       chrish         
  53. 98/09/08 018 Re: The Chat                 alt.guitar.amps       chrish         
  54. 98/08/19 018 Re: The Chat                 alt.guitar.amps       stereo         
  55. 98/08/17 018 The Chat                     alt.guitar.amps       drstereo1111   
  56. 98/08/17 018 Re: The Chat                 alt.guitar.amps       Zorro          
  57. 98/07/29 018 Beginners DIY Tube Amp Proje alt.guitar.amps       chrishurley    
  58. 98/07/27 018 Re: designing/creating a gui alt.guitar.amps       LarrySB        
  59. 98/07/27 018 Re: Eyelet Boards            alt.guitar.amps       Marc Ferguson  
  60. 98/07/25 018 Re: Eyelet Boards            alt.guitar.amps       chrishurley    
  61. 98/07/14 018 Re: AX84: 12ax7 and EL84 Pro alt.guitar.amps       LarrySB        
  62. 98/07/14 018 Re: AX84: 12ax7 and EL84 Pro alt.guitar.amps       LarrySB        
  63. 98/07/13 018 AX84: 12ax7 and EL84 Project alt.guitar.amps       chrishurley    
  64. 98/11/16 017 Re: Who is the God of the Tu rec.music.makers.guit Michael      
  65. 98/07/14 017 Re: AX84: 12ax7 and EL84 Pro alt.guitar.amps       chrishurley    
  66. 98/10/18 016 Re: block diagram/schematic  alt.guitar.amps       Kamchak Tuchuk 
  67. 98/10/18 015 Re: block diagram/schematic  alt.guitar.amps       Michael Cameron

---
Amptone.com ultra gear-search page
---
Home (amp tone and effects placement)