<![if !supportEmptyParas]> <![endif]>
Home (amp tone and effects placement)
<![if !supportEmptyParas]> <![endif]>
---
BOSS - GP-20 Amp Factory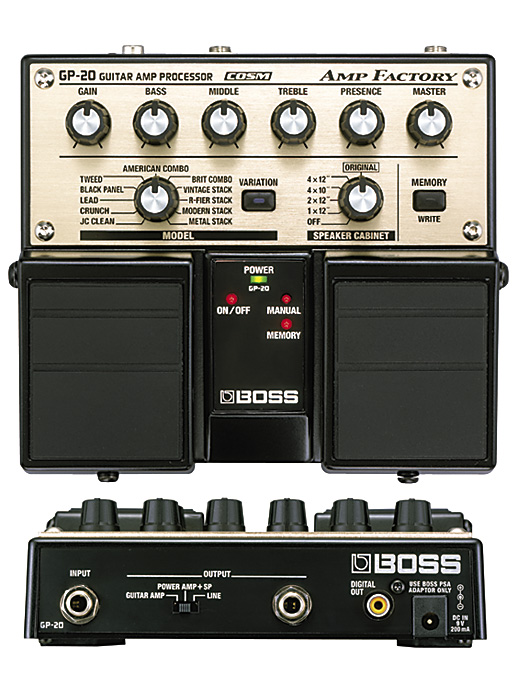 January 18, 2001
http://namm.harmony-central.com/WNAMM01/Content/Boss/PR/Twin-Series.html
Twin Pedal Series
"The BOSS GP-20 Amp Factory pedal starts where overdrive and distortion pedals leave off, giving guitarists 22 COSM Guitar Amp models and five speaker cabinet simulations optimized for providing great live tones. ... simple knob-based controls-Gain, Bass, Mid, Treble, Presence and Master, plus knobs for Amp Model and Speaker Cabinet selection... quickly dial in to a variety of classic and modern amp sounds with minimum hassle. ... fully programmable ... selectable output for connection to a standard guitar amp, or direct connection to power amps, mixers and recorders. For recording applications, ... digital output."
http://209.144.99.11/PRODUCTS/MI/mi_namm_w01/gp20_b.htm
The GP-20 Amp Factory offers a variety of ...COSM Guitar Amp models designed for live performance or recording - 22 in all. ... two-channel operation, and ability to model the best amps ever made, the brilliant GP-20 is ... for live or studio applications.
COSM Amp Modeling pedal with 22 ... amp models optimized for live performance
2-channel operation (Manual/Memory) plus Bypass turns any guitar amp into a 3-channel amp
Output Select switch for connection to guitar amps or line-level systems
5 onboard speaker cabinet simulations plus digital output for recording
_______________________
Twin Pedal Series
RC-20 Loop Station
January 18, 2001
http://namm.harmony-central.com/WNAMM01/Content/Boss/PR/Twin-Series.html
http://209.144.99.11/PRODUCTS/MI/mi_namm_w01/rc20_b.htm
images/bossrc20loopstation.jpg
<![if !supportEmptyParas]> <![endif]>
---
Research links
BOSS "amp factory"
+boss +"amp factory"
Click these custom links to find the latest information and discussion about this product.
Article at Harmony Central - pending
user reviews for this manufacturer at Harmony Central
product news for this manufacturer at Harmony Central
search newsgroup postings at Deja.com
---
Amptone.com ultra gear-search page
---
Home (amp tone and effects placement)
<![if !supportEmptyParas]> <![endif]>