Home (amp tone and effects placement)
---
Boss: LS-2 Line Selector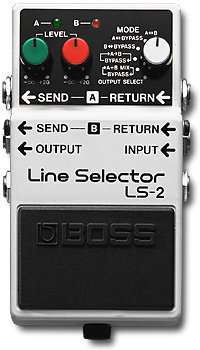 The LS-2 pedal is Product of the Month in Guitar Player Oct 1992, page 145. To switch input and output assignements for different effects loops, amps, or guitars. 2 line loops. 5 looping modes. On/off indicators to show each loop's status. Return level control for each loop can generate up to 20dB gain for level matching. $139.50, later $149.50 list. $85 used.
This Boss non-effects pedal looks good for mellowing the intensity of any effect, such as wah. The Boss FX catalog, which is worth closely studying from cover to cover, describes this hard-to-find but powerful effects manager, packaged as an effects pedal. I'm including it here because it's such an unusual type of "effect pedal" -- a mixer.
The basic features of the LS-2: Jacks (all mono) - Input, Output, Send A, Send B, Return A and Return B; and a Mode Selector Switch - A<->B, A<->Bypass, B<-> Bypass, A->B->Bypass->, A+B Mix<->Bypass, and Output Select; and A/B Level Control Knobs which adjust the volume from mute to +20dB.
Enables you to:
Select output Effect [A] or Tuner [B].
Select one of two kinds of distortion, by varying the volume on the two channels which you can select from to drive a single distortion box.
Select one of two instruments.
Use the LS-2 with the Boss NS-2 Noise Suppressor.
Select one of two settings (for solos or backing).
Control your volume if you have multiple LS-2s.
Select one of two amplifiers.
Select one of two settings (for solos or rythmn).
Select one of two settings (for backing or rythmn).
Select one of three settings (for solos, backing or rythmn).
Mix two settings (for solos and backing) to create a new effect.
Use the LS-2 as a 2 channel mixer. i.e. Two guitars playing at once.
Mix effect and straight sounds to create a new effect.
Select one of three amplifiers. (The Level Control Knobs will not function.)
User comments at Harmony Central - excerpts:
Comes with instructions and sample settings, both of which are well written and helpful. After reading the documentation and experimenting for about a half an hour, I was up and running in production mode quickly. This box has a lot of modes, but I bought it primarily for its mixer capabilities. For instance, hook up an effect(s) to Send A and Return A, and another effect(s) to Send B and Return B. Now you can control the A/B mix by adjusting the Level Control Knobs. This allows you to create new effects! If you leave either A or B empty, you can mix an effect with your clean signal. Now you can tame a wild distortion box, or improve an effect which is too sterile (i.e. digital effects with A/D and D/A converters)! The A<->B capability gives you more options than say a DOD 270 A/B Box, because of the Level Control Knobs. It's amazing to me that I'm only the second person to review it. Perhaps the product needs better marketing. Last time I visited the web site there wasn't much information about it. I think that if more people knew what it could do for their tone, they would be beating down the doors of the local guitar shop to pick one up. I really wish that I had bought one of these at the same time I bought my first effect. In fact, I wish that I had a couple more of them around. If it wasn't for the ability to mix two effects together, and to mix an effect with the clean signal, I would have had to sell a few of my distortion boxes which are otherwise too harsh for my liking. This box opens up a lot of new territory for tone hunting. There are a few different settings that can be used. It makes it versatile but it takes some time to get it goin'. Very clean and not too much white noise for something of this nature. For Bassists this thing is great. For effects that you want the effect of but don't want to lose your fundamental signal this is the ticket. It has two effects loops (or one stereo) in the pedal. You can choose to leave one empty and put your pedals in the other loop. Then, by combining loops A and B you have them mixed together. Envelope filters still sound funky but not obtrusive to the point of annoying volume alterations throughout the sweep. This is just the beginning of this beautiful little problem solver.
---
Amptone.com ultra gear-search page

Deja News query: ls-2 or ls2 or "line selector"
Messages 1-57 of exactly 57 matches for search ls-2 ls2 "line selector":

        Date<

/a>   Scr        Su

bject                     

Newsgroup           Aut

hor

   1. 98/11/16 059 Re: Steve Vai 

7-amp switch?  rec.music.makers.guit Michael      
   2. 98/09/29 051 How do you use 

a line select alt.guitar            Greg Jones     
   3. 98/10/01 050 Re: How do you 

use a line se alt.guitar            Castor Troy    
   4. 97/12/09 050 Boss Line 

Selector LS-2      alt.guitar            Richard S. Sawd
   5. 97/12/03 050 Wanted: Boss 

LS-2 Line Selec alt.guitar            MAurelius9     
   6. 97/11/30 050 Wanted: Boss 

LS-2 Line Selec alt.guitar            MAurelius9     
   7. 98/06/05 049 Boss Line 

Selector Documenta alt.guitar            bruef          
   8. 97/12/12 048 Boss LS-2                   

 alt.guitar            Greg Jones     
   9. 98/08/12 045 Re: Placing 2 

pedals before  rec.music.makers.guit Carlginger     
  10. 98/08/12 045 Re: Placing 2 

pedals before  alt.guitar.effects    PATRIK LARSSON 
  11. 98/08/12 044 Re: Placing 2 

pedals before  rec.music.makers.guit Greg Jones     
  12. 98/09/21 042 Re: Boss 

NS-2?               alt.guitar.effects    Jsh            
  13. 98/09/21 042 Re: Boss 

NS-2?               alt.guitar.effects    Stn Monkey     
  14. 98/08/13 042 Re: Placing 2 

pedals before  alt.guitar.effects    KllRckStrz     
  15. 98/08/16 040 effects                     

 alt.guitar.effects    Smrcamp1       
  16. 98/03/28 040 FS: NYC music 

gear.          alt.music.4-track     Davide Gentile 
  17. 98/03/28 040 FS: NYC music 

gear.          rec.audio.pro         Davide Gentile 
  18. 98/03/28 040 FS: NYC music 

gear.          rec.music.makers.guit Davide Gentile 
  19. 96/10/12 040 Boss LS-2 

line selector - co alt.guitar.amps       Michael      
  20. 98/08/23 038 Re: Splitting 

into 2 Amps    alt.guitar.amps       John Fautheree 
  21. 98/08/16 038 Re: effects                 

 alt.guitar.effects    Derek          
  22. 98/01/21 038 Re: Query: 

Line selector, wh alt.guitar.amps       SEFSTRAT       
  23. 98/08/12 036 Re: Best way 

to place 2 dist alt.guitar            Walter Mac     
  24. 98/08/11 036 Best way to 

place 2 dist ped alt.guitar            mudhead        
  25. 98/08/11 036 Placing 2 

pedals before amp. alt.guitar.amps       mudhead        
  26. 98/08/11 036 Placing 2 

pedals before amp. alt.guitar.effects    mudhead        
  27. 98/08/11 036 Placing 2 

pedals before amp. rec.music.makers.guit mudhead        
  28. 98/08/11 036 Re: Placing 2 

pedals before  alt.guitar.amps       Charles Ott    
  29. 98/08/11 036 Re: Placing 2 

pedals before  alt.guitar.effects    Matt Boes      
  30. 98/01/24 036 Re: Query: 

Line selector, wh alt.guitar.amps       Edwin Blakley  
  31. 98/01/24 036 Re: Query: 

Line selector, wh alt.guitar.amps       Kamchak Tuchuk 
  32. 98/01/21 036 Query: Line 

selector, which  alt.guitar            Peter Mandal   
  33. 98/01/21 036 Re: Query: 

Line selector, wh alt.guitar            SONNY MARQUES  
  34. 98/01/21 036 Re: Query: 

Line selector, wh alt.guitar            JoeVacc        
  35. 98/01/13 036 Re: Who 

agrees that pedals k alt.guitar            Greg Jones     
  36. 98/08/12 034 Re: Placing 2 

pedals before  alt.guitar.amps       Jake           
  37. 98/08/11 034 Re: Placing 2 

pedals before  alt.guitar.effects    Chris and Tracy
  38. 97/12/03 034 Re: Mesa 

Trem-O-Verb/Dual Re alt.guitar.amps       Bob Trevithick 
  39. 97/09/08 033 ###275 Rare 

Vintage Effe#4/5 rec.music.makers.mark Romain BIDAUT  
  40. 98/06/03 032 Re: Fuses 

Blowing Lord Valve alt.guitar.amps       Dave Moore     
  41. 96/10/07 032 Yamaha 

PLS-1(programable lin rec.audio.pro         Doug Weiss     
  42. 97/12/02 030 Re: Mesa 

Trem-O-Verb/Dual Re alt.guitar.amps       Chad McCarthy  
  43. 97/08/15 030 Re: Bluesharp 

and guitar     alt.guitar.amps       Richard M. Sade
  44. 96/02/20 030 WTB: Boss 

pedals             rec.music.makers.guit Brad McGowan   
  45. 96/02/20 030 WTB: Boss 

pedals             alt.guitar            Brad McGowan   
  46. 96/07/12 026 Re: 

Solos/background how to  rec.music.makers.guit Edmund Yuen    
  47. 98/09/21 019 STOP the 

presses! Re: Boss N alt.guitar.effects    Jsh            
  48. 98/06/12 018 Re: Effects 

loops            alt.guitar.effects    ijw            
  49. 98/08/30 017 Pedals or 

FX-unit? ME-8?     alt.guitar.amps       Ennie          
  50. 97/09/01 015 FS: BOSS 

PSM-5 Power Supply, rec.music.makers.mark William R Rodri
  51. 96/05/31 014 Re: Alan Hull 

is dead?!      alt.guitar.tab        Graham Mann    
  52. 96/04/24 013 Re: 

Pedalboard idea.         rec.music.makers.guit Brad McGowan   
  53. 95/05/24 013 Best 4k PA 

rig for small ven rec.audio.pro         J. Stockwood   
  54. 96/10/19 012 Re: Let's 

talk distortion pe alt.guitar.amps       Michael      
  55. 95/05/26 012 Re: Best 4k 

PA rig for small rec.audio.pro         John Graley    
  56. 96/09/24 011 Want CASH 

FAST$$$$$$$$$$$$$$ rec.audio.pro         M.A. Uqaili    
  57. 95/07/27 010 ** NEW ALL 

DIGITAL VTR (#2/8 rec.audio.pro         Sebastian Savah

---
---
Home (amp tone and effects placement)