Home (amp tone and effects placement)
---
Egnater TOL50 tube amp. 10 or 50 watts. (TOL100 10 or 100 watts.)
Rocktron/Egnater TOL 50 $1295. 10-watt or 50-watt. 1x12 combo version $1395, 2x12 $1495.
Has 10-watt setting. Beside the main power switch is a standby switch with a special feature: you can select 50 or 10 Watt for output power. Has fx level/mix control, the latter being of dual duty also. Can switch between series and parallel effect modes. In the series position, the control functions as a master volume; in parallel it controls the effect volume. Send and return jacks. Slave Out jack. Recording Out jack; the direct signal from the output stage can be routed from here to mixer, separate effects units, or additional amps systems. A push-pull pot sets the signal level, between 0 and -15 dB. Has an internal and an external speaker jack with impedance selector. TOL = Tone Of Life.
A product review. Soundcheck magazine 4/1998.
Rocktron - Egnater TOL 100 $1795. 10- or 100-watt tube 4-ch head MIDI. reverb. Ser/paraFX loop w/ level mixing. 10-watt power sw. 2x12 combo version $1995.
Select either 50 or 10 watts into 4, 8, or 16 ohms
Two channels each with selectable gain/voicing and bright switches - Channel one for clean to crunch. Channel two for clean to Megadrive
Master Presence and Density controls
Series/Parallel effects loop with return level control
Slave out with level control for driving external effects/power amp
Rich, 3-spring vintage reverb
EL34 power tubes
Top mounted controls (on combos)
Combos come with heavy-duty removable casters
The Tone Of Life
Dimensions: 1 x 12 - 23.5"w x 20.5"h x 10.5"d. 2 X 12 - 27"w x 20.5"h x 10.5"d. Head - 23.5"w x 9"h x 9.5"d
Output Power: 50 watts into 4, 8, or 16 ohms
Input Impedance: 1meg Ohm
Density: +8dB at 100Hz
Presence: +8dB at 5kHz
Top-mounted controls (on 1x12 and 2x12 combos) for convenient easy-to-use tone adjustments, reverse Oxblood grill cloth for an attractive look and black kayhide covering for the ultimate protection and road worthiness. Controls for Bass, Mid, Treble, Presence, Density and Reverb. The effect loop section features effect mix control for effect volume and a selector button for choosing either series or parallel effect loop option. Each of the two channels feature controls for GAIN and MASTER. Channel one features switches for Voicing, Bright and Boost for added tone manipulation. Channel two features controls for Bright and Boost. Footswitch controls for channel selection and gain boost (Egnater EG2 Footswitch included). 50-watt power amp section utilizing the time-tested Class A/B design, EL34 output tubes and the option to run at either 50 or 10 watts via the output selector switch. The preamp section features 4 specially selected 12AX7 tubes. Slave out with high/low level selector (for driving external effects and/or power amp.) Three-spring vintage reverb tank. Custom-designed 12" Egnater Pro Speakers. (Celestion speakers optional on 2x12 combo)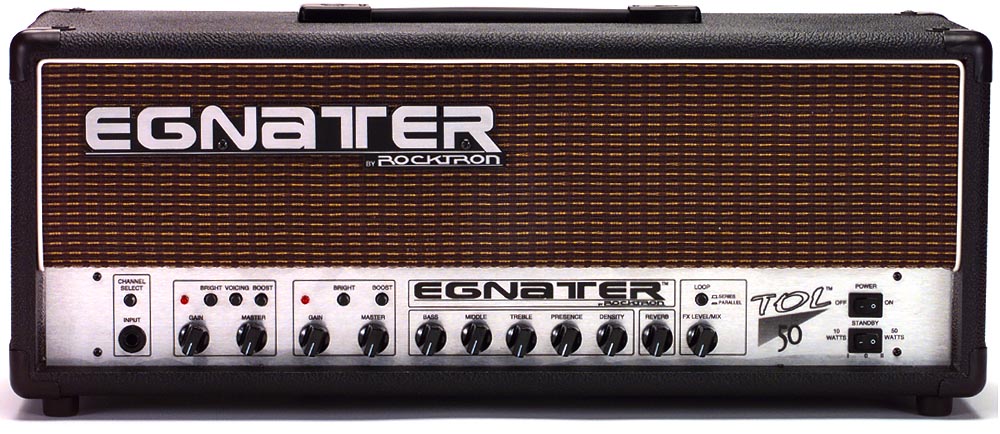 ---
Messages 1-6 of exactly 6 matches for search tol50:

        Date   Scr        Subject                     Newsgroup           Author

   1. 98/02/18 018 Egnater Tol100?              alt.guitar.amps       Jordan Gilman  
   2. 98/01/05 018 Rocktron/Egnater 50          alt.guitar.amps       BEgnater       
   3. 98/01/05 018 Re: Rocktron/Egnater 50      alt.guitar.amps       NOSPAMprana    
   4. 98/03/17 017 Re: Marshall & Fender sounds alt.guitar            mousse         
   5. 98/01/07 017 Re: Rocktron/Egnater 50      alt.guitar.amps       Xhojo9X        
   6. 98/01/14 016 Re: Rocktron/Egnater 50      alt.guitar.amps       Bill           

DejaNews query: tol50 or tol100
Messages 1-32 of exactly 32 matches for search tol50 tol100:

        Date   Scr        Subject                     Newsgroup           Author

   1. 98/02/18 031 Egnater Tol100?              alt.guitar.amps       Jordan Gilman  
   2. 98/03/17 027 Re: Marshall & Fender sounds alt.guitar            mousse         
   3. 98/10/08 022 Egnater Tol100 vs Hughes and alt.guitar.amps       NMack311       
   4. 98/10/06 020 FS: Some preRocktron Egnater alt.guitar.amps       BEgnater       
   5. 98/04/18 020 Amps                         alt.guitar.amps       BEgnater       
   6. 98/04/14 020 Re: Rocktron EGNATER tol100  alt.guitar            Milan Plechata 
   7. 98/04/14 020 Re: Rocktron EGNATER tol100  alt.guitar            mousse         
   8. 98/04/13 020 Rocktron EGNATER tol100 GOOD alt.guitar            mousse         
   9. 98/04/13 020 Re: Rocktron EGNATER tol100  alt.guitar            Steve          
  10. 98/01/05 020 Rocktron/Egnater 50          alt.guitar.amps       BEgnater       
  11. 98/01/05 020 Re: Rocktron/Egnater 50      alt.guitar.amps       NOSPAMprana    
  12. 98/09/11 019 Re: Randall Rt30c            alt.guitar.amps       BEgnater       
  13. 98/08/15 019 Egnater amps - good/bad/ugly rec.music.makers.guit Brad W Traweek 
  14. 98/04/20 019 Re: Amps                     alt.guitar.amps       Andy Fuchs     
  15. 98/04/14 019 FS: Rocktron EGNATER tol100  alt.guitar.amps       mousse         
  16. 98/04/13 019 FS: Rocktron EGNATER tol100  rec.music.makers.guit mousse         
  17. 98/02/20 019 Re: Egnater Tol100?          alt.guitar.amps       Johnpace2      
  18. 98/01/07 019 Re: Rocktron/Egnater 50      alt.guitar.amps       Xhojo9X        
  19. 98/11/28 018 Re: Video Demo               rec.music.makers.guit Andergtr       
  20. 98/08/16 018 Re: Egnater amps - good/bad/ rec.music.makers.guit Carlginger     
  21. 98/08/09 018 FS: Power transformers       alt.guitar.amps       BEgnater       
  22. 98/06/02 018 Re: the real carlginger      rec.music.makers.guit J...           
  23. 98/03/28 018 FS: Rocktron Egnater tol100  alt.guitar.amps       mousse         
  24. 98/01/14 018 Re: Rocktron/Egnater 50      alt.guitar.amps       Bill           
  25. 98/04/07 017 Attenuators, Emulators & Dum rec.music.makers.guit mousse         
  26. 98/05/31 016 the real carlginger     #3/7 rec.music.makers.guit Andergtr       
  27. 98/04/17 016 Re: Best all around amp?     alt.guitar.amps       Steve          
  28. 98/04/07 016 Re: Attenuators, Emulators & rec.music.makers.guit dlm            
  29. 98/04/07 016 Re: Attenuators, Emulators & rec.music.makers.guit Steve          
  30. 98/04/07 016 Re: Attenuators, Emulators & rec.music.makers.guit Rich Koerner   
  31. 97/07/08 016 HELP?Need info on Bogner & E rec.music.makers.guit FuzzeeWuzz     
  32. 98/04/08 015 BlackJack Tubes? (Read!!!!)  rec.music.makers.guit mousse         

---
Amptone.com ultra gear-search page
---
Home (amp tone and effects placement)