Home (amp tone and effects placement)
---
Guytron GT-100 tube amp with EL84's in the "preamp" section for power-tube coloration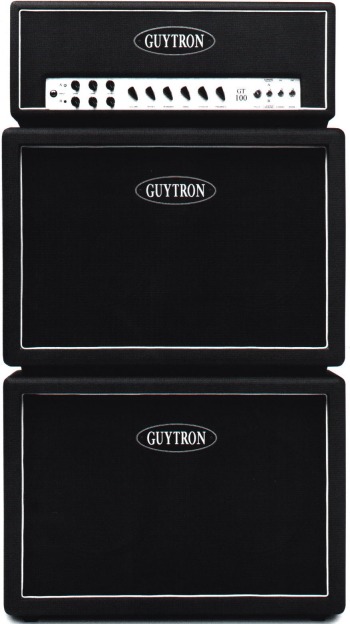 Westwood Music (dealer) Guytron page
Guytron amp - runs 2 EL84's Class A for power tube coloration, then on to a 100 watt EL-34 Class AB power section for final amplification. Dummy loads and power attenuators at full attenuation typically sound fizzy. The Guytron might prove that dummy loads built into tube power amps, such as in the Signature 284, Lawbreaker, Ampulator, Crunch Master, and Cream Machine, have the potential to sound great.
Compare Warwick IV and IX bass amps at Warwick Quadruplet - "bass preamp" with EL84.
Guytron
55 Hillsdale St. #3
Hillsdale, MI 49242
Voice-517.439.2500
Fax-517.439.2501
e-mail- info at guytron.com

owner's manual - excerpts:
Guytron GT-100. The heart of the tone generation is in the unique foot switchable GT-100 preamp section that incorporates two EL84's running in true 'class A', that is where the feel and tonal character get established. Channel "A", favoring the 50's to 60's stock amp tone, starts out crystal clear at low gain settings, progressing smoothly up to a 'cranked up' stock amp type of overdrive. The channel "A" tone control involves the gain structure and the amp picks up more gain in the treble range as you turn it clockwise, yielding a progressively more 'English' tone along the way. Channel "B" takes over where channel "A" leaves off, encompassing most of the favored tones of the modded amp era, mid 70's, to present. The gain control in Channel "B" is a monster, by utilizing a dual pot it controls two stages of gain simultaneously, allowing a continuous sweep from warm and clear to over the top gain and distortion. The tone control on channel "B" is a post gain type, and serves as a treble gate to the power amp, it has no effect on the gain structure. (unlike"A"). It serves well when setting the relative brightness of the two channels, ultimately adding to the versatility and allowing you to get a warm distortion with a variety of power amp settings. A master tone section is provided to shape the final sound before it gets delivered to your speaker. The master tone section is integral to the 100 watt all tube output section, utilizing four EL34's running in class AB2. It can be used to adjust for different rooms, as well as emulate the tonal characteristics of different amp types, speaker configurations, etc. It is also at this stage that effects can be added to further enhance the tone. Effects loops are transformer driven at +3 and -10 dB, and can be run simultaneously. Effects are then blended in with the dry signal to taste, via the effects control on the front panel, without interrupting the dry signal unless intended. The tone controls are set for emphasis and musicality, not to impress you with the wide range of their sweep, but to add or subtract emphasis on certain frequencies, without crossing into a non-musical realm. The amp does, however, faithfully deliver the usable feel and sound of all my favorite amps, and at the widest spread of listening levels ever available in a single package.

GT-100 Engineering Guidelines: Designed for the working musician at any level or in any size room, the GT-100 endeavors to eliminate the need for a "library" of different vintage amps, and the guess work of which one to use for a given club or band site. It has been my shared experience that nothing beats the sound of a cranked up vintage tube amp. Having owned and used virtually all of the most revered and collected amps long enough to get sick of carrying and repairing them, and or dealing with their limitations, I discovered that there were enough similarities between my favorites that it just might be possible to build an everything amp. I simply included everything that I truly needed, and excluded everything that I didn't need.
Guitar Player review, Jan. 1998 - at Indoor Storm, a dealer.
---
Carl wrote:
I got the Guytron GT-100 head and 2X12 (Vintage 30 and Celestion 75) today. The head sort of reminds me of my old Hiwatts. Well built. The covering also is done well on the head and cab...I can hardy see the seam lines. Nice aluminum front panel with two channels. Each channel has a Gain, Tone, and Level knob. Then a master section of Treble, Middle, Bass, Effects Level and Presence.

Thanks to Eddie at Indoor Storm, and Doug too, I read alot of Doug's impressions on some old Guytron posts on Deja News.

I plugged in the alder Suhr with two VV and a JST humbucker and started turning dials on the clean channel. I used primarily the neck pickup for clean. So, the first noticeable thing after running thru the sample clean settings is this: It's not "let me try to dial in a nice clean sound," it's more like "what clean sound do I wish to have". I dialed in their Silverface Twin, Blackface Twin,Tweed Bassman/early 60's Plexi, late 60's Plexi and AC 30. They were different, but more importent, they were very good and highly usable. I was reminded on one setting of my old Hiwatt. Very warm, smooth, not brittle or bright...everything was very musical.

Channel 2 had settings for 70's aluminum panel, JMP/JTM and an over the top high-gain setting. Nice and touch sensitive....smooth. Again, no harshness or bright ear-piercing stuff. The initial tones are easily set with each channel's tone control. The Master tones are not drastic....I started with them at noon, then cut the mids slightly and increased the presence a bit. It was very easy to dial in and again, I felt very musical sounding. A very interesting amp, I can see why it gets raves.
Guytron testimonials - excerpts:
Each channel features Gain, Tone and Level controls. Channel A spans the range from sparkling clean on up (in very fine increments) to a bit more gain than a stock Marshall plexi. Channel B spans the range from warm, round clean tones on up to way more gain than most humans would ever need. The Gain knobs control the degree of saturation. The Tone knob in channel A affects the gain and distortion in the upper registers. The Tone knob in channel B does not affect the distortion characteristics of the channel, but simply controls the amount of high-end bite. The Level knobs do not affect the level of distortion in either channel, but simply control the amplitude of the signal fed into the EL34 power section. Consequently, their purpose is to set the relative volume between channels.

The signal from both channels is routed to a pair of EL84s running in cathode-biased Class A and then into a transformer and finally into a resistive dummy load. According to Guy Hedrick, this transformer is designed specifically to drive the resistive dummy load, as opposed to most output transformers, which are designed specifically to drive speakers, which are reactive loads. This is where Guy's design is different than anything currently in production. I also believe this is where most of Guy's patent activity is centered. Guy's transformer/dummy load pair DOES NOT attempt to emulate the reactance, or the tone, of a speaker as do many of the inductive attenuators on the market (such as the Marshall Power Brake). Guy has simply matched components according to accepted laws of audio electronics and attempted to preserve signal integrity throughout the signal path (through the use of extremely high quality components, especially the transformers). The coloration of the speaker transform occurs naturally when the signal finally reaches the speaker cabinet. Obvious, yet brilliant. (By the way, the Level controls described above are placed after the dummy load.)

The signal from the Level controls is then routed to the master tone section, which sports Master Volume, Treble, Mid, Bass and Presence controls (as well as an Effects knob, which controls the mix in the parallel effects loops as described above) and then into a quartet of EL34s (100W, Class AB2), a main output transformer and then out to the speakers.

This configuration allows the user to adjust the gain in each channel for the just the right amount of EL84 power amp saturation, the relative volumes between the channels with the Level controls and then the final overall volume and tone with the master volume and tone controls.
---
Guytron GT-100 user comments - excerpts:
Price Paid: US $1800, $2500 incl. cab -1998 model 100-watt head (purchased w/ 212 Guytron cabinet loaded w/ Celestion T-75 speaker and Vintage 30 speaker) -2 footswitchable channels w/ separate tone control, master volume & tone controls -2 EL-84 tubes w/ power transformer in preamp section -4 EL-34 tubes in output section -Parallel effects loops (high-level & low level) w/ effects mix control Controls: each channel has 3 knobs: gain, tone, and level. *The gain is obvious... it controls how hot your guitar signal hits the preamp tube(s). Channel A uses only 1 of the EL-84's, while Channel B uses both. *The tone massages the brightness. For Channel A, the tone shaping is done before the preamp tube. Turning the knob clockwise makes your tone brighter and more "British). It also affects the gain structure of the amp. For Channel B, the tone comes after the preamp tubes and, according to Guytron, is more like a treble gate. *The level is primarily for balancing the 2 channels, but does affect the tone somewhat. After the signal leaves the preamp section, it goes through master volume, bass, mid, treble, effects level, and presence controls. Guytron recommends setting these at 12:00 (except maybe the volume), adjusting your preamp controls, and then using the master controls to tweak the response of the amp. You could use these to adjust for your room, simulate a different cabinet configuration, tweak the amp towards tweed, blackface, or other characteristics, or whatever you like. It has nice clean sounds that will stay clean at high volumes if you want them to. It also gets as dirty as you want. I haven't heard any of the '80s shred sounds in it, but I haven't tried, nor have I played it with any pointy guitars. The manual comes with some example settings to simulate some tonal benchmark amps like a tweed Bassman, Marshall Plexi, Fender Twin, Vox AC-30, modern Marshall, etc. I haven't played all of these vintage amps, but I have played some, and I do own a '68 Marshall 50-watt. I think the sounds that the Guytron m akes do get you in the neighborhood of these classic sounds. Even better, the amp just sounds great. There is tons of versatility in the amp as it has tremendous headroom and yet has the ability to get very dirty. The amp is not noisy. The sounds are easy to get to. There are no push-pull knobs, no vintage/modern switches, no bright/fat toggles, etc. If that's your cup of tea, I'm not knocking you. I just don't want to fiddle with all of that stuff. It's difficult to find a control setup that sounds bad, and yet there's lots of versatility. Usually those two factors are mutually exclusive. Despite the fact that this is a 100-watt amp, it sounds better at low volumes than all of the 20-watt amps that I have played. It will still crunch and sing at low volumes. That makes this a favorite recording amp also! I was looking for a head/cab setup that would be very tonally flexible and always sound good. I compared this amp to the Rivera Rake, Mesa Heartbreaker, Bogner Shiva, Matchless Chieftain (which I already owned), et al. I haven't found a Mesa Mark I type sound in the Guytron, but pretty much all of the sounds in the other amp can be had in the Guytron. You can at least nail the personality of the sound and have a great tone. I don't like that the amp doesn't have reverb [reverb before saturation is cruddy, but after the small EL84s of such an amp, could be ideal. - Michael], but I do like the great effects loop that allowed me to put a Soldano Surf Box on top to get killer reverb/vibrato/tremolo. I hate giving 10's and I gave all 10's! I didn't even give 10's on my Matchless review. I don't own the Matchless anymore though. I'm not trying to slander Matchless, I'm just saying that I like this better. A lot better. I personally think this may be the best amp that I have ever played. If you're looking for the same things I was (in terms of musical style, flexibility, etc.) you should give this amp a shot. this amp does everything-extremely well! i play all styles of electric guitar, and this is the first a mp i have EVER played in 34 years that has this capacity ! 2 channels-with master tone control for each channel. parallel effects loop -100 watt-head only- perfectly matched cabinet (2x12) - sounds magnificient w/ 2 cabs-able to achieve any tone at any volume (high,or low )-built like a tank- all tube. this amp is the amp of my dreams.the tones are truly magnificient. The amp is very quiet- even with super high gains clean sounds vary from a slightly compressed twin to ac30 to fat tweed to fat crunchy marshall the hot channel pretty much picks up where the low gain channel leaves off- slight crunch-to thick marshall to fat soldono. I have ordered another Guytron in case anything happens to this one ! this amp out performs any other amp i have ever tried, at any price .
---
Messages 1-100 of about 200 matches for search guytron:

Date Scr Subject Newsgroup Author

1. 98/11/19 025 Re: ****** THE FIADINO FAQ * rec.music.makers.guit Carlginger 
2. 98/11/16 025 Re: Guytron Info  rec.music.makers.guit STRATQUEEN 
3. 98/11/16 025 Re: Guytron Info  rec.music.makers.guit Carlginger 
4. 98/11/19 024 Re: The Last One!!!!!  rec.music.makers.guit Carlginger 
5. 98/11/19 024 Re: ****** THE FIADINO FAQ * rec.music.makers.guit John Huff 
6. 98/11/19 024 Re: ****** THE FIADINO FAQ * rec.music.makers.guit Carlginger 
7. 98/11/19 024 Re: Amps influence on sound  rec.music.makers.guit Alan Steele 
8. 98/11/19 024 Re: Amps influence on sound  rec.music.makers.guit Carlginger 
9. 98/11/19 024 Re: The Last One!!!!!  rec.music.makers.guit Carlginger 
10. 98/11/18 024 Re: The Last One!!!!!  rec.music.makers.guit J... 
11. 98/11/15 024 Re: Guytron Info  rec.music.makers.guit Stratoman6 
12. 98/11/15 024 Re: Guytron Info  rec.music.makers.guit Carlginger 
13. 98/11/15 024 Re: Guytron Info  rec.music.makers.guit Stratoman6 
14. 98/11/14 024 Re: Guytron Info  rec.music.makers.guit STRATQUEEN 
15. 98/11/14 024 Re: Guytron Info  rec.music.makers.guit Carlginger 
16. 98/11/13 024 Re: Guytron Info  rec.music.makers.guit Carlginger 
17. 98/11/19 023 Re: Amps influence on sound  rec.music.makers.guit Carlginger 
18. 98/11/19 023 Re: The Last One!!!!!  rec.music.makers.guit Ron Thompson 
19. 98/11/19 023 Re: Amps influence on sound  rec.music.makers.guit Jack A. Zucker 
20. 98/11/14 023 Re: Guytron Info  rec.music.makers.guit SEFSTRAT 
21. 98/11/14 023 Re: Guytron Info  rec.music.makers.guit Ritualee 
22. 98/11/14 023 Re: Guytron Info  rec.music.makers.guit Ericb 
23. 98/11/14 023 Re: Guytron Info  rec.music.makers.guit Tony 
24. 98/11/14 023 Re: Guytron Info  rec.music.makers.guit Ericb 
25. 98/11/13 023 Re: Guytron Info  rec.music.makers.guit Carlginger 
26. 98/11/13 023 Re: Guytron Info  rec.music.makers.guit Ericb 
27. 98/11/11 023 Guytron  rec.music.makers.guit Dan Stanley 
28. 98/11/07 023 Re: Guytron Amps  rec.music.makers.guit Carlginger 
29. 98/11/06 023 Guytron Amps  rec.music.makers.guit Carlginger 
30. 98/11/19 022 Re: Amps influence on sound  rec.music.makers.guit mcl2 
31. 98/11/19 022 Re: Amps influence on sound  rec.music.makers.guit Not A Speck Of 
32. 98/11/13 022 Re: Guytron Info  rec.music.makers.guit Ericb 
33. 98/11/13 022 Re: Guytron Info  rec.music.makers.guit Michael Fuller 
34. 98/11/11 022 Re: ****** THE Guytron FAQ * rec.music.makers.guit Carlginger 
35. 98/11/10 022 Re: Zorro, shut UP!  rec.music.makers.guit Zorro_2K 
36. 98/11/07 022 Re: Guytron Amps  rec.music.makers.guit DougA70320 
37. 98/11/06 022 Re: Guytron Amps  rec.music.makers.guit Tony 
38. 98/11/13 021 Guytron Info #1/2 rec.music.makers.guit Carlginger 
39. 98/11/11 021 Re: Guitar's Sustain  rec.music.makers.guit Carlginger 
40. 98/11/11 021 Re: ****** THE Giri FAQ **** rec.music.makers.guit Carlginger 
41. 98/11/11 021 Re: ****** THE JOHN OU FAQ * rec.music.makers.guit STRATQUEEN 
42. 98/11/10 021 Re: Is the HC Forum moderate rec.music.makers.guit Carlginger 
43. 98/11/10 021 Re: Zorro, shut UP!  rec.music.makers.guit Carlginger 
44. 98/11/09 021 Re: Envelope Followers / Aut alt.guitar.effects  ERICB 
45. 98/11/09 021 High Gain Heads  rec.music.makers.guit Carlginger 
46. 98/11/09 021 Re: Envelope Followers / Aut alt.guitar.effects  Alan Thompson 
47. 98/11/09 021 Re: Envelope Followers / Aut alt.guitar.effects  Kamchak Tuchuk 
48. 98/10/18 021 Re: GUYTRON! amps  rec.music.makers.guit Dan Stanley 
49. 98/09/30 021 Guytron Amps.....anyone play rec.music.makers.guit Ericb 
50. 98/08/13 021 GuyTron?  alt.guitar.amps  ObsidianSW 
51. 98/04/21 021 RE : Guytron Amps, Does any  alt.guitar.amps  BabyO94 
52. 98/11/13 020 Guytron Info #2/2 rec.music.makers.guit Carlginger 
53. 98/11/12 020 Re: Suhr's Sustain --  rec.music.makers.guit DougA70320 
54. 98/11/11 020 Re: ****** THE JOHN OU FAQ * rec.music.makers.guit Andergtr 
55. 98/11/11 020 Re: ****** THE JOHN OU FAQ * rec.music.makers.guit Zorro_2K 
56. 98/11/11 020 Re: ****** THE Giri FAQ **** rec.music.makers.guit Giri Iyengar 
57. 98/11/11 020 Re: Suhr's Sustain --  rec.music.makers.guit DougA70320 
58. 98/11/10 020 Re: Is the HC Forum moderate rec.music.makers.guit Zorro_2K 
59. 98/11/09 020 Re: Envelope Followers / Aut alt.guitar.effects  Alan Thompson 
60. 98/10/05 020 Well, that Guytron thread di alt.guitar.amps  Robb Scott 
61. 98/10/05 020 Re: Well, that Guytron threa alt.guitar.amps  Zekmoe 
62. 98/09/30 020 Re: Guytron Amps.....anyone  rec.music.makers.guit Paul Brannon 
63. 98/07/20 020 Re: Guytron?  rec.music.makers.guit Ericb 
64. 98/07/19 020 Re: Guytron?  rec.music.makers.guit DougA70320 
65. 98/07/18 020 Re: Guytron?  rec.music.makers.guit Jomack 
66. 98/07/17 020 Re: Guytron?  alt.guitar.amps  RMars9804 
67. 98/04/27 020 Re: PRS/Matchless review --  rec.music.makers.guit DougA70320 
68. 98/11/11 019 Re: Is the HC Forum moderate rec.music.makers.guit Not A Speck Of 
69. 98/11/09 019 Re: High Gain Heads  rec.music.makers.guit Joe Bac 
70. 98/10/17 019 Re: More SOLDANO Mods  rec.music.makers.guit SEFSTRAT 
71. 98/10/16 019 Re: More SOLDANO Mods  rec.music.makers.guit Stratoman6 
72. 98/10/05 019 Re: Well, that Guytron threa alt.guitar.amps  Ericb 
73. 98/09/30 019 Re: Guytron Amps.....anyone  rec.music.makers.guit Ericb 
74. 98/09/03 019 AAS  rec.music.makers.guit Robb Scott 
75. 98/07/18 019 Re: Guytron?  rec.music.makers.guit DougA70320 
76. 98/07/18 019 Re: Guytron?  alt.guitar.amps  Randysez 
77. 98/07/18 019 Re: Guytron?  rec.music.makers.guit Dan Stanley 
78. 98/07/18 019 Re: Guytron?  rec.music.makers.guit DougA70320 
79. 98/10/18 018 Re: More SOLDANO Mods  rec.music.makers.guit Stratoman6 
80. 98/10/18 018 Re: More SOLDANO Mods  rec.music.makers.guit SEFSTRAT 
81. 98/10/17 018 Re: More SOLDANO Mods  rec.music.makers.guit glaze1306 
82. 98/10/17 018 Re: More SOLDANO Mods  rec.music.makers.guit Ericb 
83. 98/09/03 018 Re: AAS  rec.music.makers.guit stevie_rob 
84. 98/07/17 018 Re: Guytron?  alt.guitar.amps  profrets 
85. 98/06/20 018 Re: If $ were no object--Wha alt.guitar.amps  RMars9804 
86. 98/06/20 018 Re: If $ were no object--Wha alt.guitar.amps  Jonathan Krogh 
87. 97/12/16 018 Re: Best High Gain Lead Tone alt.guitar.amps  Steve 
88. 97/12/11 018 Re: GUYTRON amp source?  rec.music.makers.guit DougA70320 
89. 97/12/09 018 Re: GUYTRON amp source? -- R rec.music.makers.guit DougA70320 
90. 97/12/09 018 Re: GUYTRON amp source?  alt.guitar.amps  Danny Russell 
91. 97/12/09 018 Re: GUYTRON amp source?  alt.guitar.amps  Andy Warchol 
92. 98/11/02 017 Another  rec.music.makers.guit Carlginger 
93. 98/11/02 017 Re: Suhr Review By Indoor St rec.music.makers.guit Polfus 
94. 98/10/19 017 REVIEW JOHN SUHR TELE (INDOO alt.guitar  DougA70320 
95. 98/10/19 017 JOHN SUHR TELE REVIEW (INDOO rec.music.makers.guit DougA70320 
96. 98/10/03 017 Re: DC Les Paul/Vs Hamers-G  rec.music.makers.guit Robb Scott 
97. 98/08/03 017 Re: Tech XXL reviews?  rec.music.makers.guit Gil Ayan 
98. 97/12/16 017 Re: Best High Gain Lead Tone alt.guitar.amps  Steve 
99. 98/08/04 016 Re: Tech XXL reviews?  rec.music.makers.guit Greg Jones 
100. 98/06/05 016 Re: Review: PRS McCarty Arch alt.guitar  DougA70320 

---
Amptone.com ultra gear-search page
---
Home (amp tone and effects placement)