Home (amp tone and effects placement)
---
Hi-Mu 5.5 - full-featured 7 watt tube amp ($440)
Hi-Mu is the original full-featured low-power tube amp with a full-sized speaker. The original one was 5.5 watts. Then with some changes, the "5.5" increased to 7 watts: "now has an air-gap output transformer; this new unit is nearly twice the weight of the original and produces 60% more power. Bass response is increased significantly, allowing the amp to do clean sounds louder and with more authority. When pushed into distortion, the low end is even smoother and more well controlled than it was previously."
Controls on the front: Gain, Tone, Level, Volume, Treble, Middle, Bass. Why is there Gain and Level and Volume?
>Michael,
>I have a little HI-MU page with slightly more info on Barry's amps than I've noticed on your site if you want to check it out. The last time I talked to Barry he was restoring an old house in Rhode Island and didn't know when or if he was going to get back to building amps, but he sure made some nice ones while he was at it.
-- Rex Jackson
The "Hi-Mu 5.5" is reviewed page 55, Guitar Shop, April 1995. 1 6V6, original 5.5 watt version, Greenback speaker, dual rectifier, headphone out, 3 channels, tone controls bypass, $717 (basic model $440). They moderately criticized its clean response, but then, the above mods were made; the claimed improvements exactly address the Guitar Shop mild criticisms.
HiMu 5.5 SE recording combo, with Weber P12Q 12" speaker. Killer recording amp - designed to be a Fender Champ on steroids. Volume, bass/mid/treble, bias switch, and a tube effects loop with variable send & return level, tone control bypass switch (thickens the tone and boosts the level like a tweed Champ), preamp out jack, standby and polarity switches, and a solid-state rectifier that tightens up the response over a stock Champ. Comes with two different sounding NOS 6V6GT output tubes & various preamp tubes (NOS, Ruby 7025STR). Late production model with upgraded output transformer; hard to find.
Reviewed in Guitar Player magazine, Feb 1994, 4 columns. (Was it the first, 5.5 watt version, or the later, 7 watt version?) Speaker simulator output for DI. "We were curious as to how the speaker simulator circuitry would sound on tape. By feeding the Hi-Mu's direct-recording output straight into a mixer, we obtained a clear, full tone with no trace of line-out harshness. We compared recorded sounds from the Hi-Mu's preamp out with its recording out, and sure enough, the unconditioned signal from the preamp was much raspier than the speaker simulator output." They should have compared using a speaker tap after the power tubes, which would be before the speaker simulator, thus listening immediately before and after the speaker simulator. "Poking around the engine rooms of either Hi-Mu is a rewarding adventure. These artistically crafted amps feature incredibly tidy point to point wiring, with all components mounted either to the chassis or soldered to terminal strips. Other cool touches include ceramic tube sockets for the 6v6 and 12ax7's, a DC filament supply for lower hum, a tube effects loop, lots of heat shrink sleeving for component strain relief, and shielded cabling for low noise. A very hip-looking and roadworthy package!" "The Hi-Mu may resemble a Polytone, but its tones are pure tube. In the clean mode the amp sounds sugary and musical. The cleanest sounds are obtained with the bias switch set to the low position and the tone controls in. If you crank the volume with the tone controls out, you can get a dynamic lead distortion that's crisp and harmonically rich. It's amazing how much louder and punchier the amp is sans tone controls."
>If you can find one, the Hi-Mu single-ended 6v6 Champ is an awesome recording tool. Low noise, built like a tank, beefy transformers, very flexible, with EFX loop, tone control bypass, built in loads (optional) etc--a super-Champ if there ever was one! Expect to pay at least $400 for a used head.
Steve's photos and long descriptions of all the features of the Hi-Mu and Lennon Amps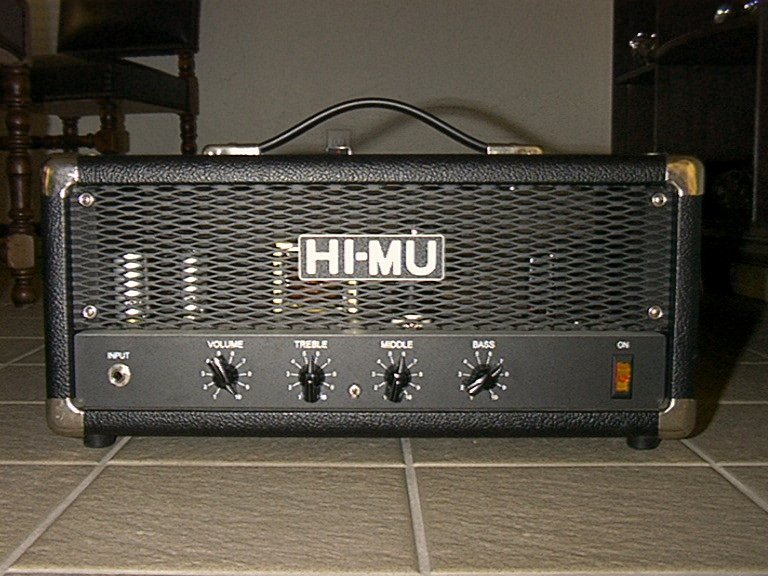 - picture by Steve, above.
The Unofficial HI-MU Amplifiers Page
"Although we use well-proven, traditional tube circuitry, HI-MU amps are more than vintage replicas. Because of our superior circuit design, custom transformers, 12" speaker, and very substantial cabinets, even the basic model HI-MU will give you a wider range of sounds and a fuller tone than you would be able to get from a low-wattage vintage amp. Add on the available options and you have got an amp that is extremely versatile, from vintage to modern."

"Low wattage amps are all that we do. Each amp is meticulously hand-wired; there are no printed circuit boards. Tube sockets are ceramic and are bolted directly to the chassis. All hardware is either stainless steel or nickel finish; and because we use shielded wiring and a DC (rather than AC) tube heater circuit, these amps have the lowest possible level of background noise and hum. When wiring is completed, every amp is burned in on the test bench. After final assembly, the amp is played with several guitars in our studio to assure that its performance is flawless."

--Barry L. Breisch
From Rex's page:
Model 5.5 (SE 6V6, 7 watt)

The HI-MU Model 5.5 is a pro-quality tube amp which is designed specifically to provide full-power tube performance at moderate loudness. Using a single (6V6) power tube, the amp puts out up to 7 or 8 watts of pure Class A power. [Yet the name "5.5" and the Guitar Shop article state that it puts out 5.5 watts.] Mated with an efficient 12" speaker, these amps deliver the full-bodied tone that you just cannot get from a 30, 50 or 100 watt amp with its volume set low. The sound is suprisingly big, and because no negative feedback is used, the amps can get louder than you might expect from 7 watts. But overall, the loudness is perfect for home recording/jamming applications.

All Model 5.5 amps now use an "air gap" output transformer. This new unit is nearly twice the weight of the original and produces a 60% average increase in power output. Bass response has increased significantly, allowing the amp to do "clean" sounds louder and with more authority. When pushed into distortion, the low end is even smoother and more well controlled than it was previously. This amp will quite simply bury any single 6V6 amp you've ever heard.
HI-MU Amplifiers
52 Wheeler Avenue
Cranston, Rhode Island 02905
(401) 941-4181

"It's on a sad note that I report the news that HI-MU Amplifiers aren't currently being produced. Barry is involved in the restoration of a newly acquired home and has put hand crafting his wonderful amplifiers on hold for the time being. I urge anyone interested in one of these terrific amplifiers to contact Barry and make him aware that there is still interest in his unique products. Maybe we can get him back to the workbench yet. -Rex "

I have the original marketing literature for this amp.
Although 5.5-8 watts is still far too loud, I hypothesize that it is a really good level for pushing a guitar speaker; I think that a hard-driven guitar speaker is important for Tone -- at least, the speaker should be moving reasonably far, rather than remaining stationary. Would the speaker sound lifeless if only driven by a saturating 1/2 watt tube power amp? I haven't run that experiment. It might be a matter of degree. Perhaps a guitar speaker sounds better, the harder it is driven. I'm not actually sure of how effective a mere 1/2 watt, 1 watt, or 3 watt tube guitar amp would be, particularly for edge-of-breakup, quasi-"clean" tube-amp tone. Maybe those would be just perfect. But a little more, 7 watts, certainly seems reasonably powerful.
Some of the prominent designers and gurus could phone Barry. He deserves a lot of credit -- his was the first low-power full-featured tube amp. I spoke with him some years ago, when the 5.5 became available; it was originally in black only, and I asked him to offer it in tweed. We discussed the difficulty of obtaining good tweed covering. Barry is a hero of the low-watt power-tube amp revolution.
-- Michael
---
Subject: Re: Hi Mu URL?
Date: 03/16/2000
Author: David Kieltyka
>> Wasn't the Hi-Mu basically like a Champ with a high gain preamp? Like a single 6V6 in single ended class A being fed by a preamp with full set of tone tweaks and a bunch of cascaded gain? I think the goal was to get a full blast high gain stack type of tone at studio levels.
>Yep, that basically covers it. I've got one of the Hi-Mu 5.5 combos. Puts out around seven watts. It has three modes. The first is quite Champ-like but with added low-end whomp (fairly hefty output tranny and 12" speaker help). In this mode you get very little preamp distortion, assuming you're not whacking the front end with real hot pickups, but lots of lovely 6V6 grind. The second mode adds more preamp gain and activates a gain control, turning the volume knob into a master volume. The third mode adds even more gain along with a second gain control. The amp also has an effects loop that can double as an additional gain stage and a speaker emulated direct out. In all modes you can switch out the tone controls for increased volume and dynamic response. No negative feedback used. The first mode has all the gain I need so I rarely use the others. In fact there was a version of the amp made without the cascading gain stages. There was also a version with switchable solid-state and tube rectifiers. Mine has the SS recto only. All in all a great home amp, and very handy for recording too.
>-Dave-
---
newsgroup postings about "hi-mu"
Messages 1-80 of exactly 80 matches for search hi-mu:

        Date   Scr        Subject                     Newsgroup           Author

   1. 98/09/28 020 Preamps in fx loop??         alt.guitar.amps       dcoffin        
   2. 98/08/04 020 FS: Hi-Mu 7watt HEAD         alt.guitar.amps       Steve          
   3. 98/05/31 020 FS: Hi-Mu 6V6SE              alt.guitar.amps       Teledlux       
   4. 98/05/31 020 Re: FS: Hi-Mu 6V6SE          alt.guitar.amps       Teledlux       
   5. 98/08/08 019 Smoothest 6v6???             alt.guitar.amps       Steve          
   6. 98/05/30 019 Re: FS: Hi-Mu 6V6SE          alt.guitar.amps       Jim Kroger     
   7. 98/02/03 019 Re: Apt. Tone- Help!         alt.guitar.amps       Richard Hessian
   8. 98/02/03 019 Re: Apt. Tone- Help!         alt.guitar.amps       Steve          
   9. 98/02/01 019 Re: Apt. Tone- Help!         alt.guitar.amps       Edwin Blakley  
  10. 97/08/24 019 HI-MU/ Lennon Amps           alt.guitar.amps       Steve          
  11. 97/07/22 019 Hi-Mu Amps                   alt.guitar.amps       Rob Caton      
  12. 98/08/08 018 Re: Smoothest 6v6???         alt.guitar.amps       Steve          
  13. 98/06/09 018 Re: PENTODE-TRIODE SWITC#1/2 alt.guitar.amps       Skip May       
  14. 98/05/30 018 Re: FS: Hi-Mu 6V6SE          alt.guitar.amps       Steve          
  15. 98/01/31 018 Re: Apt. Tone- Help!         alt.guitar.amps       richman1       
  16. 98/01/30 018 Re: Apt. Tone- Help!         alt.guitar.amps       Steve          
  17. 98/08/08 017 Re: Smoothest 6v6???         alt.guitar.amps       Kevin Deal / Up
  18. 98/02/16 017 Re: New Fender Pro Junior    alt.guitar.amps       Steve          
  19. 97/08/24 017 Hi-Mu/Lennon Amps            alt.guitar            Steve          
  20. 97/07/25 017 Re: Hi-Mu Amps               alt.guitar.amps       Herbert Blinken
  21. 98/06/09 016 Re: PENTODE-TRIODE SWITCH (r alt.guitar.amps       Skip May       
  22. 98/02/17 016 Re: New Fender Pro Junior    alt.guitar.amps       Tom Kochie     
  23. 98/02/16 016 Re: New Fender Pro Junior    alt.guitar.amps       Troubleman     
  24. 98/02/16 016 Re: New Fender Pro Junior    alt.guitar.amps       Jim Kroger     
  25. 97/08/04 016 HI-MU Amp FS            #2/2 alt.guitar.amps       Steve          
  26. 97/08/04 016 HI-MU Amp FS            #2/2 alt.guitar            Steve          
  27. 97/07/31 016 FS: HI-MU AMP!! (7-watt #1/2 alt.guitar.amps       Steve          
  28. 97/07/31 016 FS: HI-MU AMP!! (7-watt #2/2 alt.guitar.amps       Steve          
  29. 97/07/22 016 Re: Hi-Mu Amps               alt.guitar.amps       Ken Brakebill  
  30. 97/05/06 016 Amp w/ No Tone controls???   alt.guitar.amps       Steve          
  31. 97/03/15 016 Re: STEREO 6V6 AMP INFO      alt.guitar.amps       Neal Winslow   
  32. 97/03/11 016 HI-MU AMP INFO (LONG)   #1/2 alt.guitar.amps       Steve          
  33. 97/01/13 016 Re: GP's Boutique Amp Shooto alt.guitar.amps       JAnder6848     
  34. 96/11/30 016 Hi-Mu amp                    alt.guitar.amps       Neal Winslow   
  35. 97/12/13 015 Re: Let's go amp-building fo alt.guitar.amps       Bill Boyd      
  36. 97/12/13 015 Re: Doctor Z Carmen Ghia     alt.guitar.amps       Steve          
  37. 97/12/09 015 Let's go amp-building for th alt.guitar.amps       Jeff Vineburg  
  38. 97/08/04 015 HI-MU Amp FS            #1/2 alt.guitar.amps       Steve          
  39. 97/08/04 015 HI-MU Amp FS            #1/2 alt.guitar            Steve          
  40. 97/07/26 015 Re: Hi-Mu Amps               alt.guitar.amps       Ken Brakebill  
  41. 97/05/29 015 Re: Debate: Cranking amp#1/3 alt.guitar.amps       Steve          
  42. 97/05/29 015 Re: Debate: Cranking amp#3/3 alt.guitar.amps       Steve          
  43. 97/05/09 015 Re: Amp w/ No Tone controls? alt.guitar.amps       Steve          
  44. 97/05/07 015 Re: Amp w/ No Tone controls? alt.guitar.amps       Mark Garvin    
  45. 97/05/07 015 Re: Amp w/ No Tone controls? alt.guitar.amps       Tom HIWATT     
  46. 97/03/11 015 HI-MU AMP INFO (LONG)   #2/2 alt.guitar.amps       Steve          
  47. 96/11/30 015 Re: Hi-Mu amp                alt.guitar.amps       timtube        
  48. 97/06/03 014 Re: 4 Watt Amps--12" speaker alt.guitar            Tom Shaw       
  49. 97/05/08 014 Re: Amp w/ No Tone controls? alt.guitar.amps       Sean R. Kerns  
  50. 97/05/07 014 Re: Amp w/ No Tone controls? alt.guitar.amps       Kenny          
  51. 97/03/14 014 Re: STEREO 6V6 AMP INFO      alt.guitar.amps       Ken Brakebill  
  52. 97/02/24 014 Re: Pulling power tubes?     alt.guitar.amps       Rusty Bretz    
  53. 97/02/22 014 Pulling power tubes?         alt.guitar.amps       Carl Urbinati  
  54. 97/01/14 014 Re: followup re: opinions ne alt.guitar.amps       Neal Winslow   
  55. 96/10/15 014 Low-watt power tubes: ne#4/4 alt.guitar.amps       Michael      
  56. 96/02/21 014 Re: Info on Gibson amp       alt.guitar.amps       Joseph Pampel  
  57. 96/02/07 014 Re: Peavey Classic 30 Schema rec.audio.tubes       David Harris   
  58. 95/04/03 014 Re: Tube Combo Advice        rec.music.makers.guit Michael      
  59. 97/05/29 013 Re: Debate: Cranking amps    alt.guitar.amps       Steve          
  60. 97/01/15 013 followup re: opinions needed alt.guitar.amps       JAnder6848     
  61. 97/01/14 013 Re: GP's Boutique Amp Shooto alt.guitar.amps       Neal Winslow   
  62. 97/01/14 013 Re: Best new amp w/ 6V6's??  alt.guitar.amps       Neal Winslow   
  63. 97/01/13 013 Re: Best new amp w/ 6V6's??  alt.guitar.amps       Neal Winslow   
  64. 96/11/13 013 Re: Rvw of Power Brake, Hot  alt.guitar.amps       M. Diewald     
  65. 96/11/12 013 Re: Rvw of Power Brake, Hot  alt.guitar.amps       Michael      
  66. 96/11/11 013 Re: Rvw of Power Brake, Hot  alt.guitar.amps       Ron Traweek    
  67. 96/11/02 013 List of small tube amps for  alt.guitar.amps       Michael      
  68. 96/11/02 013 Re: List of small tube a#2/2 alt.guitar.amps       robertb        
  69. 96/11/01 013 Re: Rvw of Power Brake, Hot  alt.guitar.amps       Michael      
  70. 96/10/19 013 Re: 7 Approaches to Quie#1/2 alt.guitar.amps       Michael      
  71. 96/10/19 013 Re: 7 Approaches to Quie#1/2 alt.guitar.amps       J.R. Elswick   
  72. 96/10/16 013 Re: 7 Approaches to Quie#2/4 alt.guitar.amps       J.R. Elswick   
  73. 95/03/31 013 Re: Tube Combo Advice        rec.music.makers.guit Michael      
  74. 96/11/02 012 Re: List of small tube a#1/2 alt.guitar.amps       robertb        
  75. 96/10/26 012 Re: Looking for small tube a alt.guitar.amps       Michael      
  76. 96/10/16 012 7 Approaches to Quiet Po#1/2 alt.guitar.amps       Michael      
  77. 96/10/16 012 7 Approaches to Quiet Po#2/2 alt.guitar.amps       Michael      
  78. 96/10/16 012 Re: 7 Approaches to Quie#3/4 alt.guitar.amps       J.R. Elswick   
  79. 96/04/27 012 Re: Matchless Amps for Yuppi alt.guitar.amps       Jack A. Zucker 
  80. 96/04/05 012 Amp-Index Guitarplayer 92-95 alt.guitar.amps       Bart Mom       

---
Amptone.com ultra gear-search page
---
Home (amp tone and effects placement)