Home (amp tone and effects placement)
---
Hughes & Kettner Red Box Pro (speaker tap and cabinet emulator)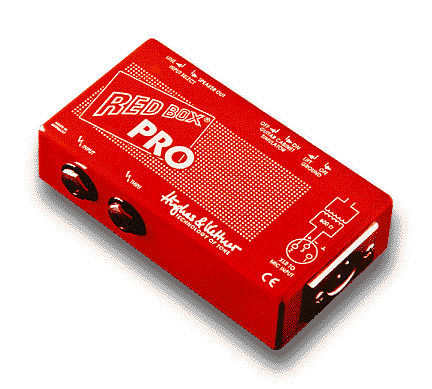 Hughes & Kettner Red Box Pro. $129. Cab-sim, floor unit. 2x12 or 4x12 cab. Accepts speaker load [?].
From a previous H & K page: "Eliminates amp-miking hassles, providing rich, full cabinet sound. Simply connect the RED BOX to the line out jack of your amp or preamp, or patch it between your amp head and speaker. Its complex filtering system delivers a balanced signal that simulates the sound of a miked cabinet with amazing accuracy. Fast, simple setup and consistent sound quality - the only way to "mike" up your rig. Cabinet simulator with two selectable characteristics (combo/4x12"). Can be powered by phantom power, external adapter, or battery. Ground Lift switch. Inputs and outputs: Line in, speaker in, speaker through, electronically balanced low-impedance out (XLR)."
There is a 2-column comparative review in Legends of Guitar: The Quest for Ultimate Tone. Best of Guitar Player. Sonic secrets -- Hendrix, Clapton, Van Halen, Stevie Ray, Slash, & more. Distortion tips. Eq- craig anderton. Decoding distortion. R. Aspen Pittman. Eric Johnson. Tone factors in solidbody guitars. 1995. Has a review of soaks, which appeared in Guitar Player Aug 1993. Covered:
Scholz Power Soak $200 list
Marshall Power Brake $350 list
Groove Tubes Speaker Emulator II $500 list
Harry Kolbe Soundsmith - Silent Speaker $250 list, The Attenuator $150 list
ADA MicroCAB $220 list
Hughes & Kettner - Red Box Mk III $130 list
unofficial H and K site [404? link/get Red Box info]
official Red Box Pro page - excerpts:
The world's most popular cabinet simulator. Improved professional version, the Red Box Pro. Refined for even greater realism. Balanced transformer and ground lift switch, for both impedance matching and galvanic isolation, and a ground lift switch for knocking out hum. This allows you to connect your guitar amp to your mixing console over lengthy cables without worrying about extraneous noises or ground loops.

No batteries or external power supplies required.

New: Power Amp Simulation. Not just the sound of the speaker cabinet, but the sonic subtleties introduced by the guitar amp's power amp section are now accurately recreated as well.

The Red Box Pro can now double as a standard D.I. box at the flick of a switch. You can bypass the entire Red Box Pro filtering section and connect an acoustic guitar, a bass, or a keyboard.

Controls: 4x12"/Combo switch

Speaker simulation: 4x12" + 2x12" combo

Connections: Line in, Speaker in, Speaker through, mic. level balanced out (XLR).

Approx. Weight: 200 g.

Dimensions: 12 x 4 x 7.2 cm.

Special features: 2 characteristics, Ground Lift switch, Power supply by battery, AC-adaptor or phantom.

List $129.

Hughes & Kettner
(708) 439-6771
info at Hughes-and-Kettner.com

You can use the Red Box as part of the sound along with the mics. A speaker level output from the amp is plugged into the Red Box and the Red Box puts out two signals - an output to the speaker and a mic level feed to the console. There's definitely a phase issue between the Red Box and the mics because the sounds arrive at two different speeds (the speaker-to-microphone path takes longer). Sometimes you'll get interesting cancellations. You can use the mics on one side of the mix and the Red box on the other to give it a stereo feel.

Delivers an authentic guitar cabinet tone when the cabinet simulator is switched on. Simulates the bark that you get from playing muted power chords through a screaming amps and cabinet. We also ran the bass through the Red Box Pro, and the Guitar Cabinet Simulator gave it a nice rounded tone. The Red Box Pro fixed ground loop problems.
---
I think it might be possible to get a pretty authentic tone at the output transformer *if* you have saturated power tubes directly interacting with an actual hard-driven guitar speaker, with no attenuator getting in the way. Direct-inject to the mixing board might work much better when the power tubes are feeling an actual hard-driven guitar speaker and responding accordingly. If my suspicion is correct that a guitar speaker significantly feeds back (in a complex, dynamic way) to the power tubes, then, my hypothesis would imply that the Red Box should work well *unless* the amp is pushing just a dummy load, such as the Marshall Power Brake.
---
[No user comments found at Harmony Central. Amp database Effects database]
Connection options for the Red Box


The THD Hot Plate or Marshall Power Brake are overkill if you are
just trying to tap the speaker terminals. The H&K Red Box might
serve better, it's only about $100.

Some of these devices force you to use the built-in speaker simulator (essentially a low-pass
filter).

The Red Box is the standard piece of gear to tap
the signal at the speaker terminals. It still requires driving a guitar speaker loud.


At 12:22 AM 11/15/96 -0800, James W. Thomas wrote:

>I used to have a Red Box III, but I sold it in a moment of stupidity.
>It's a great piece of gear. As far as hookup options go, it's 1/4"
>in from the amp, then 1/4" pass-though, 1/4" line level (unbalanced,
>I think), and XLR line-level. You are forced to use the speaker sim,
>but you get a choice of 4x12" or a brighter 2x12". It uses either an
>AC adaptor or phantom power from the XLR.
>
>It's the standard piece of gear to tap this
>signal, due to its price (you can find them less than $100)
>and it sounds great. If you don't need a lot of
>variety in terms of which cabinets are being emulated, it's the piece
>to go with.

>I think it has a line-level in too.


---
Messages 1-100 of about 300 matches for search "red box":

        Date   Scr        Subject                     Newsgroup           Author

   1. 98/10/29 061 Re: H&K Red Box Pro?         alt.guitar.amps       nobody         
   2. 98/10/27 059 Re: H&K Red Box Pro?         alt.guitar.amps       Richard E. John
   3. 98/10/27 059 Re: H&K Red Box Pro?         alt.guitar.amps       Unsung96       
   4. 98/10/27 059 Re: H&K Red Box Pro?         alt.guitar.amps       Mike Travis    
   5. 98/10/29 058 Re: H&K Red Box Pro?         alt.guitar.amps       josh           
   6. 98/10/29 058 Re: H&K Red Box Pro?         alt.guitar.amps       josh           
   7. 98/10/29 058 Re: H&K Red Box Pro?         alt.guitar.amps       josh           
   8. 98/10/29 058 Re: H&K Red Box Pro?         alt.guitar.amps       josh           
   9. 98/10/29 058 Re: H&K Red Box Pro?         alt.guitar.amps       josh           
  10. 98/10/27 056 Re: H&K Red Box Pro?         alt.guitar.amps       Mike Travis    
  11. 98/05/20 053 Re: red box pro help.....    alt.guitar.amps       Rick           
  12. 98/05/17 053 Re: red box pro help.....    alt.guitar.amps       NOCTURNAL10    
  13. 98/05/16 053 red box pro help.....        alt.guitar.amps       Rick           
  14. 98/05/20 050 best direct recording teckni alt.guitar.effects    Hill Singer    
  15. 98/09/27 049 Re: Direct Boxes             alt.guitar            Kamchak Tuchuk 
  16. 98/05/22 049 Any comments on the Hughes & alt.guitar.amps       Robert Cornelis
  17. 98/09/28 048 Re: Direct Boxes             alt.guitar            Kamchak Tuchuk 
  18. 98/09/27 048 Re: Direct Boxes             alt.guitar            Demian Norvell 
  19. 98/09/27 048 Re: Direct Boxes             alt.guitar            jeff           
  20. 98/07/27 048 Re: Hot Rod Deluxe - line ou alt.guitar.amps       Tom Kochie     
  21. 98/04/13 048 Re: Speaker Simulator        alt.guitar            josh           
  22. 98/04/13 048 Re: Speaker Simulator        alt.guitar            Eagle          
  23. 98/03/26 048 One more Fulldrive2 question alt.guitar.amps       Brian Voss     
  24. 98/10/27 047 Re: Amp emulators, speak#1/3 alt.music.4-track     Michael      
  25. 98/10/27 047 Re: Amp emulators, speak#1/3 alt.guitar            Michael      
  26. 98/10/04 047 Re: Direct Boxes             alt.guitar            Todd Marsden   
  27. 98/09/28 047 Re: Direct Boxes             alt.guitar            Les Cargill    
  28. 98/09/28 047 Re: Direct Boxes             alt.guitar            Kamchak Tuchuk 
  29. 98/09/28 047 Re: Direct Boxes             alt.guitar            steve_2000     
  30. 98/09/28 047 Re: Direct Boxes             alt.guitar            Kamchak Tuchuk 
  31. 98/09/27 047 Re: Direct Boxes             alt.guitar            Les Cargill    
  32. 98/05/24 047 Re: Any comments on the Hugh alt.guitar.amps       Rich           
  33. 98/05/22 047 Re: Any comments on the Hugh alt.guitar.amps       J...           
  34. 98/09/29 046 Re: Direct Boxes             alt.guitar            Les Cargill    
  35. 98/09/29 046 Re: Direct Boxes             alt.guitar            Patrick F. Cole
  36. 98/09/28 046 Re: Direct Boxes             alt.guitar            Kamchak Tuchuk 
  37. 98/09/27 046 Re: Direct Boxes             alt.guitar            jeff           
  38. 98/08/17 046 Re: Tubeman vs. V-twin       alt.guitar            JBC Beeche     
  39. 98/08/06 046 Re: miking guitar live Q's   alt.guitar.amps       garyfcarangelo 
  40. 98/08/05 046 effects & bass amp for sale/ alt.guitar.effects    dirk           
  41. 98/07/19 046 Deluxe Trouble               alt.guitar.amps       Michael Smarr  
  42. 98/07/19 046 Re: Deluxe Trouble           alt.guitar.amps       Kamchak Tuchuk 
  43. 98/07/19 046 Re: Deluxe Trouble           alt.guitar.amps       Michael Smarr  
  44. 98/04/13 046 Re: recording                alt.guitar            josh           
  45. 98/04/11 046 Re: Speaker Simulator        alt.guitar            NOCTURNAL10    
  46. 98/04/09 046 Re: Speaker Simulator        alt.guitar            Radical Fringe 
  47. 98/04/09 046 Re: Speaker Simulator        alt.guitar.amps       Sam 846        
  48. 98/04/08 046 Re: Speaker Simulator        alt.guitar            Radical Fringe 
  49. 98/04/05 046 Re: Direct Guitar Recording  alt.music.4-track     na2            
  50. 98/04/04 046 Re: Direct Guitar Recording  alt.music.4-track     josh           
  51. 98/04/02 046 Re: Direct Guitar Recording  alt.music.4-track     NOCTURNAL10    
  52. 98/09/28 045 Re: Direct Boxes             alt.guitar            Chris Gieseke  
  53. 98/09/27 045 Re: Direct Boxes             alt.guitar            Kamchak Tuchuk 
  54. 98/09/27 045 Re: Direct Boxes             alt.guitar            Demian Norvell 
  55. 98/09/04 045 Re: Fender Amp or Sansamp?   alt.guitar.amps       Kenneth La Barr
  56. 98/08/18 045 Re: "Amp Silencer"           alt.guitar            Ingemar Bergdah
  57. 98/08/08 045 Re: miking guitar live Q's   alt.guitar.amps       nocturnal10    
  58. 98/08/06 045 Re: miking guitar live Q's   alt.guitar.amps       Kamchak Tuchuk 
  59. 98/08/06 045 Re: miking guitar live Q's   alt.guitar.amps       Kamchak Tuchuk 
  60. 98/07/31 045 effects pedals for sale      alt.guitar.effects    elirose        
  61. 98/07/30 045 Re: Tube Amp Simulator       alt.guitar            Guitzy         
  62. 98/06/18 045 Re: Tech 21 Sans Amp         alt.guitar            TwoTonTone     
  63. 98/05/10 045 Re: Newbie question: how imp alt.guitar.amps       Asad Aboobaker 
  64. 98/05/07 045 Re: Amp to PA question.      alt.guitar.amps       Randall Aiken  
  65. 98/03/27 045 Re: One more Fulldrive2 ques alt.guitar.amps       SEFSTRAT       
  66. 98/03/27 045 Re: One more Fulldrive2 ques alt.guitar.amps       Cosmik Debris  
  67. 98/10/27 044 Re: Amp emulators, speak#1/3 alt.music.4-track     Chris Gieseke  
  68. 98/09/27 044 Re: Direct Boxes             alt.guitar            RUTTER         
  69. 98/09/24 044 Re: miking a marshal 4x12    alt.guitar.amps       Stn Monkey     
  70. 98/08/25 044 Boss, EH, Fender & Crate for alt.guitar.effects    dirk           
  71. 98/04/18 044 * FX - Gtr. cases - Pickups  alt.guitar.effects    STU AM         
  72. 98/04/08 044 WTB-compression pedal        alt.guitar            tom tone       
  73. 98/03/02 044 Re: Hot Plate-PowerBrake-Pow rec.music.makers.guit George Brickner
  74. 98/09/27 043 Re: Direct Boxes             alt.guitar            Demian Norvell 
  75. 98/09/23 043 Re: Which Palmer speaker sim alt.guitar.amps       jsuhr          
  76. 98/09/23 043 Re: Which Palmer speaker sim alt.guitar.amps       Whole Lotta Tom
  77. 98/05/12 043 Re: Question: Amp Thru Mixer alt.guitar.amps       Dutch          
  78. 98/04/09 043 Re: Speaker Simulator        alt.guitar            Dave Stork     
  79. 98/04/07 043 Re: Direct Guitar Recording  alt.music.4-track     chumbucket�    
  80. 98/04/07 043 Re: Direct Guitar Recording  alt.music.4-track     Bill Young     
  81. 98/04/05 043 Re: Direct Guitar Recording  alt.music.4-track     Chris Gieseke  
  82. 98/03/22 043 Fender 50Watt Tube Amp..Is t alt.guitar            MBenn74966     
  83. 98/10/25 042 Re: Low-watt power-tube devi alt.music.4-track     Michael      
  84. 98/08/06 042 Re: miking guitar live Q's   alt.guitar.amps       garyfcarangelo 
  85. 98/03/26 042 Re: One more Fulldrive2 ques alt.guitar.amps       Vic Dyer       
  86. 98/02/24 042 FS:Hughes & Kettner "Cream M alt.guitar.amps       rambins        
  87. 98/09/04 041 Re: Fender amps or Sansamp?  alt.guitar            Ingemar Bergdah
  88. 98/05/15 041 Re: I: Direct to the Boa#1/2 alt.guitar.effects    Chris Gieseke  
  89. 98/02/27 041 Re: Hot Plate-PowerBrake-Pow rec.music.makers.guit Steve          
  90. 98/02/04 041 Re: Opinions Please: Program alt.guitar            J.R. Elswick   
  91. 98/01/04 041 Re: 4-track help PLEASE!!    alt.guitar            Katie Fairhurst
  92. 98/04/10 040 Re: Speaker Simulator        alt.guitar            John Klemme    
  93. 98/04/09 040 Re: Speaker Simulator        alt.guitar            guitar_z       
  94. 98/03/23 040 Re: Fender 50Watt Tube Amp.. alt.guitar            Patrick F. Cole
  95. 98/01/06 040 Recording directly (no mic)  alt.guitar            Mike Friedrich 
  96. 98/02/24 039 Re: FS:Hughes & Kettner "Cre alt.guitar.amps       W.J.Vlymen MD, 
  97. 98/01/06 039 Re: Recording directly (no m alt.guitar            Kaz Kylheku    
  98. 98/02/05 038 Re: Opinions Please: Program alt.guitar            Thomas Michael 
  99. 98/02/03 038 Opinions Please: Programmabl alt.guitar            CatfishJoh     
 100. 98/02/03 038 Re: Opinions Please: Program alt.guitar            Robert Savage  

---
Amptone.com ultra gear-search page
---
Home (amp tone and effects placement)