Home (amp tone and effects placement)
---
Hughes & Kettner Tubeman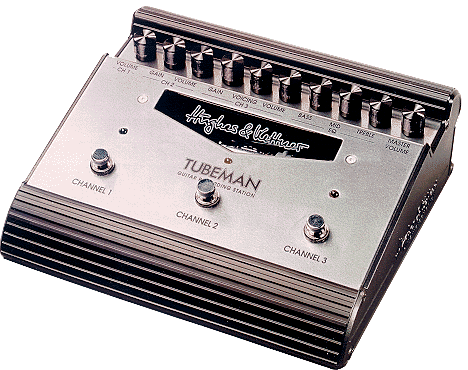 The Tubeman Plus came after the Tubeman. Tubeman controls: Midboost sw, gain pot, rock/blues/funk/jazz switch-knob, bass mid treb, master pot. Can be used as preamp, cab sim, or delux dist box. Guitar in, 3 outs (to mixer, to power amp, to guitar amp). Built-in Red Box direct line. 12AX7 tube. Guitar Shop page 60 Spring 1994, 1-page review.
In "Tone Toys '95: Direct Recording Preamps & An Innovative Power Amp Simulator (Joe Gore, Guitar Player Jan 1995), the ADA Ampulator was reviewed along with the Marshall DRP-1, Tech 21 Tri-OD, and Hughes & Kettner Tubeman Plus. The Ampulator blew them away in the review; he strongly recommended that if you use these others, use them with the Ampulator, which provides power-tube squashy dynamics.
The Tubeman *might* use the same technology as the Crunch Master, with more controls -- but I doubt it. Does this also use a power tube or a preamp tube that's in a power-amp configuration? This review doesn't say. This might be a better implementation of the Crunch Master, I don't know. The review certainly treats this as an amp-in-a-box device, not a distortion pedal. (Try putting time-effects after it; try putting it between two multifx units.)
Tubeman review: Guitar Gear (special issue of Guitar Player). page 94, 1 page. See my Books page to order issue.
Tube-driven Guitar Recording Station w/Cabinet Simulator, 3-channel, footswitchable $429
Hughes & Kettner Tubeman - Guitar Recording Station Tube preamp with speaker simulation in a compact format. Straight into the Console with Rich Amp Sound The R&D team that created the Hughes & Kettner TriAmp revamped TUBEMAN's tube circuitry to give it even greater expressiveness and responsiveness. The speaker simulation has been upgraded to match that of the new RED BOX PRO for added realism. The feature list now incorporates improvements suggested by TUBEMAN users from all over the world
Recording guitar - without microphones, without a recording booth.
The new TUBEMAN offers three tube channels, each accessible directly via footswitch, and each with separately adjustable controls. In the studio this gives you a very live feeling, where you can switch in real time from clean to crunch or lead and back. On stage this lets you use the TUBEMAN as a smart live amp. Simply connect from the TO MIXER-output to the live mixing console, and suddenly a three-channel guitar amp is standing before you on stage.
In addition to its highly effective 3-band EQ, the new TUBEMAN offers a special VOICING control on Channel 3 (the 'lead' channel) very similar to the one that was highly praised in the TUBE FACTOR. This one simple control makes it easy for you to dial up a broad range of amp characters and find your own sound fast.
The compact metal housing of the new TUBEMAN is built rugged to handle abuse as a pedal, and is equally at home sitting next to the mixing console, taking up less space than a notebook.
Tube preamp with 12AX7 tube 3 channels, for clean, crunch, and lead sounds
Master 3-band EQ
Voicing control in Channel 3
Click-free channel switching with no delay
Outputs both with and without Red Box cabinet simulation for use TO MIXER or TO POWER AMP
Rugged metal housing for use anywhere: on-the-floor or on the console.
Manual available for download (144K PDF).
Tubeman Plus - user comments (amps database)
---
Messages 1-86 of exactly 86 matches for search "tubeman":

        Date   Scr        Subject                     Newsgroup           Author

   1. 98/10/27 026 tubeman                      alt.guitar.effects    M. Gijsen      
   2. 98/10/27 021 Re: Amp emulators, speak#1/3 alt.music.4-track     Michael      
   3. 98/10/27 021 Re: Amp emulators, speak#1/3 alt.guitar            Michael      
   4. 98/10/25 021 Re: Tube Stompboxes vs. SS S alt.guitar.amps       Scott McKnight 
   5. 98/10/25 021 Re: Tube Stompboxes vs. SS S alt.guitar.amps       Clarke Robertso
   6. 98/10/24 021 Tube Stompboxes vs. SS Stomp alt.guitar.amps       George4908     
   7. 98/08/17 021 Tubeman vs. V-twin           alt.guitar            monoman        
   8. 98/07/29 021 H & K Tube Factor, new Tubem alt.guitar.amps       KLangdon       
   9. 98/10/27 020 Re: Amp emulators, speak#1/3 alt.music.4-track     Chris Gieseke  
  10. 98/08/17 020 Re: Tubeman vs. V-twin       alt.guitar            nocturnal10    
  11. 98/07/30 020 Re: H & K Tube Factor, new T alt.guitar.amps       carl margolis  
  12. 98/07/13 020 Tubeman vs. ATTAX Preamp     alt.guitar.amps       Kieran Tyrrell 
  13. 98/03/17 020 H&K TubeMan preamp-pedal     alt.guitar.amps       !!!!! at ???.???.?
  14. 98/10/25 019 Re: Low-watt power-tube devi alt.music.4-track     Michael      
  15. 98/08/17 019 Re: Tubeman vs. V-twin       alt.guitar            JBC Beeche     
  16. 98/06/16 019 Re: '62 Fender Twin Amp      alt.guitar.amps       T Loizeaux     
  17. 98/03/17 019 Re: H&K TubeMan preamp-pedal alt.guitar.amps       Jeanmichel gras
  18. 98/03/17 019 Re: H&K TubeMan preamp-pedal alt.guitar.amps       John McEvoy    
  19. 98/09/28 018 Re: Direct Boxes             alt.guitar            Chris Gieseke  
  20. 98/09/27 018 Re: Direct Boxes             alt.guitar            Demian Norvell 
  21. 98/07/22 018 Re: High gain fat pedal sugg alt.guitar            jean-michel gra
  22. 98/06/20 018 Re: '62 Fender Twin Amp      alt.guitar.amps       rousm          
  23. 98/05/15 018 Re: Arrangement of Pedals in alt.guitar            Thomas Michael 
  24. 98/04/14 018 Re: Direct Guitar Recording  alt.guitar            Roland         
  25. 98/04/12 018 Re: Direct Guitar Recording  alt.guitar.amps       Puentstein     
  26. 98/04/10 018 Re: Direct Guitar Recording  alt.guitar.amps       Puentstein     
  27. 97/05/20 018 Re: H+K Tubeman tone questio alt.guitar.amps       Steve          
  28. 98/08/03 017 Amp shootout                 alt.guitar            Richie         
  29. 98/07/19 017 Re: small speakers, big soun alt.guitar.amps       Puentstein     
  30. 98/06/16 017 '62 Fender Twin Amp          alt.guitar.amps       Tubeman        
  31. 98/06/10 017 Re: Solid-state vs. Vacuum t alt.guitar.amps       Puentstein     
  32. 98/04/30 017 Re: REQ: 1 Slot Preamp Recom alt.guitar            William F. Zach
  33. 98/03/18 017 Re: What's your favorite dis alt.guitar            Jeanmichel gras
  34. 98/03/17 017 Re: What's your favorite dis alt.guitar            Jeanmichel gras
  35. 97/06/12 017 Re: Cream Machine vs. Tubema alt.guitar.amps       Scott          
  36. 97/06/11 017 Cream Machine vs. Tubeman Pl alt.guitar.amps       C or G Jordan  
  37. 97/05/21 017 Re: H+K Tubeman tone questio alt.guitar.amps       Evan Aurand    
  38. 97/05/20 017 H+K Tubeman tone question    alt.guitar.amps       Dennis A Savage
  39. 97/04/28 017 F.S.TUBEMAN.PLUS..           alt.guitar            chuck          
  40. 97/02/14 017 H&K TUBEMAN PLUS?            alt.guitar.amps       Richard M. Sade
  41. 96/02/27 017 WTB: H & K Tubeman Plus      alt.guitar.amps       Anthony Pagkas 
  42. 98/05/04 016 Re: REQ: 1 Slot Preamp Recom alt.guitar            Gary Watts     
  43. 98/01/19 016 Re: Rotovibe anyone??        alt.guitar.effects    Jean-Jacques Bo
  44. 97/02/15 016 Re: H&K TUBEMAN PLUS?        alt.guitar.amps       Paul Cassone   
  45. 96/12/07 016 TubeMan pr�amp with 12AX7    alt.guitar.amps       plus           
  46. 96/08/21 016 Huhges and Kettner Tubeman q rec.music.makers.guit Lawson G. Stone
  47. 96/05/29 016 Re: Any opinions on Piranaha alt.guitar.amps       Mike Gervasi   
  48. 96/02/21 016 Re: XXL vs. Hughes & Kettner alt.guitar            George4908     
  49. 98/05/04 015 Re: REQ: 1 Slot Preamp Recom alt.guitar            William F. Zach
  50. 97/06/18 015 Re: Q:Best Distortion Pedal? alt.guitar.amps       Fly on! free bi
  51. 97/04/02 015 Re: Talking a friend out of  rec.music.makers.guit Paul Cassone   
  52. 96/08/23 015 Re: Huhges and Kettner Tubem rec.music.makers.guit Dan Steinwand  
  53. 96/04/30 015 Best non-Midi tube preamp    alt.guitar            thunder        
  54. 96/02/21 015 Re: XXL vs. Hughes & Kettner alt.guitar            Carl Christense
  55. 96/02/19 015 XXL vs. Hughes & Kettner Tub alt.guitar            Richie         
  56. 95/10/23 015 Recording Preamps            rec.music.makers.guit Roland Klemke  
  57. 97/11/19 014 Re: Boss ME-30 Multiple Effe alt.guitar            Bob Trevithick 
  58. 97/10/13 014 Re: Overdrive/Distortion ped alt.guitar            slidetone      
  59. 97/06/08 014 FS: Tube Preamp, Fender Delu rec.music.makers.guit David Talento  
  60. 97/06/03 014 Re: 2 Amp Set-up Question    alt.guitar            Anonymous X. In
  61. 97/04/03 014 Re: Debate: Are 100w amps ob rec.music.makers.guit Grant W. Petty 
  62. 97/04/03 014 Re: Debate: Are 100w amps ob rec.music.makers.guit John Kelley Bro
  63. 96/07/04 014 Re: What's your rig? Here is alt.guitar.amps       Mike Gervasi   
  64. 96/05/20 014 Re: Boss FX                  alt.guitar            FINNY49911     
  65. 96/05/02 014 Re: Best non-Midi tube pream alt.guitar            Dave           
  66. 96/05/02 014 Re: Best non-Midi tube pream alt.guitar            Anthony Pagkas 
  67. 96/04/30 014 Re: Best non-Midi tube pream alt.guitar.amps       Gil Ayan       
  68. 96/03/19 014 Re: Tube Amp Emulator DI Box rec.music.makers.guit Brian Rost     
  69. 95/10/26 014 Re: Recording Preamps        rec.music.makers.guit Michael Melkoni
  70. 95/10/23 014 Re: Recording Preamps        rec.music.makers.guit Erik           
  71. 97/06/06 013 FS:DW Labs Quickchange A#2/6 rec.music.makers.mark jcrane         
  72. 97/06/06 013 FS:DW Labs Quickchange A#4/6 rec.music.makers.mark jcrane         
  73. 97/04/03 013 Re: Debate: Are 100w amps ob alt.guitar.amps       Dale VanZile   
  74. 97/04/03 013 Re: Debate: Are 100w amps ob rec.music.makers.guit Brian Bresg    
  75. 97/01/19 013 Re: If you had only 1 pedal. alt.guitar            Thomas Plummer 
  76. 96/10/16 013 Re: Guitar Processors        rec.audio.pro         Roy Hendee     
  77. 96/09/25 013 Re: Tubes worth it?          alt.guitar            Sven Petersen  
  78. 96/07/11 013 Re: FS: H&K Blues Master + C rec.music.makers.mark roland kalus   
  79. 96/05/05 013 Re: Best non-Midi tube pream alt.guitar            Scott Kindorf  
  80. 96/04/10 013 Distortions                  alt.guitar            Richie         
  81. 96/03/24 013 Re: Zoom 4040... Your feelin alt.guitar.amps       Alain Benbassat
  82. 96/02/20 013 Headphone amps advice reques alt.guitar            mjones         
  83. 95/06/22 013 Best CLEAN sounds? H&K?      rec.music.makers.guit Kimberly Taylor
  84. 97/01/02 012 Re: Best way to record guita alt.guitar            Mark Garvin    
  85. 95/07/30 012 Re: Boogie Blue Angel 4x10 ! rec.music.makers.guit George4908     
  86. 96/04/05 011 Amp-Index Guitarplayer 92-95 alt.guitar.amps       Bart Mom       

---
Amptone.com ultra gear-search page
---
Home (amp tone and effects placement)