Home (amp tone and effects placement)
---
Hughes & Kettner: Zentera modelling amp
Harmony Central news - "Another amp I didn't get to play was Hughes & Kettner's Zentera modeling amp (zentera page at Harmony Central). Used in tandem with a MIDI pedal, you can summon up a variety of tones as well as effects in real time. Fortunately, demonstrating these amps were two very skilled players of the Stevie Ray Vaughan variety. Though I personally shy away from modeling amps, I have to admit that the SRV tone was basically nailed with this model. In other words, it was bright but not harsh, it was dirty but not saturated, and it allowed the personality of the various pickup settings from a Strat to shine through. The Zentera's two 12" Celestion(r) speakers allow for stereo effects, powered by dual 100 Watt power amps. Hughes & Kettner says the amp should be released sometime this summer."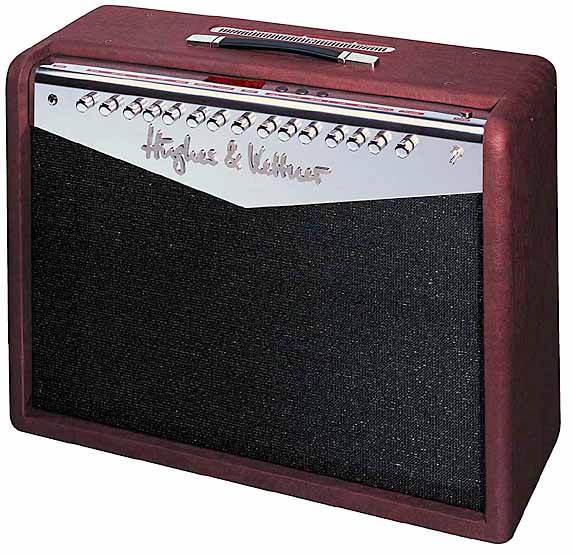 EL34 CLASSIC
EL34 LEAD
EL34 HIGH GAIN
6L6 TWEED
6V6 TWEED
6L6 TWIN
6L6 HIGH GAIN
EL84 CLASSIC
ACOUSTIC
Effects + Essentials: The effects section of the Zentera provides studio-quality Reverb, Delay and Modulation effects, as well as extremely natural sounding emulations of classic guitar effects like Tape Delay and Spring Reverb. Furthermore, Zentera includes classic pedal effects (like the Wah-Wah, for example) which can be controlled by mean of an expression pedal. Integral RedBox(tm) Cabinet Simulation as well as a digital tuner are of course included with an amp of this class.
All Amp Type, Gain, Voicing Section, Master and Effects settings can be saved to 128 memory locations as presets and be called up at the amp or via MIDI Stageboard (optional).
Large display shows settings.
2 x 100-watt power amp. 2 12" Celestions.
High-grade input section with 24-bit converter / 116 dB
Two 32-bit floating point DSPs of the latest generation for maximum dynamics and processing bandwidth.
Eight DSM(tm) models accessible as Amp Types
EQ featuring Bass, Mid, Treble and Presence with amp-specific response
Effects section featuring high-grade reverb, delay and modulation effects; all effects are variable and editable directly without menus. In addition, several vintage stomp boxes are available as digital models.
Stereo insert for external effects devices
Analog and digital (S/PDIF) outputs with speaker simulation
Large custom display indicating preset numbers, settings and functions in plain text.
128 memory slots for freely editable and storable presets.
Output controller for acoustic emulation of the original cabinet/speaker combination.
2 x 100-watt power amps.
2 x 12" Celestion loudspeakers.
Weight approx. 29 kg
Availability: June, 2000
---
search for zentera at Harmony Central
user reviews of H+K amps at Harmony Central
search for zentera newsgroup postings at Deja.com
search for zentera newsgroup threads at Remarq.com
search Google for this product
search altavista for this product
---
Amptone.com ultra gear-search page
---
Home (amp tone and effects placement)