Home (amp tone and effects placement)
---
Hot Chili Tube Company: Tubester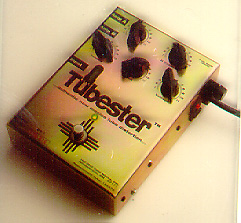 Tube distortion pedal, $250
Reviewed in August 2000 Guitar Player issue, in the Gizmo Alert column.
CL-1 low gain model. For harp, keyboard.
Tubester.com, official product page - there used to be more here. That's why I need to mirror pages more.
Tubester info at Analog Man's site - can order here
DS model - takes au-7, ax7,
Available direct from the gear boutique only. Send a check for $267 (U.S.) to:
Hot Chili Tube Company
920 Queens Way
Bedford, TX 76021
817-285-8456
tubester@flash.net
Harmony Central reviews - tubester od/dist pedal reviews.
Fantabulosity: MP3s with amp tone - Tubester pictured here.
Ampeg Jet 15-watt amp (1 MB) - direct download of a sample from his site. clanky, liquidy amp tone. I thought he was using the Tubester pedal shown, but he wrote me earlier: "What you are hearing is a 15-watt Ampeg Jet tube amp and my 1968 Strat with 13's. That is it. I also have a 92 SRV Strat. To hear the differrence just a guitar makes listen to Jamone=68 strat and funk1=92 SRV Strat. I think there is a big differrence. Neck pickup all the way too."
all remarq.com hits for tubester (best link)
remarq.com tubester hits in alt.guitar.amps
remarq.com tubester hits in alt.guitar.effects
cool thread about distortion pedals
---
Amptone.com ultra gear-search page
---
Home (amp tone and effects placement)