Home (amp tone and effects placement)
---
Jamison 35/15 watt amp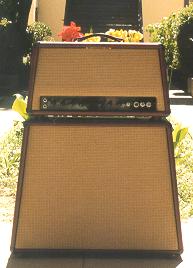 official product page - "Scalability: One of the major benefits of owning a Jamison is the flexibility it allows for different size venues. For performances in smaller venues, you will find the High/Low power switch located on the front panel. Simply flip the high/low power switch to low, shutting down two of the four power tubes. By reducing the amp to 15 Watts, this allows for warm power section distortion without blasting out the room. In full power however, one 2X12 Jamison supplies plenty of volume for the largest venues."
$2500 for some combo versions.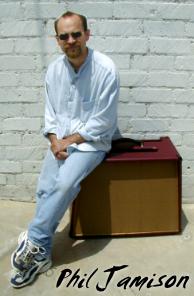 Phil was a Matchless builder.
Paul's Matchless page - "this amp is what Matchless could have been and wasn't: a simple amp with perfect tone AND the "bells and whistles," namely stock reverb and bypassable master, that would make it usable to nearly anyone. Plus, this amp has tremolo and half power."
---
Google Cache of Jamison site
Site seems gone. Here's a text mirror.

The eye catching �Jamison� 2X12 combo is a 35 Watt, Class A/B, cathode �self� biased amplifier. Powered by four EL84�s and a 5AR4 tube rectifier, it delivers a projection and clarity not found in most guitar amplifiers. Even in large rooms during live situations, the �Jamison� executes without ever squashing out or getting lost a few feet from the speakers. Featuring two effects, it offers a deep plush spring reverb but never allowing any signal loss, which makes for flawless tracking. It also has an unsurpassable Tremolo effect tied to the power section.

Driven by two 12AX7�s, the pre-amp has a �touch-feel-cushie� response which brings a wide range of dynamics and overtones. The controls consist of a pre-amp volume, treble, bass, and a push/pull bypass-able master. The effect controls are tremolo depth and speed, and reverb. As there are no markings on the control panel you must dial the amp with your ears instead of your eyes. Since the tone on a Jamison is much different from any other, it must be set by ear rather than using any preset standards. The two input jacks on the front are �Normal� and �High� inputs. The �normal� input gives a slightly softer and warmer sound, while the �high� input gives a top-end sizzle. High input will also give a heavy dose of treble.

One of the major benefits of owning a Jamison is the flexibility it allows for different size venues. For performances in smaller venues, you will find the High/Low power switch located on the front panel. Simply flip the high/low power switch to low, shutting down two of the four power tubes. By reducing the amp to 15 Watts, this allows for warm power section distortion without blasting out the room. In full power however, one 2X12 Jamison supplies plenty of volume for the largest venues

The Jamison consists of a pyramid shaped, �point to point� circuit design of the power section. There are no circuit or bread boards found inside the �Jamison�, just a modest amount of terminal strips and a point to point layout design with the most minimal amount of wires. The components consist of carbon comp resistors, aluminum electrolytic capacitors, metalized polyester and polystyrene capacitors, and the finest pots available.

The chassis is made of 5057 gauge �Aviation� aluminum from a local Aerospace company. Each corner is folded and welded, making the chassis a fraction of the weight of conventional steel while retaining much more strength durability than other amps. The cabinets are constructed of Baltic Birch. The front speaker baffle and rear panel are made of Mahogany, while the chassis is mounted to birch plywood with bolts running clear through and held fast with wing nuts and lock washers. For a sleek and stylish look, the �Jamison� amp is also available in a head version that follows the design of the extension cabinet.

Shaped like a Mayan pyramid you quickly see how the Jamison stands out with it�s trapezoid construction and deep cabinet design. This depth gives a simulated 4X12 sound for more �cabinet breath�, with a deep richness allowing more flexibility to the tone controls. The trapezoid design also makes for a stronger cabinet that won�t split at the corners when taken on the road, or when careless shippers drop them off trucks.

The stock speaker configuration of the �Jamison 2X12� is one Jensen P12N Alnico, and a 25 Watt Celestion �Greenback�. For those seeking that little extra edge of top-end treble, we recommend substituting the �Greenback� for a Celestion Vintage 30. For an added fee, a Jensen may be substituted for a Vox Alnico �Blue� Bulldog. A Vox Alnico �Blue� and the 25 Watt Greenback is a highly recommended combination for sound!

Determined to build an amp that could withstand the rigors of any world tour, we set out to create a unique and superior product. From this passion was born the �Jamison�, one of the most durable and �Road-Worthy� amplifiers in existence. Every resistor, capacitor, and wire has been carefully wrapped and soldered with silver solder to insure long life and the turmoil's of being shaken, kicked dropped or shipped to the other side of the globe!

Now that the �Jamison� is available, it is time to retire those old �classic� amps that require constant repair and maintenance. Our amps deliver the best in vintage sound and quality without the drawbacks associated with dinosaur amps.

2X12 Combo with tremolo and reverb
Jensen P12N Alnico, 25Watt Celestion �Greenback� $2,500.00
Jensen P12N Alnico, 30Watt Celestion �Vintage 30� $2,550.00
Vox Blue Bulldog, 25Watt Celestion �Greenback� $2,750.00
2X 25Watt Celestion �Greenbacks� $2,475.00
2X 30Watt Celestion �Vintage 30� $2,500.00
Jamison Head with tremolo and reverb $2,100.00
2X12 Extension cab with Jensen and 25W Celest. $750.00


703 Sartori Avenue
Suite B
Torrance, CA 90501
310/320-2188
info at jamisonamps.com
Hear a Jamison Amp for yourself at:
Westwood Music
10936 Santa Monica Blvd.
Los Angeles, CA 90025
310/478-4251
westwoodmusic.com
---
Research links
Jamison combo amp
+Jamison +combo +amp

Click these custom links to find the latest information and discussion about this product.

Article at Harmony Central (none)

user reviews for this manufacturer at Harmony Central (projected)

search newsgroup postings at Deja.com

search newsgroup threads at Remarq.com
---
Amptone.com ultra gear-search page
---
Home (amp tone and effects placement)