Home (amp tone and effects placement)
---
Johnson J-Station Guitar Amp Modeller, $450 list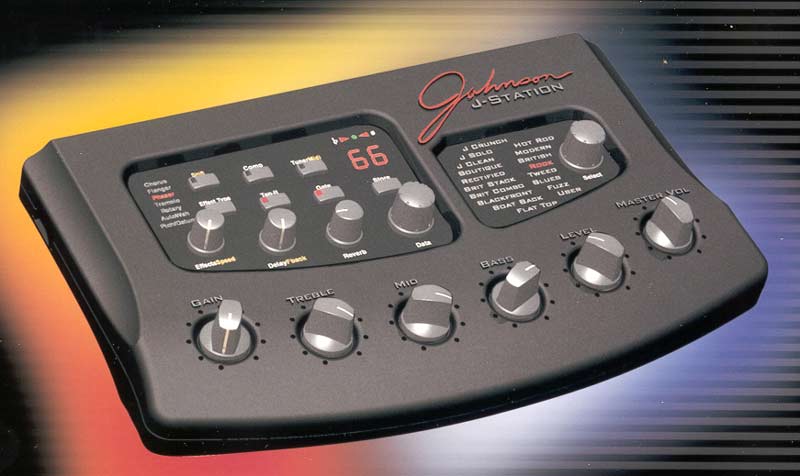 Reviewed in Guitarist magazine, p 78, Summer 2000. Build quality: 4 of 5. Features: 3.5 of 5. Sound: 4 of 5. Value: 4 of 5. Verdict: 4 of 5. Liked the ease of use and range of "convincing amp sounds". Didn't like -- effects are limited. Unlike Guitar Player magazine, they at least mentioned how impressive the software is, rather than saying "it exists, but is not reviewed here." In the future, magazines will take the software seriously and review it thoroughly.
Guitar amplifier modeling, bass amp modeling, acoustic guitar simulation.
User friendly
Amp modeling section and effects section.
18 different guitar amp, bass amp, or acoustic simulator models
7 gain and tone knobs
Effects such as Compression, Modulation or Pitch Shifting, Delay, and Reverb
3 dedicated knobs for fine tuning effect parameters
30 factory effect presets
30 user locations for storing custom configurations.
Full MIDI
S/PDIF output to go direct to digital
MIDI In jack substitutes as a J8 foot controller input for real-time control over preset selection and effects bypass
J8's expression pedal can control volume, wah and other modeling and effect parameters
Compatible with J3 three-button footswitch.
Includes Windows software for full parameter control of a superset of the physical controls. -- cool - I wanted that ever since the Digitech 2101.
Official J-Station Product Page
J-Station Owner's Manual (2.5 MB) - If you have trouble getting the manual through Digitech's link, use an FTP program such as CuteFTP. Go to ftp.digitech.com. Anonymous logon. Go to pdf_manuals/JStationmanual.pdf and download it.
This might be best:
Digitech's FTP site - EZ download manuals
---
Research links
Johnson "J-Station"
+"Johnson" +"J-Station"

Click these custom links to find the latest information and discussion about this product.

NAMM Article at Harmony Central

user reviews for this manufacturer at Harmony Central

product news for this manufacturer at Harmony Central

newsgroup threads comparing POD and J-Station

All newsgroup postings about "j-station"
---
Amptone.com ultra gear-search page
---
Home (amp tone and effects placement)