Home (amp tone and effects placement)
---
Johnson - Marquis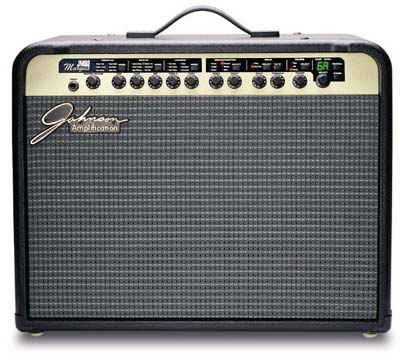 Review at Guitar magazine - excerpts:
...a compact and simplified version of the Johnson flagship models, the Millennium 150 and 250 H. Unlike its brethren, which have control panels that look more like digital effects than conventional guitar amps, the Marquis is very traditional in look and layout; the knobs resemble those you'd find on any "regular" amp, and the effects section, though powerful enough to provide what most guitarists would consider the essential staples and more, keeps things uncomplicated and straightforward.

While competing digital modelers seek to emulate the performance of tubes in software, Johnson continues to include an actual 12AX7 tube in its circuitry, before the analog-to-digital conversion process. [but no power tube - Michael]

One of the coolest things about the Marquis is the ease with which you can switch between Preset mode (where tone settings are recalled from memory) and Manual mode (where the current position of the knobs determines the sound, just like a regular amp). Working in Manual mode is an especially good way to get a handle on the differences between the amp models.

Unlike the volume control of a conventional tube amp, the Marquis' volume is controlled by a solid-state power-section, not by the gain of any tube stages. While the argument in favor of pure tube tone is powerful, there's a practical advantage to the Marquis' circuit--you can play clean at just as high a volume as you can play crunchy, something that doesn't really happen on most tube combos,

I was struck not only by the Marquis' tone--which boasts the seemingly contradictory attributes of flexibility and distinct personality--but also by the overall intelligence of the unit's design. Though simple for a "digital" amp, the Marquis is as elegant as its name implies; the features are well chosen, and you can access most of them without extensive time with your nose in the owner's manual.
Has a simple knob-based interface but the Mirage may be even simpler to use than this.
official Marquis page - "Adding to the phenomenal success of the Johnson line of Modeling amps, comes the Marquis series JM60. Don't let size fool you, the JM60 is capable of delivering 120 watts of power. With 18 different amp models, 27 user/27 factory presets, 3 digital effects at once, stereo effects loops and a headphone out which doubles as speaker compensated direct outs, the Marquis JM60 is truly the most amplifier you'll ever find in this small of a package."
Tube Plate Supply: 240 Volts
Tube: Single 12AX7
18 different amp models to choose from:

AMERICAN: Black Face, Tweed, Rectified, Blues Combo, Boutique, High Gain
BRITISH: Class A Clean, Class A Dirt, High Wattage, Master Volume, Modern Gain, Hot Rod
JOHNSON: Clean Tube, Crunch Tube, Saturated Tube, Fuzz, Overdrive, Fuzz, Metal

Accurate EQ points to emulate actual amp models
Amp Controls:

Master Volume
Gain
Treble
Mid
Bass
Level

Stereo 120 Watt Combo Amplifier (60 watts x 2)
Extension Speaker Cabinet outputs
12AX7 Preamp Tube
Single 12 " Eminence 100 Watt Speaker
TI Effects Processing
Stereo effect send and return loop
27 user/27 factory presets
Headphone output/doubles as speaker compensated direct out
Fully programmable digital effects - up to three at once
Univinyl covering
20 bit A/D/A
24 bit DSP
Speaker on/off switch
Optional J3 Foot Switch, or J8 Foot Controller
Digital Effects:

Chorus
Flange
Phaser
Tremolo
Vibrato [Uni-Vibe]
Pitch Shift / Detuner
Delay
Hall, Plate, and Spring Reverbs

Input Section: 1/4" Unbalanced 470k Ohm
Rear Connections:
Stereo Effects Send 1/4" Stereo TRS (680 Ohm, max +18dBu)
Stereo Effects Rtn 1/4" Stereo TRS (15k Ohm, max +18dBu)
External Speaker Output (1) 1/4", (8 Ohms minimum)
Stereo Headphone 1/4" Stereo TRS (10 Ohms minimum)
Speaker On/Off Switch
Footswitch Jack 1/4" TRS
J8 Control Jack 5 pin DIN
Speaker: (1) 12 inch Eminence 100 Watt Speaker
Rated Power Outputs:
Mono - 60 Watts RMS into 8 Ohms
Stereo - 120 Watts RMS (60W + 60W) into 8 ohms
DSP Section:
Freq Response: 20-20kHz +\-0.5dB
S/N Ratio: Greater than 98 dB (A-weighted) ref=max signal, 22kHz measurement bandwidth
A/D Convertor: 20 Bit, 128x Oversampled 44.1 kHz Sampling Rate
D/A Convertor: 20 Bit, 128x Oversampled
Max Delay Time: 1.2 Seconds
Dimensions: 11" (D) x 23" (W) x 18" (H)
Net Weight: 45 lbs.
Marquis launch article at Harmony Central - excerpts:
Following the successes of the Millennium amplifiers, the Marquis is smaller, lighter and more affordable. Tube-driven preamp, programmable effects, 12-inch, 100-watt speaker in a single compact package. 60 watts RMS in mono, with the addition of an external speaker, the JM60 can provide 120 watts stereo.

Traditional amp controls--including Master Volume, Gain, Bass, Mid, Treble and Level-are all available on dedicated front-panel knobs for quick and user-friendly adjustment of standard amp functions. Furthermore, EQ points for each amp simulation are set up to accurately match those of their respective models for the most realistic emulation at every setting.

Effects processor (24-bit DSP, 20-bit A/D/A) parameters are easily alterable via pots.27 factory presets are provided, as well as 27 locations for the user's custom-defined settings. Effects are all fully programmable, with up to three available at once.

The intuitive user interface makes the JM60 as easy to use as simply connecting a guitar and playing. With amp models and digital effects clearly labeled on the front panel and parameters quickly adjustable via dedicated knobs, there are no mind-boggling menus and sub-menus that are exhausting to learn and operate.

The Marquis JM60's preamp uses a high-voltage 12AX7 vacuum tube to deliver the unique warmth and richness necessary to duplicate the tones of the world's most popular amps. To date, Johnson Amplification is the only modeling amplifier manufacturer incorporating tubes in its preamps. [no one's done power tubes in a modelling amp yet]

$900
official Johnson products page
---
Research links
Johnson Marquis
+Johnson +Marquis

Click these custom links to find the latest information and discussion about this product.

1999 NAMM Article at Harmony Central

1997 NAMM Article at Harmony Central

Marquis launch article at Harmony Central

product news for this manufacturer at Harmony Central

user reviews for this manufacturer at Harmony Central

search newsgroup postings at Deja.com
---
Amptone.com ultra gear-search page
---
Home (amp tone and effects placement)