Home (amp tone and effects placement)
---
Johnson - Mirage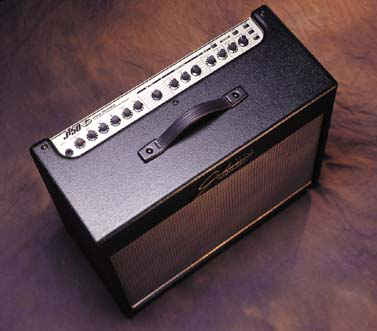 official Johnson products page
official Mirage product page - "The JT50 Mirage is the easiest to use, and most affordable modeling amp that Johnson Amplification has ever offered. The user interface employs knobs to adjust your preamp settings, a knob to choose one of the 12 different amp models, knobs to select from the 7 different modulation effects, three channels in each bank provide easy access to 21 of your sound creations. the headphone jack doubles as a speaker compensated direct out. Individual effect send and return jacks let you add your favorite line level processor, and it's all pushed through an impressive 50 watt power amp into a Johnson premium loud speaker. The optional J8 foot controller offers effortless remote switching, as well as adding tuner and wah capabilities. All of this is housed in a sleek MDF cabinet finished with the Johnson Univinyl covering."
Review at Intermusic.com - excerpts: "It's relatively easy these days to produce convincing clean and mega-high gain tones, but difficulties arise with more laid-back overdrive options. The Boutique, Tweed and Black Face amp types are perfect examples of how close Johnson have come with the JT50. As well as sounding impressive, they react to your playing in the correct manner too. Turning the guitar volume down authentically changes the tone, as does varying your picking method - just like a real valve amp. And that's the point. Each amp type has its own characteristics, and I'd recommend you scroll through the presets and use them as bases for your own settings. A good buy, simply because its sounds are so convincing. The likes of Johnson Clean and Rectified are as satisfying as ever, but the real strength lies in the authenticity of the subdued drive offerings."
July 23, 1999
The easiest to use and most affordable modeling amp that Johnson Amplification has ever offered (simpler and less expensive than Marquis, which is simpler and less expensive than Millenium).
Straightforward controls make preset selection and fine tuning a breeze. Programming menus have been replaced with clearly labeled knobs, making preset creation easy, and a total of 21 user preset locations provide plenty of room for storing custom effects. [total 21, or 42 presets?]
12 popular modern and vintage amplifiers.
Tone controls emulate the EQ points of each amp model
VoTube digital technology delivers the warmth and dynamic response of a tube amplifier.
Dial up your Amp Type and adjust the Gain and Tone controls.
JT50 Mirage
50 watts
single Johnson Premium 12-inch speaker
MDF cabinet finished with Univinyl
Up to 3 effects at a time.
Seven Modulation and Pitch Shifting effects, Delay (up to 2.5 seconds with Tap-It tempo) and two Reverb types (Programmable Hall and Spring Reverb)
Each effect [or module?] has individual controls
Stereo FX loop for external effects processors and pedals.
21 pre-programmed user presets [?] designed to provide a wide array of sounds for a variety of musical applications [musically useful sounds?].
optional J8 foot controller adds tuner and wah capabilities
Headphone Out doubles as a speaker-compensated Direct Out
24-bit A/D and D/A converters
optional J3 three-button footswitch.
$650
---
Research links
Johnson Mirage
+Johnson +Mirage

Click these custom links to find the latest information and discussion about this product.

NAMM announce article at Harmony Central

user reviews for this manufacturer at Harmony Central

product news for this manufacturer at Harmony Central

search newsgroup postings at Deja.com
---
Amptone.com ultra gear-search page
---
Home (amp tone and effects placement)