Home (amp tone and effects placement)
---
Lennon Audio STR6V6 and EL84 rack-mount 20- or 10-watt tube amp
$999 list.
Steve
quark at sprintmail.com
1997/12/13
alt.guitar.amps
wrote:
>Another great recording amp is the Lennon Audio STR6v6 power amp. It provides great power tube distortion at studio volumes. Mine is set up with 2 x 6V6 on one side and 2 x EL84 on the other. It has pentode/triode switching on both channels, and a global "punch/sustain" switch that changes the feedback circuit for more of a a singing tweed feel in the "sustain" mode. In triode mode, the wattage is cut in half, so you have a choice of 10 watts of 6v6 OR El84 tone at your finger tips. I've found that EL84's in triode sound quite nice, especially if you compensate for the impedance change--keeps the tone brighter compared to uncompensated darkening of triode tone. The Lennon STR6v6 also has built in loads for post-power-tube direct outs. I use mine with a CAE 3+ preamp, which allows me any combination of preamp and/or power amp distortion at moderate to low volume.
Steve's photos and long descriptions of all the features of the Lennon Amps. Designed by Bryan Lennon, lennonamp at aol.com. Excerpts from that page:
The Lennon Audio STR6V6 is a stereo, two space, rack-mount tube guitar power amplifier. One 12AX7WA and two 6V6GT tubes for each channel. [why so many? I would prefer the level of just a single power tube. -- Michael] Appropriate power for playing clubs and for studio recording. The driver and output tubes can be replaced with several different types for even more tonal flexibility. Novel features, yet based on Fender Princeton and Deluxe amplifiers. The 6V6 power tube is rich, smooth, and warm. The STR6V6 is designed so you can get that "classic" 6V6 tone plus several other tones that range from "smooth and sweet" clean tones to "thick and crunchy" overdrive and distortion tones. The STR6V6 can also be operated with EL84 tubes in the output section by simply using special adapters and adjusting the bias voltage. This option produces a meaty, slightly edgy sound compared to the 6V6 tubes. The EL84 has more gain than the 6V6 and its tone has been described as more "in your face" by some who play harder rock yet its greater dynamics is also preferred by some Jazz guitarists. The channels can be changed independently so you can run one channel with 6V6's and the other one with EL84's for a bigger, thicker, more complex tone. Many of the top guitarists run their guitar through two or more different sounding amplifiers to achieve a unique sound. With the STR6V6 you can have this tone in one compact package.

The Attack switch changes the response or "touch" of both channels. The Attack switch changes the way the amplifier responds to your playing. In the PUNCH mode, notes and chords have a fast "punchy" attack. In the SUSTAIN mode the attack is slightly compressed and notes "hold" longer. The difference in the two modes is subtle and difficult to describe but once you plug-in and listen you will hear and "feel" the difference.

The Output Mode switch selects between Pentode and Triode operation of the output tubes. The Output Mode is selectable for each channel independently. The Output Mode switch changes the way the output tubes operate. The output tubes in 95% of all tube guitar amps operate in the PENTODE mode. This familiar tone is very recognizable and is one of the main reasons tube amplifiers are so highly desired. The output power is also the highest in the PENTODE mode. In the TRIODE mode the output tubes operate differently, producing a noticeable difference in tone. In the TRIODE mode, tubes are more linear, that is they have less distortion, when they are not overdriven. When you dial up a "clean" tone, the tone is warmer than in the PENTODE mode. Since the output power is reduced by about 50% in the TRIODE mode, you can push the output tubes into distortion earlier. This means you can get a thick rich overdrive tone at a lower volume, which is perfect for small clubs and recording. The TRIODE mode is warmer and thicker for Jazz and Blues styles and darker and more compressed when overdriven.

The STR6V6 has a built-in speaker load for each channel. With the STR6V6, when no cables are plug into the speaker jacks, the signal goes to the built-in loads. You can record quietly. With the internal speaker loads, just disconnect the speakers (on the amp side), take your signal from the D.I. outputs into an EQ and you can turn up to 11! Of course nothing sounds exactly like miking a speaker, but with a little EQ tweaking, you can capture much of that tube power amp tone. The signals for the D.I. outputs come from the secondary of the output transformers for maximum tube tone. You can run the output of the preamp, the D.I. outputs and a signal from a mike in front of the speaker cabinet into your board without any phase canceling problems The D.I. outputs can also drive an external power amp or the house PA.
The Amp was reviewed in Guitar Player, March 1995, page 123. "It was possible to get a loose, old-amp grind. It really showed its abilities to enrich digital effects when used to power a Yamaha FX 770 guitar effects processor." GP showed their cluelessness -- and their bias against off-stage playing -- by saying "we confess some puzzlement as to its overall utility. AFter all, you can buy a [good 90 or 60 watt conventional amp for about the same price]. ... it's about as sweet as a power amp gets, but in terms of dollars per watt [argh! who cares! that's not the goal!] there are many amps with groovier bang-for-buck ratios."
God, that's the most idiotic goal I've ever heard! It totally assumes, childishly, that louder is better. It's exactly, precisely the wrong mentality; they assume the perfect opposite of the real goal. Quieter is hard -- loud is trivially easy and all too easy to get. GP is promoting 100 watt, stage-oriented gear, when what guitarists want off-stage is exactly the opposite. Maximizing watts per dollar is an incredibly irrelevant goal. Loud is not good. Loud is bad. Tone is good; with a good tone generator made of a power tube, then you can use solid-state full-range amplification for final monitoring, as with most PA systems.
The clueful designer Brian Lennon replies with the *obvious* that shouldn't even need to be said, especially to GP: "I am offering something that many guitarists have told me they want [does GP need to be told what guitarists want; presumably they should have heard this want, long, long ago!!] -- lots of tone at lower volumes with the thicker sound you get by running in stereo. When playing large venues, the speakers can be miked or the DI outs can be used to get the desired volume."
Here is just one picture from Steve's excellent site, by Steve.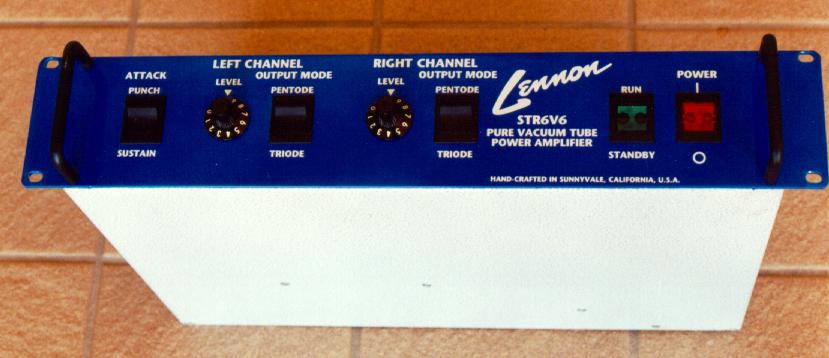 See his site for more of his pictures of it.
---
DejaNews query: ["lennon audio" or str6v6]
Messages 1-87 of exactly 87 matches for search "lennon audio" str6v6:

        Date   Scr        Subject                     Newsgroup           Author

   1. 97/08/24 047 HI-MU/ Lennon Amps           alt.guitar.amps       Steve          
   2. 98/08/08 046 Smoothest 6v6???             alt.guitar.amps       Steve          
   3. 98/08/08 045 Re: Smoothest 6v6???         alt.guitar.amps       Steve          
   4. 98/04/23 045 Power amp shoot-out!         alt.guitar.amps       TruSoldier     
   5. 97/08/24 045 Hi-Mu/Lennon Amps            alt.guitar            Steve          
   6. 96/07/23 044 Lennon Audio                 alt.guitar.amps       Kevin Hamilton 
   7. 96/07/23 044 Lennon STR6V6 amp            alt.guitar            Kevin Hamilton 
   8. 98/08/08 043 Re: Smoothest 6v6???         alt.guitar.amps       Kevin Deal / Up
   9. 98/03/25 043 Re: Starfield Valve Power Am alt.guitar.amps       TruSoldier     
  10. 96/07/23 043 Lennon STR6V6 Guitar Amp     alt.guitar.amps       Kevin Hamilton 
  11. 98/04/30 042 Re: Power amp shoot-out!     alt.guitar.amps       Boelan         
  12. 98/04/24 042 Re: Power amp shoot-out!     alt.guitar.amps       Fraser Nairn   
  13. 98/02/08 042 Re: EL84 vs EL34 tubes...    alt.guitar.amps       Steve          
  14. 98/01/27 042 Re: Mashall 20+20 Valve powe alt.guitar.amps       goldtop�       
  15. 98/05/28 041 Re: Pentode/triode...        alt.guitar.amps       Steve          
  16. 98/01/30 041 Re: Apt. Tone- Help!         alt.guitar.amps       Steve          
  17. 98/01/26 041 Re: Mashall 20+20 Valve #1/3 alt.guitar.amps       Steve          
  18. 97/12/19 041 Re: Need Advice on Power Amp alt.guitar.amps       Ted            
  19. 97/08/27 041 6v6/ EL84 Stereo Power Amp   alt.guitar            Steve          
  20. 97/08/27 041 6v6/ EL84 Stereo Power AMP   alt.guitar.amps       Steve          
  21. 98/02/22 040 Re: 1x12 combos?        #1/3 alt.guitar.amps       Steve          
  22. 98/01/29 040 Lennon Audio                 alt.guitar            Rosa Nova      
  23. 98/01/29 040 Lennon Audio                 alt.guitar.amps       Rosa Nova      
  24. 97/12/02 040 Re: Low Volume Tone Solu#1/3 alt.guitar.amps       Steve          
  25. 98/06/10 039 Re: Tube Power Amps, worth i alt.guitar            Jem Studios    
  26. 98/06/09 039 Re: Tube Power Amps, worth i alt.guitar            Steve          
  27. 98/02/22 039 Re: 1x12 combos?        #3/3 alt.guitar.amps       Steve          
  28. 98/01/31 039 Re: Apt. Tone- Help!         alt.guitar.amps       richman1       
  29. 97/03/15 039 Re: STEREO 6V6 AMP INFO #1/3 alt.guitar.amps       $$ (Robert Frie
  30. 98/02/01 038 Re: Apt. Tone- Help!         alt.guitar.amps       Edwin Blakley  
  31. 98/01/31 038 Re: Lennon Audio             alt.guitar            slidetone      
  32. 98/01/26 038 Re: Mashall 20+20 Valve #3/3 alt.guitar.amps       Steve          
  33. 97/12/21 038 Re: Need Advice on Power Amp alt.guitar.amps       David Miguel Po
  34. 97/12/13 038 Re: Doctor Z Carmen Ghia     alt.guitar.amps       Steve          
  35. 97/12/02 038 Re: Low Volume Tone Solu#3/3 alt.guitar.amps       Steve          
  36. 97/05/04 038 UNIQUE LENNON AMPS!! (Re#2/3 alt.guitar.amps       Steve          
  37. 97/03/13 038 STEREO 6V6 AMP INFO     #1/3 alt.guitar.amps       Steve          
  38. 97/03/13 038 STEREO 6V6 AMP INFO     #3/3 alt.guitar.amps       Steve          
  39. 98/05/19 037 Re: ...Sovtek Mig 50 guitar  alt.guitar.amps       Steve          
  40. 97/03/15 037 Re: STEREO 6V6 AMP INFO #3/3 alt.guitar.amps       $$ (Robert Frie
  41. 97/05/04 036 UNIQUE LENNON AMPS!! (Re#3/3 alt.guitar.amps       Steve          
  42. 98/06/27 035 Re: Low watt stereo tube pow alt.guitar.amps       James Doherty  
  43. 98/02/03 035 Re: Apt. Tone- Help!         alt.guitar.amps       Richard Hessian
  44. 98/03/28 033 Re: The Perfect Amp          alt.guitar.amps       Steve          
  45. 98/02/05 033 Re: If you could have just o alt.guitar.amps       TruSoldier     
  46. 98/02/04 031 Re: What is Great Tone?      alt.guitar.amps       Steve          
  47. 97/09/24 029 Re: sovtek mods              alt.guitar.amps       Steve          
  48. 97/08/24 029 Re: Sovtec Amplifiers---any  alt.guitar.amps       Steve          
  49. 97/08/15 029 Re: Sovtec Amplifiers---any  alt.guitar.amps       Steve          
  50. 97/07/03 029 Re: Best amp for the money u alt.guitar.amps       Steve          
  51. 97/05/19 029 Re: Sovtek Mods              alt.guitar.amps       Steve          
  52. 97/04/23 029 Re: RECOMMEND ME AN AMP PLEA alt.guitar            Steve          
  53. 97/04/22 029 Re: GREAT AMP !! (Under $500 alt.guitar.amps       Brian Bresg    
  54. 95/07/28 029 Re: Victoria, Holland, THD,  rec.music.makers.guit KenyMac        
  55. 97/08/27 028 Re: Opinions On This Set Up  alt.guitar.amps       Byron Lee Ewers
  56. 97/08/22 028 Opinions On This Set Up      alt.guitar.amps       Donpaul McAllis
  57. 97/04/22 028 GREAT AMP!! (Under $500)     alt.guitar            Steve          
  58. 97/04/22 028 GREAT AMP !! (Under $500)    alt.guitar.amps       Steve          
  59. 97/05/04 027 Re: Best combo $400-$700     alt.guitar.amps       Steve          
  60. 96/07/23 017 Lennon STR6V6                alt.guitar.amps       Kevin Hamilton 
  61. 98/06/20 016 Re: *Groves Tubes Trio Pream alt.guitar            Steve          
  62. 98/02/22 016 Re: 1x12 combos?             alt.guitar.amps       Kamchak Tuchuk 
  63. 98/02/22 015 Re: 1x12 combos?        #2/3 alt.guitar.amps       Steve          
  64. 98/02/14 015 Re: MESA 50/50 Opinions      alt.guitar.amps       David Miguel Po
  65. 98/01/29 015 Re: Rackmount Power Amps (Ca alt.guitar.amps       J.R. Elswick   
  66. 98/01/28 015 Re: Rackmount Power Amps (Ca alt.guitar.amps       David Miguel Po
  67. 98/01/28 015 Re: Rackmount Power Amps (Ca alt.guitar.amps       Steve          
  68. 98/01/28 015 Re: Rackmount Power Amps (Ca alt.guitar.amps       Donpaul McAllis
  69. 98/01/26 015 Re: Mashall 20+20 Valve #2/3 alt.guitar.amps       Steve          
  70. 97/12/02 015 Re: Low Volume Tone Solu#2/3 alt.guitar.amps       Steve          
  71. 97/03/14 015 Re: STEREO 6V6 AMP INFO      alt.guitar.amps       Ted Matsumura  
  72. 97/03/13 015 STEREO 6V6 AMP INFO     #2/3 alt.guitar.amps       Steve          
  73. 96/12/19 015 Re: Are there any 4-6V6 amps alt.guitar.amps       Ken McCoy      
  74. 96/11/26 015 Re: small power amp?         alt.guitar            Giri Iyengar   
  75. 96/04/09 015 Re: power amps               rec.music.makers.guit JumpStrtKM     
  76. 96/03/14 015 Re: Recommendations on Rack  alt.guitar.amps       JumpStrtKM     
  77. 98/01/28 014 Re: Rackmount Power Amps (Ca alt.guitar.amps       David Miguel Po
  78. 97/05/04 014 UNIQUE LENNON AMPS!! (Re#1/3 alt.guitar.amps       Steve          
  79. 97/03/15 014 Re: STEREO 6V6 AMP INFO #2/3 alt.guitar.amps       $$ (Robert Frie
  80. 97/03/14 014 Re: STEREO 6V6 AMP INFO      alt.guitar.amps       Ken Brakebill  
  81. 97/03/14 014 STR 6V6 REVIEW               alt.guitar.amps       Steve          
  82. 96/04/09 014 Re: power amps               rec.music.makers.guit kenK           
  83. 96/11/26 013 Re: small power amp?         alt.guitar            Ken McCoy      
  84. 96/05/29 013 Re: Power amps               alt.guitar.amps       Ken McCoy      
  85. 96/04/10 013 Re: power amps               rec.music.makers.guit JumpStrtKM     
  86. 96/02/19 013 Re: AMP SEARCH: BEST POWER A alt.guitar.amps       JumpStrtKM     
  87. 96/01/31 012 Re: What preamp to buy       rec.music.makers.guit JumpStrtKM     

---
Amptone.com ultra gear-search page
---
Home (amp tone and effects placement)