Home (amp tone and effects placement)
---
Line 6 Amp Farm software plug-in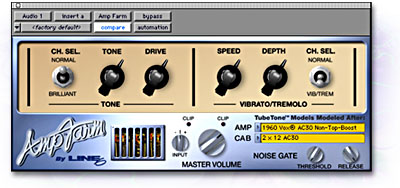 See also my pages for Line 6: Flextone amp, AxSys or AX2 amp, POD processor.
Amp Farm is an expensive plugin for an expensive framework.
download the Amp Farm PDF manual
See the positive review in Nov. 98 Guitar Player.
Compare the Rocktron PC Preamp, with "built-in speaker simulation helps give that real amp feel through any set of PC speakers". My page: Rocktron PC Preamp - PC interface and guitar preamp with speaker simulator.
dealer page for amp farm - stirlingsyco.com
Around May 2000 - Because Line6 took down their entire site for maintainence, I am mirroring the page here so the information remains available:
---
Process a direct guitar signal as you record, or process pre-recorded tracks and tweak your amp sound right up to the final mix. It's the easiest, fastest, and most powerful way to record guitar with a TDM system.

WHAT'S IT GOT?
Thanks to TubeTone, the Amp Farm software plug-in includes a truly incredible collection of guitar tones, modeled from a collection of specific, sought-after amplifiers. The TubeTone Amp models were developed from in-depth studies of eight different amplifiers: a Fender Twin; Fender Blackface Deluxe Reverb; Fender Bassman; Marshall JCM 800; Marshall Plexi; Marshall JTM45; and Vox AC 30 top boost and non-top boost. Version 1.5 adds models based on a Mesa Boogie Dual Rectifier Trem-o-verb & Dual Rectifier head, a Soldano SLO head & X88R preamp, and a Matchless Chieftain.
With Amp Farm, you can easily record great tones modeled from these classic amps on a PCI-based TDM system, including tweakable, programmable EQ modeled from the original amps' tone controls.
Amp Farm requires Macintosh PCI-based Pro Tools TDM hardware. (NuBus hardware is not supported.) Amp Farm will be available for Pro Tools NT Mixplus systems as part of the MIXpack of plugins. If you are interested in Amp Farm for Pro Tools NT, let us know at: ampfarm@line6.com
HOW DOES IT WORK?
Plug your guitar right into your Pro Tools interface - no miking up amps, no special pickups or other gimmicks. Pull up the Amp Farm TDM Plug-In in your Pro Tools session, and you get your amp on-screen. Set the knobs the way you like 'em, and lay down your tracks. Then, any time you want, you can go back to those same tracks, and adjust your Amp Farm amp setup, with full automation. Switch amps on the fly. Use multiple amps simultaneously. Tweak your tone. And everything you do can be stored right in your Pro Tools session.
Amp Farm also works great with other TDM-compatible software - like MotU Digital Performer, Opcode Vision, EMagic Logic Audio, and Steinberg Cubase. Since Amp Farm is a "real-time" plug-in, Pro Tools TDM PCI-based hardware is required - Amp Farm does not run as a VST, Pure DSP, Premiere, or other format plug-in.
Want to know more? Check out the Amp Farm manual in our Reference Library. And there's more information about TubeTone and our other technologies as they relate to our hardware guitar amps on the About Line 6 page.
HOW CAN I HEAR IT?
Amp Farm is available for demonstration at every Pro Tools TDM system dealer. A special 15 Day demo version is included on the Pro Tools 4.x Install CD which ships with Pro Tools 4.x new purchases and upgrades. Plus, Digidesign has sent a copy of the 15 Day demo version of Amp Farm to every registered Pro Tools TDM PCI hardware owner - so if you're interested in Amp Farm and you haven't registered your Pro Tools TDM PCI hardware, please be sure to contact Digidesign immediately to get registered and get on the Amp Farm demo list!
When you get the demo, be sure to install and run the Amp Farm Demo Session - a Pro Tools session that includes pre-recorded direct (unprocessed) guitar tracks and a synchronized QuickTime movie that puts an expert Line 6 demo artist right into your own Pro Tools system to walk you through all of Amp Farm's easy-to-use features, and incredible tonal magic.
HOW CAN I BUY IT?
Amp Farm is shipping now, distributed by Digidesign and sold through Digidesign Pro Tools TDM dealers. The suggested U.S. Retail Price is $595. Please contact Digidesign directly to locate dealers in your area.
---
Research links
"Line 6" "Amp Farm"
+"Line 6" +"Amp Farm"

Click these custom links to find the latest information and discussion about this product.

Sep 1997 product announce article at Harmony Central

user reviews for this manufacturer at Harmony Central (none, because it's software)

product news for this manufacturer at Harmony Central

search newsgroup postings at Deja.com
---
DejaNews query: "amp farm" or ampfarm
Messages 1-13 of exactly 13 matches for search "amp farm" ampfarm:

        Date   Scr        Subject                     Newsgroup           Author

   1. 98/11/13 044 Re: Anyboby try out any Line alt.guitar.amps       Speed King     
   2. 98/11/10 043 Re: Anyboby try out any Line alt.guitar.amps       Michael      
   3. 98/11/10 042 List of all "modelling amps" alt.guitar.amps       Michael      
   4. 98/11/12 040 Re: boss gt-5 need opinions  alt.guitar.effects    dpcoffin       
   5. 98/11/05 038 Re: Q&A about Roland GP-#1/2 alt.guitar.effects    steve_2000     
   6. 98/10/27 038 Re: Amp emulators, speak#1/3 alt.music.4-track     Michael      
   7. 98/10/27 038 Re: Amp emulators, speak#1/3 alt.guitar            Michael      
   8. 98/04/14 038 Re: Software amplifier?      alt.guitar.amps       Scott C Greiner
   9. 98/10/27 037 Re: Amp emulators, speak#1/3 alt.music.4-track     Chris Gieseke  
  10. 98/10/25 036 Re: Low-watt power-tube devi alt.music.4-track     Michael      
  11. 98/10/26 034 AX2 Update/wasRe: Solid #2/2 alt.guitar            steve_2000     
  12. 98/09/28 017 Re: Direct Boxes             alt.guitar            Chris Gieseke  
  13. 98/09/28 017 Re: Direct Boxes             alt.guitar            Kamchak Tuchuk 

---
Amptone.com ultra gear-search page
---
Home (amp tone and effects placement)