Home (amp tone and effects placement)
---
Marshall Power Brake PB-100 attenuator and SE100 attenuator/speaker emulator
Marshall Power Brake info at Blame
Power Brake PB-100 -- list $379, Guitar Center price $279
Power Brake PB-100 WSP (white) -- list $385, Guitar Center price $299 (not in stock at this store)

Cooling fan.
Does not have a cab-sim filter.
Has no Line Out jack.
12-position rotary knob. 3dB increments. Postion 12 is speaker muted, making a load box. 2 speaker outs. If the attenuation is at -33 you could probably use that as a line out. The 12th step on the knob is the "dummy load" position, permitting use without a guitar speaker.
There is a direct, straight-thru position with no attenuation on the Hot Plate and Power Brake, allowing easy A/B-ing of the tone with and without attenuation.
Randall Aiken wrote: "I am sorry to say that I haven't taken the time to dissect the Power Brake (I use it for gigging on the weekends, but as soon as the THD comes I suspect it will get taken apart), so I don't know what is in it, but I believe the cooling fan doubles as the inductive load. It actually turns faster the louder you play."
Legends of Guitar: The Quest for Ultimate Tone. Best of Guitar Player. Sonic secrets -- Hendrix, Clapton, Van Halen, Stevie Ray, Slash, & more. Distortion tips. Eq- craig anderton. Decoding distortion. R. Aspen Pittman. Eric Johnson. Tone factors in solidbody guitars. 1995. Has a review of soaks, which appeared in Guitar Player Aug 1993. Covered:
Scholz Power Soak $200 list
Marshall Power Brake $350 list
Groove Tubes Speaker Emulator II $500 list
Harry Kolbe Soundsmith - Silent Speaker $250 list, The Attenuator $150 list
ADA MicroCAB $220 list
Hughes & Kettner - Red Box Mk III $130 list
Reviewed page 60 Guitar Shop Feb 1995. Doesn't even mention the tone sacrifice at high or total attenuation. ______________
>I wanted to know what you've heard about the Marshall Power Brake. So far, I've lost 4 output transformers with the device. In one year of gigging I burned up two original output transformers in separate 1971 Marshall Super Lead amps. My problems have continued. Marshall claims they have never seen this problem with the Power Brake. However, Marshall gave me two new transformers, rather than checking the Power Brake. I've talk to people that like the Power Brake, but have they really used it for a gig schedule? Unfortunately, I've had a lot of trouble with the device. My speaker cables have been replaced several times and all the impedence settings match. Any suggestions?


Hendrix went through amps and cabinets like popcorn. Running your gear hot is likely to fry it. I have not heard anything about wear-and-tear on power tubes and output transformers, caused by the Marshall Power Brake.

The Power Brake sounds like one of the most authentic, useful approaches.
But does the speaker cabinet really sound any good at very low volumes?
Isn't speaker overdrive a major part of cranked amp tone? I suspect that a
genuine speaker cabinet is important, but we know that power tube saturation
is important too, because a solid-state amp driving a good cabinet does not
allow power-tube saturation, and thus sounds flat.


>The A/B capability is what convinced me
of the transparency of the THD device, at least to -12 dB. I think
too many things have to change to really get that same cranked tone
at very low levels. I live on a large property, so my main concern
was for preventing ear damage while making minimal to no sacrifices
in the area of overdrive tones. Once you throw out the speakers working
hard and the acoustic feedback to the guitar, you've removed some
important tonal contributors.


-- D.R.

official product page - "The Master Volume control on your valve amp makes it sound good at low volume, but ALL valve amps sound better cranked. This is a scientific fact of life. There are other attenuators or load boxes available, but they don't provide the right type of inductive load that makes your amp think it's connected to a speaker. At best, these other devices cause your amp to sound thin and feeble. At worst, they can blow your valves output transformer -an expensive proposition. The Marshall Power Brake is the only widely available power attenuator that delivers great sound - Safely. Marshall PB100 - Lets your amp cook, without frying."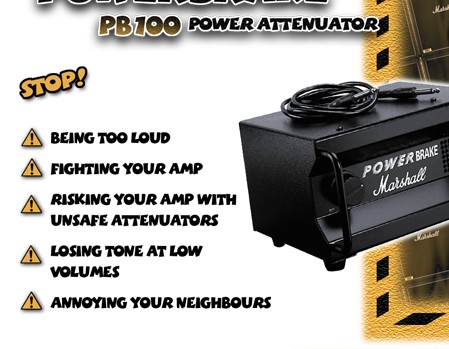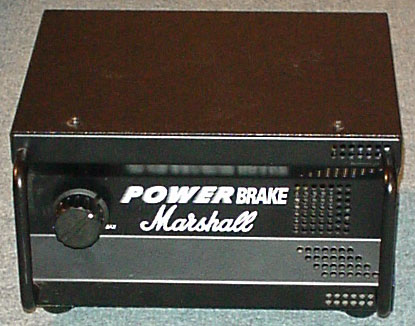 from http://www.fbk.eur.nl/BIT/ALGEMEEN/MEMBERS/MHM/gear/marshall_powerbrake.jpg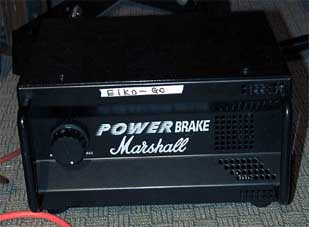 from http://home.interlink.or.jp/~eiko-go/studio/MYEQUIPMENT.html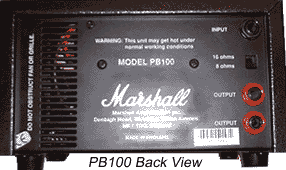 Above and the white pictures are from BLAME Power Brake page at MarshallArts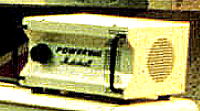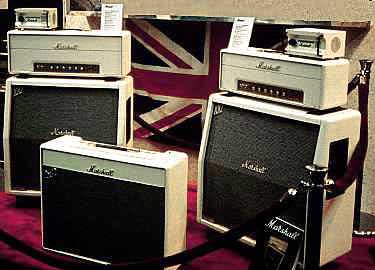 ---
Research links
marshall "power brake"
+marshall +"power brake"

Click these custom links to find the latest information and discussion about this product.

Article at Harmony Central (pending)

user reviews for PB-100 at Harmony Central (effects)

user reviews for PB-1 at Harmony Central (amps)

user reviews for PB-100 at Harmony Central (amps)

search newsgroup postings at Deja.com

search newsgroup threads at Remarq.com
---
Here are some hits::
Messages 1-100 of about 300 matches for search "Power Brake":

        Date   Scr        Subject                     Newsgroup           Author

   1. 98/10/17 052 WTB Marshall Power Brake     alt.guitar            Eric Refsdal   
   2. 98/10/17 044 Re: Question for Marshall Ex alt.guitar            simon70        
   3. 98/10/17 044 Ampeg B-15 (reissue)         alt.guitar.amps       Andrew P. Mullh
   4. 98/08/26 042 WNTD: schematic to build Pow alt.guitar.amps       Mark Fuglestad 
   5. 98/05/05 042 Re: Power brake              alt.guitar            Anonymous      
   6. 98/05/01 042 Power brake                  alt.guitar            Bri Hall       
   7. 98/04/15 042 WANTED: Marshall Power Brake alt.guitar.amps       agk97          
   8. 98/10/14 041 Re: Why is it bad to run an  alt.guitar.amps       Chris Mohrbache
   9. 98/10/14 040 Re: Why is it bad to run an  alt.guitar.amps       Lord Valve     
  10. 98/08/26 040 Marshall Power Brake         alt.guitar.amps       Mark Fuglestad 
  11. 98/06/17 040 Re: Tone freaks I have a spe alt.guitar.amps       Tonefactor     
  12. 98/05/27 040 WTB: Marshall PB-1 (Power Br alt.guitar.amps       Constantin Roma
  13. 98/05/01 040 Re: Power brake              alt.guitar            Kamchak Tuchuk 
  14. 98/04/03 040 Marshall Power Brake Schemat alt.guitar.amps       Whammy         
  15. 98/10/07 039 Re: Marshall Sucks           alt.guitar.amps       Gary Hendershot
  16. 98/10/07 039 Re: Marshall Sucks           alt.guitar.amps       NoOne          
  17. 98/06/28 039 Resistive VS inductive power alt.guitar.amps       RSmith         
  18. 98/06/20 039 Re: Tone freaks I have a#2/2 alt.guitar.amps       Fulton         
  19. 98/05/02 039 Re: Any good mods for a Mars alt.guitar.amps       Tonefactor     
  20. 98/05/01 039 Re: Any good mods for a Mars alt.guitar.amps       Donnie         
  21. 98/08/12 037 Re: Amp 'brakes' - opinions? alt.guitar            Charles Thomas 
  22. 98/06/15 037 Re: Power Attenuator?        alt.guitar.amps       Paul Brannon   
  23. 98/05/02 037 Any good mods for a Marshall alt.guitar.amps       Constantin Roma
  24. 98/05/01 037 Re: Any good mods for a Mars alt.guitar.amps       Jonathan Krogh 
  25. 98/01/14 037 Re: THD Hot Plate or Marshal alt.guitar.amps       Carlginger     
  26. 98/09/18 036 Re: JCM2000 DSL vs vintage p alt.guitar.amps       simon70        
  27. 98/09/13 036 Re: Volume pedals don't redu alt.guitar            Thorny         
  28. 98/07/21 036 Re: Q: Using Power Brake w/s alt.guitar.amps       fginder        
  29. 98/06/17 036 Tone freaks I have a speaker alt.guitar.amps       Delux 66       
  30. 98/06/17 036 Re: Tone freaks I have a spe alt.guitar.amps       Steven Levine  
  31. 98/02/26 036 Re: Hot Plate-PowerBrake-Pow alt.guitar.amps       Strat1995      
  32. 98/01/16 036 Re: THD Hot Plate or Marshal alt.guitar.amps       Ron Cook       
  33. 98/01/15 036 Re: THD Hot Plate or Marshal alt.guitar.amps       Strat1995      
  34. 98/01/15 036 Re: THD Hot Plate or Marshal alt.guitar.amps       Alex Tobias    
  35. 97/12/31 036 Re: Power Soaks              alt.guitar.amps       Kjpallotta     
  36. 97/11/01 036 Re: 1/2 power mod            alt.guitar.amps       Strat1995      
  37. 97/04/25 036 Re: Marshall thoughts, power alt.guitar.amps       Steve          
  38. 97/04/25 036 Re: Marshall thoughts, power alt.guitar.amps       Greg Siegel    
  39. 98/07/21 035 Re: Q: Using Power Brake w/s alt.guitar.amps       Randall Aiken  
  40. 98/07/20 035 Re: Q: Using Power Brake w/s alt.guitar.amps       buckinm        
  41. 98/07/06 035 Re: BOSS CS-3 volume drop an alt.guitar            Oded Gottesman 
  42. 98/07/05 035 Re: Pro Reverb Questions.... alt.guitar.amps       Sandore's      
  43. 98/06/18 035 Re: Tone freaks I have a spe alt.guitar.amps       pja105         
  44. 98/05/08 035 Re: Anyway to make amp quiet alt.guitar.amps       michael p mccul
  45. 98/04/28 035 Re: Distortion --> Help me o alt.guitar            Merpet         
  46. 98/04/04 035 Re: thd hot plate...    #3/4 alt.guitar.amps       Steve          
  47. 98/02/26 035 Re: Hot Plate-PowerBrake-Pow alt.guitar.amps       Ted Matsumura  
  48. 98/01/14 035 Re: THD Hot Plate or Marshal alt.guitar            Michael Fuller 
  49. 98/01/14 035 Re: THD Hot Plate or Marshal alt.guitar            Ericb          
  50. 98/01/13 035 THD Hot Plate or Marshall Po alt.guitar            Brian Emmett   
  51. 98/09/08 034 Re: Getting Your Ultimate Am alt.guitar.amps       nobody         
  52. 98/09/04 034 Re: Mesa Blue Angel and Dist rec.music.makers.guit Randy Neifer   
  53. 98/07/28 034 Re: Q: Using Power Brake w/s alt.guitar.amps       fginder        
  54. 98/06/28 034 Re: I have a speaker questio alt.guitar.amps       Rick Torres    
  55. 98/06/26 034 Re: JMP MKIIB 50W COMBO 4PRO alt.guitar.amps       William Chapman
  56. 98/04/04 034 Re: thd hot plate...    #1/4 alt.guitar.amps       Steve          
  57. 98/03/11 034 Re: FS: Marshall Limited Whi alt.guitar.amps       Curious        
  58. 98/02/27 034 Re: Modifying Tube Amps      alt.guitar            Norm1a         
  59. 98/01/17 034 Re: THD Hot Plate or Marshal alt.guitar            R. Brown       
  60. 98/01/14 034 TRAINWRECK AIR BRAKE II      alt.guitar.amps       THOMAS W. WYSKI
  61. 98/01/14 034 Re: TRAINWRECK AIR BRAKE II  alt.guitar.amps       THOMAS W. WYSKI
  62. 98/01/14 034 Re: THD Hot Plate or Marshal alt.guitar            George Brickner
  63. 97/11/21 034 Re: using tube amp head for  alt.guitar            dfox1          
  64. 97/09/16 034 Opinions wanted: Power atten alt.guitar.amps       Brian McElrath 
  65. 97/07/22 034 FS Marshall mint Power Brake alt.guitar.amps       mgoodnex       
  66. 97/06/21 034 FS:marshall power brake      rec.music.makers.mark rgp            
  67. 97/05/22 034 Re: Power breaker?           alt.guitar.amps       M. Mattson     
  68. 97/03/28 034 Is Marshall Power Brake any  alt.guitar.amps       Jim Kay        
  69. 98/09/08 033 Re: Mesa Blue Angel and Dist rec.music.makers.guit Nick Koutsoukis
  70. 98/04/04 033 Re: thd hot plate...    #2/4 alt.guitar.amps       Steve          
  71. 98/02/24 033 Re: Modifying Tube Amps      alt.guitar            Patrick f. cole
  72. 98/02/23 033 Re: Marshall JCM2000 & Mesa  alt.guitar            Danny Russell  
  73. 98/02/21 033 Re: Marshall JCM2000 & Mesa  alt.guitar            Henry P Klobuko
  74. 98/02/05 033 Re: Marshall 2000 Head  #2/3 alt.guitar            Steve          
  75. 98/01/18 033 Re: THD Hot Plate or Marshal alt.guitar            Peter          
  76. 98/01/13 033 Re: THD Hot Plate or Mar#1/3 alt.guitar            Steve          
  77. 98/01/13 033 Re: THD Hot Plate or Mar#2/3 alt.guitar            Steve          
  78. 97/12/07 033 Re: Power Attenuators ..#2/3 alt.guitar.amps       Steve          
  79. 97/11/06 033 Re: Question on making a loa alt.guitar.amps       Skip May       
  80. 97/08/17 033 Re: Cranked Amps!            alt.guitar            TQ Hot         
  81. 97/06/18 033 Re: Power Soak               alt.guitar            RutledgeTW     
  82. 97/05/29 033 Re: Power breaker?           alt.guitar.amps       C. F. Cohen    
  83. 97/04/25 033 Re: Marshall thoughts, power alt.guitar.amps       Danny Russell  
  84. 97/04/25 033 Marshall thoughts, power bra alt.guitar.amps       Skip           
  85. 97/04/09 033 Re: Power Brake              alt.guitar.amps       Randall Aiken  
  86. 97/04/05 033 Hot Rod Deluxe Mod - Lower V alt.guitar.amps       Strings123     
  87. 97/03/28 033 Re: Is Marshall Power Brake  alt.guitar.amps       C. F. Cohen    
  88. 97/03/25 033 Re: Trainwreck Air Brake ?   alt.guitar.amps       John Kelley Bro
  89. 97/03/25 033 Re: Trainwreck Air Brake ?   alt.guitar.amps       Greg Siegel    
  90. 97/03/24 033 Re: Trainwreck Air Brake ?   alt.guitar.amps       Greg Siegel    
  91. 97/03/23 033 Re: Trainwreck Air Brake ?   alt.guitar.amps       Fly on! free bi
  92. 97/03/16 033 trainwreck products          alt.guitar.amps       Fly on! free bi
  93. 97/01/21 033 Re: Power soak question      alt.guitar.amps       Doug           
  94. 98/09/04 032 Mesa Blue Angel and Distorti rec.music.makers.guit michael p mccul
  95. 98/05/24 032 Re: Quieting a Hot Rod Delux alt.guitar.amps       WaldoP         
  96. 98/03/03 032 Re: Lightbulb as PowerBrake? alt.guitar.amps       Skip May       
  97. 98/02/28 032 Re: Hot Plate-PowerBrake-Pow rec.music.makers.guit Mic Cullen     
  98. 98/02/28 032 Re: Blue Angel Enhancements  alt.guitar.amps       michael p mccul
  99. 98/02/26 032 Re: Hot Plate-PowerBrake-Pow rec.music.makers.guit michael p mccul
 100. 98/02/24 032 Re: Fender Hotrod Deluxe + L alt.guitar.amps       Jeff Vineburg  

---
Amptone.com ultra gear-search page
---
Home (amp tone and effects placement)