Home (amp tone and effects placement)
---
Rocktron Juice Extractor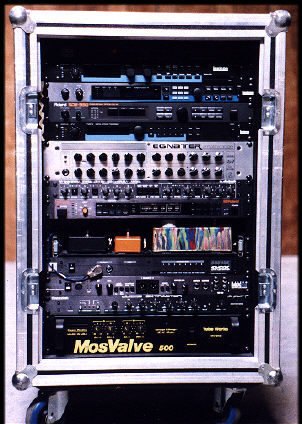 The Rocktron Juice Extractor is above the MOSvalve; you see full parametric eq controls.
I just obtained one of these, mint, for $99. Details later, or email me.
The Juice Extractor is the first load that Allan Holdsworth developed for converting a power amp output signal down to line level. It is a resistive load and a 3-band EQ with parametric mids for shaping the sound for recording. A web search finds many sites claiming that Metallica has used this. The Juice Extractor is an amp load (8 ohm, 100w capacity) and can produce a fair cabinet simulation, direct. Has HUSH.
http://reuseit.com/u_record.htm - Rocktron Juice Extractor - guitar amp processing unit. $199 used - condition: Very Good
http://www.clarkamplification.com/abalone.htm - Rocktron. 1980's. Alan Holdsworth Juice Extractor, rack mount, studio piece. $295 used.
[are there Harmony Central user comments about Juice Extractor? Effects database ]
---
DejaNews query: "juice extractor"
Messages 1-30 of exactly 30 matches for search "juice extractor":

        Date   Scr        Subject                     Newsgroup           Author

   1. 99/01/04 050 Rocktron Juice Extractor for alt.guitar            MrBERWELL      
   2. 99/01/04 049 Rocktron Juice Extractor 4 s alt.guitar.effects    MrBERWELL      
   3. 99/01/08 046 Re: Lexicon 284 amp          rec.music.makers.guit Gary Watts     
   4. 99/01/06 046 Re: Resistive Loads for Ampl rec.audio.pro         Dorte/Troels Ox
   5. 99/01/04 044 ART X-15 midi footcontroller alt.guitar.effects    MrBERWELL      
   6. 99/01/04 044 ART X-15 midi footcontroller alt.guitar            MrBERWELL      
   7. 99/01/03 043 Re: Lexicon 284 amp          rec.music.makers.guit Carlginger     
   8. 99/01/03 043 Re: Lexicon 284 amp          rec.music.makers.guit evil twin�     
   9. 99/01/03 042 Re: Lexicon 284 amp          rec.music.makers.guit Paul Brannon   
  10. 99/01/03 042 Re: Lexicon 284 amp          rec.music.makers.guit Michael      
  11. 98/12/28 040 Re: Op: Lexicon Signature 28 alt.guitar.amps       Paul Brannon   
  12. 98/12/16 038 Re: Guytron...Initial Impres rec.music.makers.guit Michael      
  13. 98/09/19 038 How can I play quietly witho alt.guitar.amps       James S Kang   
  14. 98/12/29 036 Re: Op: Lexicon Signature 28 alt.guitar.amps       Michael      
  15. 98/12/12 036 Re: proper dummy load on out alt.guitar.amps       Michael      
  16. 98/09/19 036 Re: How can I play quietly w alt.guitar.amps       John Sheehy    
  17. 97/03/17 036 JUICE EXTRACTOR???           alt.guitar.amps       Steve          
  18. 98/12/09 035 Re: metallica's distortion   alt.guitar            Sabbthrulz     
  19. 98/12/16 034 Re: 7 watt tube amp design i alt.guitar.amps       Michael      
  20. 98/12/16 034 Re: Guytron...Initial Impres rec.music.makers.guit Steve Sklar    
  21. 98/07/04 034 Re: Advice on Cabinet Simula rec.audio.pro         Softee         
  22. 98/06/05 032 Re: PREAMP SWITCHERS?   #4/4 alt.guitar.amps       Gary Watts     
  23. 97/12/22 032 Re: Best Amp: Fusion/Jazz Ro rec.music.makers.guit Chip of Known S
  24. 95/10/05 030 Re: Carvin Vintage Amps      rec.music.makers.guit gary watts     
  25. 95/04/17 030 BOSS CE-1,JUICE EXTRACTOR    rec.music.makers.guit ROWESKI 77     
  26. 95/04/14 028 FS - BOSS CE-1, JUICE EXTRAC rec.music.makers.guit ROWESKI 77     
  27. 96/10/16 024 Information on Switchers#3/4 rec.music.makers.guit gary watts     
  28. 96/10/16 024 Information on Switchers#3/4 alt.guitar            gary watts     
  29. 96/08/12 024 Re: best midi foot contr#3/4 alt.guitar            gary watts     
  30. 96/05/14 024 Rev 2: Guide to Switcher#3/4 alt.guitar            gary watts     

---
Amptone.com ultra gear-search page
---
Home (amp tone and effects placement)