Home (amp tone and effects placement)
---
Tech21: Power Engine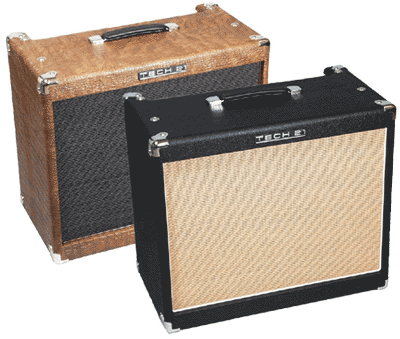 Tech 21 60-watt Power Engine powered cab for use with preamp processors such as Sans Amp or POD.
Harmony Central product announcement
official product page - "1x12 open-back, extension cabinet. 60 watts of transparent power. Special design speaker, individual level control, 3-band active tone controls, and balanced XLR input, 1/4" input and balanced XLR output.
Power Engine 60 matches and complements Trademark 60 two-channel combo amp. Power Engine 60T matches and complements Bronzewood 60 dual-channel, acoustic combo amp.
Can also be used with any direct recording device or acoustic pre-amp, analog or digital, tube or solid state, in stomp box or rackmount formats, from any manufacturer -- [don't mention LINE 6 POD!] Zoom, Boss, Digitech, Hughes & Kettner, Marshall, Fishman, L.R. Baggs, or even our very own line of SansAmps. Without having to tweak all of your presets, you can take the direct recording sounds you've created to a gig and amplify them. Just plug your SansAmp or other pre-amp into a Power Engine 60 and get all the volume you need without any additional coloration. On-board EQ."
Black vinyl, custom beige grill, white piping.
The Power Engine 60T includes a high-frequency horn. Brown crocodile-embossed vinyl with black grill and brown piping.
Input Impedance: 10kW
Nominal Input Level: -20dBm to +4dBm
Optimal Output Load: 8 ohms
Power Output: 60W
PW60 Speaker: Model #2112-A, Special design 12" / 100W - 8 W
PW60T Speaker: Model #2112-W, Special design 12" / 100W - 8 W
PW60T Horn: Model #2125-H, Special design / 60W - 8 W

Manufactured in the U.S.A. by Tech 21, Inc.
333 West 52nd Street
New York, NY 10019
Tel: 212-315-1116
Fax: 212-315-0825
email: info at tech21nyc.com
---
Amptone.com ultra gear-search page
---
Home (amp tone and effects placement)