Home (amp tone, fx placement, quiet cranked-amp tone)
---
Tenma: Variac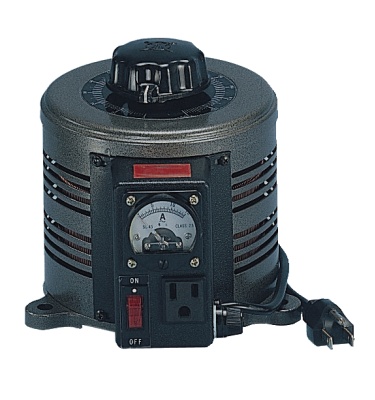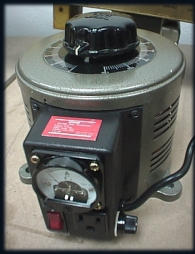 Plexi Palace dealer page - $159
Using a variac to correct voltage to 110 VAC - Plexi Palace
MCM Variac official product page - "10A Variable (Autotransformer). Gives you the ability to vary line voltage between 0-130VAC. Perfect way to safely troubleshoot power supplies, regulators, output sections, etc. Built-in ammeter shows current draw to help identify shorts before they can cause costly component failures. Replaceable fuse protection. Three prong grounded cord and socket provides convenience and safety. Order Number 72-110. Description: TRANSFORMER. 1 year warranty.. In stock. Currently in production. $99.95"
A variac is a power supply that goes between the wall socket and the guitar amp. It can reduce the supply voltage from 110 volts AC, or 140 volts in my house, to lower, such as 50 volts. This causes the power tubes to saturate at lower power levels. A related but even more powerful idea is that of Power Scaling, used in London Power amps (search the home page for "london").
MCM Electronics sells a variac. (800) 543-4330. MCM Electronics catalog 42B, page 176: Tenma 10A Variable (Autotransformer). 1 yr warranty. Varies line voltages between 0 and 130 VAC. Built-in ammeter shows current draw to help identify shorts. Fused design enables limiting current by changing fuse value (10A max). 3-prong graded cord and socket. Input: 120V, 60Hz. Output 0-130 VAC. Current: 10A, 1.3KVA. Fuse: 10A AGC (included). Non-isolated. Order # 72-110. Description: 10A Variable (Autotransformer). Ea: $99.95.
You might want to read all of the relevant postings, paying special attention to the ones relating to what happens to your filament voltages (assuming you want to use it on a tube amp that is) when you use the Variac. Some people recommend not using a variac on an amp you care about. Your results may vary.
You can buy a Variac from most any place that sells electronics test equipment. The Mouser catalog lists a couple, with the cheapest one being $425. Some people have built one for less.
Date: Wed, 18 Nov 1998 18:43:15 -0500
From: David Crippen
>My friend Victor Mason at the Plexi Palace in California (with some authority, I think) says that a Variac is easier on the tubes than a dummy load or attenuator, and the tone is more pure with less of the undesirable type of distortion. He particularly dislikes the tone product from the Marshall Power Brake. With the Variac, the volume and resulting tone can be more acurately titrated together and independently controlled. I am really happy with my Variac setup.
>Where can I get a Variac? I would sure like a product page URL to link to.
>Check with Victor Mason. He got me mine.
Victor Mason
Plexi Palace - specializes in the sale, repair, restoration and modification of vintage Marshall, Vox, Hiwatt, Park and Fender tube amplifiers.
21065 Bear Valley Rd. #2
Apple Valley, CA 92308
(888) 517-2166 toll free
(760) 961-8324
http://www.vintageamps.com
plexi at iguitar.com

I spoke with Victor. The Tenma brand variac has a current meter, variable output, with probably a 2 year warranty. $159 at Plexi Palace. Handles up to 10 amperes of electric current; a 100 watt Marshall only uses 4 amps. This is far less than the $400-800 typical price for a high-end, big-name variac such as Tectronics, B&K. For cathode-biased amps such as Fender Pro Jr. 15 watt amp with 2 6V6's, or VOX, he thinks a variac might not work. A variac can take a 100 watt Marshall plexi down to 5 watts, when you pull 2 tubes and run the variac at 55 volts. A variac works just with solid state rectifiers, not with tube rectifiers, because with a tube rectifier, the heater voltage gets reduced too. He offers the THD Hot Plate attenuator for $249. A variac is also good for amps that are meant for 105 or 110 volts, rather than 130 volts; 130 would damage the amp. He suggests using a variac and attenuator in conjunction. For a 15-watt amp, he recommends a power attenuator.
> I don't have any idea where we can get this variac. But I believe Eddie VH was using a variac that was made by "Homite Voltage Regulators" on his earlier VH albums.
Boelan wrote:
There are lots of resources on the net where you can find these things, such as: http://www.angela.com - call Steve. He'll be glad to help. Lot of the tube hi-fi places carry them. Word has it that it is not a great idea to be using these things unless you're really careful. Go to alt.guitar.amps and ask Ned or Lord Valve or one of those guys. They could give you more of the pro's and con's of using them as well as probably telling you where you can get one. And I'm sure they'll be happy to sell you a bunch of spare tubes and amp parts you might need in case the amp takes a dive.
---
DejaNews query: "variac" - CLICK HERE FOR LATEST POSTINGS
Messages 1-100 of about 1000 matches for search "variac":

        Date   Scr        Subject                     Newsgroup           Author

   1. 98/10/29 022 Re: Marshall Power Brake ??? alt.guitar.amps       D Dyer         
   2. 98/10/27 022 Marshall Power Brake ??????? alt.guitar.amps       DBL/SRL        
   3. 98/10/27 022 Re: Marshall Power Brake ??? alt.guitar.amps       Mark Amundson  
   4. 98/10/25 022 Re: "Cooking" caps advice    alt.guitar.amps       maniac         
   5. 98/10/24 022 FS:Bogner ecstacy head and c alt.guitar            Sinasl         
   6. 98/10/24 022 Re: "Cooking" caps advice    alt.guitar.amps       DamnYankee     
   7. 98/10/15 022 Re: "3" Tubes?               alt.guitar.amps       QualityAna     
   8. 98/09/20 022 Re: Variac                   alt.guitar.amps       SLaPCaTT       
   9. 98/09/15 022 Re: Variac                   alt.guitar.amps       Dr. Anton Phibe
  10. 98/09/10 022 Variac                       alt.guitar.amps       SLaPCaTT       
  11. 98/10/21 021 Re: "Cooking" caps advice    alt.guitar.amps       QualityAna     
  12. 98/09/19 021 Re: Variac                   alt.guitar.amps       stereo         
  13. 98/09/16 021 Re: Variac                   alt.guitar.amps       ark            
  14. 98/09/15 021 Re: Variac                   alt.guitar.amps       Tellyman       
  15. 98/09/15 021 Re: Variac                   alt.guitar.amps       steve_2000     
  16. 98/09/15 021 Re: Variac                   alt.guitar.amps       Dave the Dork  
  17. 98/09/14 021 FA: Variac & Weston Tube Tes alt.guitar.amps       JRUBBO770      
  18. 98/10/27 020 Re: Amp emulators, speak#1/3 alt.music.4-track     Michael      
  19. 98/10/27 020 Re: Amp emulators, speak#1/3 alt.guitar            Michael      
  20. 98/10/17 020 Re: values of orange caps 71 alt.guitar.amps       profrets       
  21. 98/10/15 020 Re: "3" Tubes?               alt.guitar.amps       Rich Koerner   
  22. 98/10/12 020 Re: "3" Tubes?               alt.guitar.amps       Ron Bales      
  23. 98/10/12 020 Re: "3" Tubes?               alt.guitar.amps       Danny Russell  
  24. 98/10/11 020 Re: "3" Tubes?               alt.guitar.amps       Tellyman       
  25. 98/10/10 020 Re: '73 Deluxe Rev bias      alt.guitar.amps       maniac         
  26. 98/10/10 020 Re: '73 Deluxe Rev bias      alt.guitar.amps       M P Gilbert    
  27. 98/09/20 020 Re: The DR STEREO TEST BENCH alt.guitar.amps       dstork         
  28. 98/09/20 020 Re: The DR STEREO TEST BENCH alt.guitar.amps       Lord Valve     
  29. 98/09/17 020 Re: self monitoring vari#1/2 alt.guitar.amps       Lord Valve     
  30. 98/09/17 020 Re: self monitoring vari#2/2 alt.guitar.amps       Lord Valve     
  31. 98/09/16 020 Re: Variac                   alt.guitar.amps       Chip of Known S
  32. 98/09/16 020 Re: The MAXI-MATCHER...a rev alt.guitar.amps       Lord Valve     
  33. 98/09/16 020 self monitoring variac..     alt.guitar.amps       Dave Slagle    
  34. 98/09/15 020 Re: The MAXI-MATCHER...a rev alt.guitar.amps       dave slagle    
  35. 98/09/10 020 Re: Variac                   alt.guitar.amps       Dr. Anton Phibe
  36. 98/10/27 019 Re: Amp emulators, speak#1/3 alt.music.4-track     Chris Gieseke  
  37. 98/10/16 019 Re: values of orange caps 71 alt.guitar.amps       tedm           
  38. 98/10/10 019 Re: Eddies guitar makeup in  alt.music.van-halen   Ryan D Sheeler 
  39. 98/10/10 019 Re: "3" Tubes?               alt.guitar.amps       Ben Dover      
  40. 98/09/19 019 Re: The DR STEREO TEST BENCH alt.guitar.amps       A Dougla6      
  41. 98/09/18 019 Re: The DR STEREO TEST BENCH alt.guitar.amps       David P. Greenb
  42. 98/07/27 019 Re: Mains switch as a variac alt.guitar.amps       Punkerdubh     
  43. 98/07/25 019 Re: Mains switch as a variac alt.guitar.amps       stereo         
  44. 98/07/25 019 Re: Mains switch as a variac alt.guitar.amps       Alan Thompson  
  45. 98/07/23 019 Re: Mains switch as a variac alt.guitar.amps       stereo         
  46. 98/07/23 019 Re: Mains switch as a variac alt.guitar.amps       Tonefactor     
  47. 98/07/14 019 Re: Mains switch as a variac alt.guitar.amps       stereo         
  48. 98/07/14 019 Re: Mains switch as a variac alt.guitar.amps       Tonefactor     
  49. 98/07/13 019 Re: Mains switch as a variac alt.guitar.amps       JuArKa97       
  50. 98/07/13 019 Re: Mains switch as a variac alt.guitar.amps       stereo         
  51. 98/07/13 019 Re: Mains switch as a variac alt.guitar.amps       Tonefactor     
  52. 98/07/13 019 Re: Mains switch as a variac alt.guitar.amps       profrets       
  53. 98/07/12 019 Re: Mains switch as a variac alt.guitar.amps       peatea         
  54. 98/07/12 019 Re: Mains switch as a variac alt.guitar.amps       Lord Valve     
  55. 98/10/25 018 Re: Low-watt power-tube devi alt.music.4-track     Michael      
  56. 98/10/19 018 Re: Groove tubes or NOS?     alt.guitar.amps       OR120          
  57. 98/10/12 018 Re: Eddies guitar makeup in  alt.music.van-halen   mike baker     
  58. 98/10/11 018 Re: Eddies guitar makeup in  alt.music.van-halen   Rob            
  59. 98/10/11 018 Re: Eddies guitar makeup in  alt.music.van-halen   Jonathan Krogh 
  60. 98/10/11 018 Re: "3" Tubes?               alt.guitar.amps       Alan           
  61. 98/10/08 018 Re: "3" Tubes?               alt.guitar.amps       Charles Thomas 
  62. 98/09/17 018 Re: The MAXI-MATCHER...a rev alt.guitar.amps       Lord Valve     
  63. 98/09/16 018 Re: The MAXI-MATCHER...a rev alt.guitar.amps       Jamie          
  64. 98/09/16 018 Re: The MAXI-MATCHER...a rev alt.guitar.amps       Sisco.         
  65. 98/09/15 018 Re: The MAXI-MATCHER...a rev alt.guitar.amps       Ned Carlson    
  66. 98/09/11 018 Re: Sovtek Collapse          alt.guitar.amps       Mark or Cyndi V
  67. 98/08/22 018 Re: Super Reverb hum problem alt.guitar.amps       Dr. Stereo     
  68. 98/08/14 018 Re: SneakPeek summary for al alt.guitar.amps       Charles Thomas 
  69. 98/08/14 018 Re: SneakPeek summary for al alt.guitar.amps       DB>)           
  70. 98/07/26 018 Re: Mains switch as a variac alt.guitar.amps       nocturnal10    
  71. 98/07/25 018 Re: Mains switch as a variac alt.guitar.amps       RonSonic       
  72. 98/07/23 018 Re: Mains switch as a variac alt.guitar.amps       stereo         
  73. 98/07/23 018 Re: Mains switch as a variac alt.guitar.amps       stereo         
  74. 98/07/23 018 Re: Mains switch as a variac alt.guitar.amps       Ralph and Diane
  75. 98/07/15 018 Re: Mains switch as a variac alt.guitar.amps       pja105         
  76. 98/07/15 018 Re: Mains switch as a variac alt.guitar.amps       RonSonic       
  77. 98/07/14 018 Re: Mains switch as a variac alt.guitar.amps       stereo         
  78. 98/07/14 018 Re: Mains switch as a variac alt.guitar.amps       stereo         
  79. 98/07/14 018 Re: Mains switch as a variac alt.guitar.amps       Lord Valve     
  80. 98/07/13 018 Re: Mains switch as a variac alt.guitar.amps       JuArKa97       
  81. 98/07/13 018 Re: Mains switch as a variac alt.guitar.amps       pja105         
  82. 98/07/13 018 Re: Mains switch as a variac alt.guitar.amps       RonSonic       
  83. 98/10/10 017 Re: Eddies guitar makeup in  alt.music.van-halen   Rob            
  84. 98/10/09 017 Re: '73 Deluxe Rev bias      alt.guitar.amps       M P Gilbert    
  85. 98/09/30 017 Re: Questions about "old" Ma alt.guitar.amps       tesla          
  86. 98/09/26 017 Re: Questions about "old" Ma alt.guitar.amps       Ritualee       
  87. 98/09/25 017 Questions about "old" Marsha alt.guitar.amps       Stephen Seals  
  88. 98/09/24 017 Re: Music Man 112 - Opinoins alt.guitar.amps       Punkerdubh     
  89. 98/09/24 017 Re: Music Man 112 - Opinoins alt.guitar.amps       Richard Godon  
  90. 98/09/24 017 Re: Music Man 112 - Opinoins alt.guitar.amps       Dave Moore     
  91. 98/09/15 017 Re: The MAXI-MATCHER...a rev alt.guitar.amps       Lord Valve     
  92. 98/09/12 017 The MAXI-MATCHER...a rev#1/3 alt.guitar.amps       Lord Valve     
  93. 98/09/12 017 Re: The MAXI-MATCHER...a#1/3 alt.guitar.amps       KCA NOS Tubes  
  94. 98/09/12 017 Re: The MAXI-MATCHER...a rev alt.guitar.amps       TubeGuy        
  95. 98/09/12 017 Re: The MAXI-MATCHER...a#1/3 alt.guitar.amps       ark            
  96. 98/09/07 017 Re: EVH's Equipment on the L alt.guitar.amps       Ryan D Sheeler 
  97. 98/09/01 017 Re: JCM2000 DSL vs vintage p alt.guitar.amps       Steve          
  98. 98/07/13 017 Re: Mains switch as a variac alt.guitar.amps       stereo         
  99. 98/07/13 017 Re: Mains switch as a variac alt.guitar.amps       profrets       
 100. 98/07/12 017 Re: Get Edward Van Halen's A alt.guitar.amps       Ben Decho      

---
Amptone.com ultra gear-search page
---
Home (amp tone, fx placement, quiet cranked-amp tone)