Home (amp tone and effects placement)
---
Torres: Tiny Tone 1 1/2 watt tube amp
New Torres 1.5 watt tube amps (kit or pre-made) (external link)
>The present design project -- the "Tiny Tone" amp -- has been covered in Vintage Guitar for the last three months (approx jun/jul/aug 1999). Completed amp heads and combos will be available from us in about 2 or 3 weeks (mid to late Sep 99). It is a 1 to 2 watt complete tube amp, preamp and poweramp and could easily be used with a load resistor or many other systems as an effect. Check our web page for prices and availability. We have dozens of orders even prior to my completing the pricing of the items.
>The "Tiny Tone" amps are on our web page right now. Orders are being taken, and we are in the process of designing more and more circuits. The general demand is for more features, and that will be our focus. Check it out.
Rock on,
Dan Torres
Torres Engineering
Tiny Tone page and samples at ToneFrenzy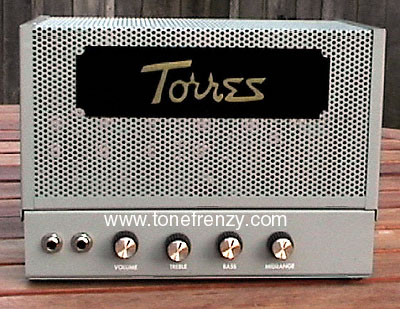 Torres 1 1/2 watt Tiny Tone tube amp
An all tube, pure class A 1.5 watt amp. Available as a kit or prebuilt. Get the full cranked up tone of a tube amp at very low volumes. It sounds gigantic at very low power. A real amp, no tricks with a preamp tube, or any solid state. Many additional features are planned.
Tweed-circuit kit (all parts)
$460 list. $304 direct, including shipping.
Complete Torres Designed Tiny Tone kit to make an amp head with a Tweed Fender Deluxe type circuit. Single ended, all Class A, cathode bias - multiple output impedances available.
Kit includes transformers, circuit board,caps, resistors, fuse, on-off switches, standby switch tubes, tube sockets. All parts for circuit, AC cord, instructions (illustrated) - everything including the caged-type chassis.
The amp kit is $269.95 plus $35.05 extra amp shipping
---
Tweed-circuit head, prebuilt
$650 list. $465 direct.

Complete 1 watt tube head with tweed circuit, (volume and tone controls)

Single Ended, Class A, cathode biased, all tube, hand wired point to point, the best parts, transformers, tubes (NOS power tube)- choice of output impedance, killer tone. One of the most desired items on the market today. One year Warranty on completed amps.

You can crank it to 10 and talk over it, yet have the full tone of giant amp turned all the way up. Caged chassis. assembled by Torres Engineering 1 year warranty.

Amp is $439.95 Plus $35.05 extra shipping for amps
---
Deluxe-circuit head, prebuilt
$800 list. $530 direct.

1.5 watt Single Ended, all Class A.

2 x 12AX7 1 x 6005 power tube, COMPLETE MARSHALL PLEXI preamp circuit!

Caged Chassis, all hand made.

Multiple output impedances available (optional) and a complete new line out/load resistor assembly installed.

This line out/load resistor circuit has a switch that turns off the speaker and connects a load resistor, plus activates the adjustable line out circuit.

This way, the Tiny Tone amp can be used as a EFFECT! A tube overdrive or preamp to run a power amp, into the recording board, or any of many, many tricks you can think of.

Amp is $495.00 plus $35.05 extra amp shipping
---
Amptone.com ultra gear-search page
---
Remarq.com newsgroup postings about "tiny tone"
---
Home (amp tone and effects placement)