Home (amp tone and effects placement)
---
Trainwreck - Mark II Airbrake Power Attenuator
aka
Dr. Z - Z Air Brake
<![if !supportEmptyParas]> <![endif]>
Z Air Brake - Jan 2003, Dr. Z takes over manufacturer of Ken Fischer Trainwreck Airbrake.
<![if !supportEmptyParas]> <![endif]>
"The Z Air Brake has two major applications. One is for stage use, the other is for studio or home use. For stage use, the Z Air Brake is a useful tool to limit your overall dB level at any time during a performance. Example: the beginning of the night (when the club isn't full) click the Air Brake to a level of attenuation to allow for smooth tone at a lower volume level. As the night progresses, reach back and remove degrees of attenuation unil the desired level is reached. This will allow you to manage your amp's overall volume without varying from your amp's favorite settings. At home, the Air Brake is useful for lower volume while still allowing for full output tube distortion. The Air Brake has a "bedroom" level control that, when selected, will allow for fine adjustment and maximum attenuation down to 1 watt (with amps less than 100 watts.) ... I have released my own Licensed copy of the original Trainwreck Airbrake. A wonderful transparent attenuator, the Airbrake is a useful tool for a working musician as well as a player needing to lower overall dB level and still maintain rich output tube distortion. The Z-airbrake will have finer levels of attenuation, 1.8 dB per step, which will allow for better adjustment. It will work with any speaker load, and will have a "Bedroom Level" adjustable rheostat for extreme attenuation needs. Also an internal slider adjustment can be made by the end user to fine tune to his amp/speaker setup. Look for them in stores by Christmas [2002]."
<![if !supportEmptyParas]> <![endif]>
Kendrick page: Trainwreck Mark II Airbrake Power Attenuator - excerpts: Would you like to crank your amp to the point of power tube distortion, but can't because the sound police are standing outside your door with a decibel meter? Is the ringing in your ears not going away? Is your amp just too damn loud? then you need an Airbrake Mark II power attenuator. Features a true bypass, four fixed levels of attenuation, a variable attenuation control, slave output, and slave trim control. $369.
kendrick at inetport.com
The Airbrake II is now being advertised. It is designed by Fischer, manufactored by Kendrick.
>it works better than most attenuators and is cool for practicing, but there's still is no substitution for playing loud.
Komet/Trainwreck airbrake with variable attenuation control [I don't think the Kendrick Power Glide or Trainwreck have the variable control] - 300.00 - AirBrake - Similar to the allessandro Muzzle but specially voiced for the Komet. In addition to the 5 step attenuator which brings the Komet to the level of a Deluxe reverb, it also has a variable control to bring it down to bedroom/practice room levels.
Alessandro Muzzle power attenuator, Alessandro dummy load at Alle. site
Alessandro Muzzle power attenuator at Chapin Guitars. $300 list, $225.00 sale. A Trainwreck Airbrake marketed under the Alessandro name. "Better than the THD Hot Plate. Hand made. The Muzzle/Airbrake circuit is the best I've heard so far."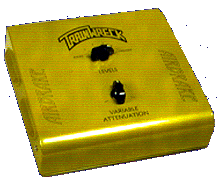 ---
Messages 1-53 of exactly 53 matches for search "airbrake":
<![if !supportEmptyParas]> <![endif]>
        

Date

   

Scr

        

Subject

                     

Newsgroup

           

Author
<![if !supportEmptyParas]> <![endif]>
   

1. 98/10/28 024 Re: Amp emulators, speaker s alt.guitar.amps

      

 

UB2BAD4ME

      
   

2. 98/05/06 021 Re: Trainwreck Airbrake

     

 

alt.guitar.amps

      

 

John Mastrangel
   

3. 98/05/05 021 Re: Trainwreck Airbrake

     

 

alt.guitar.amps

      

 

Frank45ACP

     
   

4. 98/05/02 021 Trainwreck Airbrake

         

 

alt.guitar.amps

      

 

UB2BAD4ME

      
   

5. 98/07/02 020 WTB: Kendrick Trainwreck Mar alt.guitar.amps

      

 

Rasta Man

      
   

6. 98/07/02 020 Re: WTB: Kendrick Trainwreck alt.guitar.amps

      

 

Punkerdubh

     
   

7. 98/06/14 020 WTB: Kendrick Trainwreck Mar alt.guitar

           

 

Rasta Man

    

  
   

8. 98/08/27 019 Just Bought a 64 Bassman, Kn alt.guitar.amps

      

 

steve

          
   

9. 98/06/11 019 Hound Dog?

                  

 

alt.guitar.amps

      

 

WESTDM

         
  

10. 98/06/12 018 Re: Hound Dog?

    

          

 

alt.guitar.amps

      

 

NOSPAMprana

    
  

11. 98/01/12 018 The Answer is...

            

 

alt.guitar.amps

      

 

Dan Carlson

    
  

12. 97/09/06 018 F.S. Trainwreck Airbrake II 

 

alt.guitar

           

 

Carlginger

     
  

13. 97/09/06 018 F.S. Trainwreck Airbrake II 

 

alt.guitar.amps

      

 

Carlginger

     
  

14. 97/08/17 018 F.S. Trainwreck Airbrake II 

 

alt.guitar.amps

      

 

Carlginger

     
  

15. 97/08/17 018 F.S. Trainwreck Airbrake II 

 

alt.guitar

           

 

Carlginger

     
  

16. 97/05/16 018 Re: Trainwreck Airbrake

     

 

alt.guitar.amps

      

 

slydog

         
  

17. 97/05/15 018 Re: Trainwreck Airbrake

     

 

alt.guitar.amps

      

 

Dennis A Savage
  

18. 97/05/15 018 Re: Trainwreck Airbrake

     

 

alt.guitar.amps

      

 

Carl Fiadino

   
  

19. 97/05/14 018 Trainwreck Airbrake

         

 

alt.guitar.amps

      

 

slydog

         
  

20. 97/04/24 018 FS : Trainwreck Airbrake - $ alt.guitar.amps

      

 

Dennis Savage

  
  

21. 97/04/23 018 Re: FS : Trainwreck Airbrake alt.guitar.amps

      

 

Steve

          
  

22. 98/08/29 017 Re: Just Bought a 64 Bassman alt.guitar.amps

      

 

Levine

         
  

23. 98/02/21 017 Trainwreck/Kendrick Climax C alt.guitar.amps

      

 

Zemaitis_Man

   
  

24. 98/08/12 016 Re: Amp 'brakes' - opinions? alt.guitar

           

 

Con

            
  

25. 98/04/04 016 Re: thd hot plate...

    

#1/4 alt.guitar.amps

      

 

Steve

          
  

26. 98/01/03 016 Re: Marshall Super Lead Ques alt.guitar.amps

   

   

 

Carlginger

     
  

27. 97/09/16 016 Opinions wanted: Power atten alt.guitar.amps

      

 

Brian McElrath 
  

28. 97/08/09 016 Re: 1959 SLP Plexi Re-Issue? alt.guitar.amps

      

 

Steve

          
  

29. 97/03/25 016 Re: Trainwreck Air Brake ?

  

 

alt.guitar.amps

      

 

Andrew McWhirte
  

30. 98/01/02 015 Re: Marshall Super Lead Ques alt.guitar.amps

      

 

Rich Koerner

   
  

31. 97/12/20 015 Re: Making Bassman quieter

  

 

alt.guitar

           

 

T. Dave

        
  

32. 97/12/19 015 Re: Making Bassman quieter

  

 

alt.guitar

           

 

John Kelley Bro
  

33. 97/08/09 015 Re: 1959 SLP Plexi Re-Issue? alt.guitar.amps

      

 

Carlginger

     
  

34. 97/08/09 015 Re: 1959 SLP Plexi Re-Issue? alt.guitar.amps

      

 

John Kelley Bro
  

35. 97/07/22 015 Re: "harness "by allan holds alt.guitar.amps

      

 

Steve

          
  

36. 97/06/07 015 Kendrick / Trainwreck

       

 

alt.guitar.amps

      

 

TONEmender

     
  

37. 97/03/25 015 Re: Trainwreck Air Brake ?

  

 

alt.guitar.amps

      

 

Greg Siegel

    
  

38. 97/03/24 015 Re: Trainwreck Air Brake ?

  

 

alt.guitar.amps

      

 

Greg Siegel

    
  

39. 98/01/03 014 Re: Marshall Super Lead Ques alt.guitar.amps

      

 

TimTube

        
  

40. 98/01/03 014 Re: Marshall Super Lead Ques alt.guitar.amps

      

 

Peter

          
  

41. 98/01/02 014 Re: Marshall Super Lead Ques alt.guitar.amps

      

 

Peter

          
  

42. 97/10/08 014 Re: Got Van Halen Sound

     

 

alt.guitar.amps

      

 

Carlginger

     
  

43. 97/09/12 014 Re: Pre vs Power stage dirt 

 

alt.guitar

           

 

Carlginger

     
  

44. 97/08/17 014 Re: Help me with tube distor alt.guitar

           

 

Crunchy Wheats 
  

45. 97/07/22 014 Summer '97 NAMM Review (#6/1 alt.guitar.amps

      

 

Ken Brakebill

  
  

46. 96/10/06 014 Re: silent speakers

         

 

alt.guitar

           

 

Jack A. Zucker 
  

47. 96/10/04 014 Re: silent speakers

         

 

alt.guitar

           

 

Nick Schepis

   
  

48. 96/10/03 014 Re: silent speakers

         

 

alt.guitar

           

 

Jack A. Zucker 
  

49. 96/09/27 014 Re: silent speakers

         

 

alt.guitar

           

 

Giri Iyengar

   
  

50. 96/08/16 014 Re: THD Attenuator?

         

 

alt.guitar.amps

      

 

StratoBill

     
  

51. 97/09/16 013 Re: Opinions wanted: Pow#1/3 alt.guitar.amps

      

 

Steve

          
  

52. 97/04/08 013 Re: ATTENUATORS/LOADS

       

 

alt.guitar.amps

      

 

Steve

          
  

53. 97/01/30 013 Re: Power soak question

     

 

alt.guitar.amps

      

 

Gino C. Iorfida
---
Amptone.com ultra gear-search page
---
Home (amp tone and effects placement)
<![if !supportEmptyParas]> <![endif]>