Home (amp tone and effects placement)
---
Whirlwind Mic Eliminator with speaker/mic simulation filter, $100
Bright/dark switch, ground lift switch, amp/inst switch. Check ad inside front cover of Guitar World's Guitar and Bass Buyer's Guide, 1998/99.
From the email literature:
Delivers the combined mic/speaker sound of a live, miked guitar speaker -- direct from your guitar, preamp, or speaker output, without using a microphone. The two tone-color settings reflect the most common optimized mic seutps and deliver a clean, full sound that doesn't fall apart on distorted chords. The high impedance, ultra-low-noise preamp preserves the upper harmonics of high-output passive pickups.

Closely models the classic sound obtained with a professionally mic'd 12" guitar speaker. It is ideal on stage as a replacement for the standard mic and stand in front of an amp, or in the studio where it can be used at the amp output or to feed a signal directly from the instrument or preamp to the recording console.

Carefully researched to fit into standard live sound and recording practice. The Brite/Dark switch gives a choice between the bright, punchy sound of a mic directly in front of the speaker's center, and the warmer, rounder sound achieved by placing the mic off-axis at the speaker's edge. Accurately reproducing these tonal colorings required a design incorporating 24dB per octave rolloffs at some frequencies and high-Q filters at others - a combination difficult to achieve with typical console EQs, but now built into each Mic Eliminator.

Ultra-low-noise, high-impedance input circuit allows passive guitar pickups to produce the clean, harmonically rich sound that is often degraded by traditional processor and speaker emulator designs.

In addition to feeding the Mic Eliminator from an instrument or preamp, many users will connect it directly to the output of their amp. (Tube amps typically require loading by speakers or a power resistor to operate safely. Use the Mic Eliminator in addition to this load.) The Inst/Amp switch inserts a pad at the input to prevent overload in this mode.

Ideal for driving long lines to the console. Its low impedance output is balanced and isolated, and features a ground lift switch to correct ground loops.

Can be powered directly from the console's 48V phantom power system or from a standard, easily replaceable internal 9V battery.

Input jack: 1/4". Output: XLR balanced.

1.7" tall, 5" wide, 3.6" deep. (4.4 x 12.7 x 9.2 cm)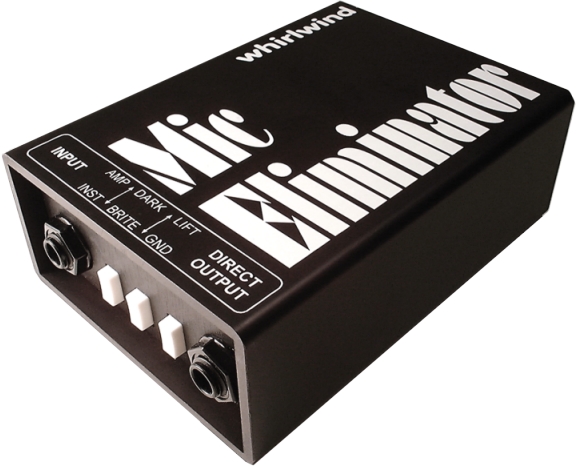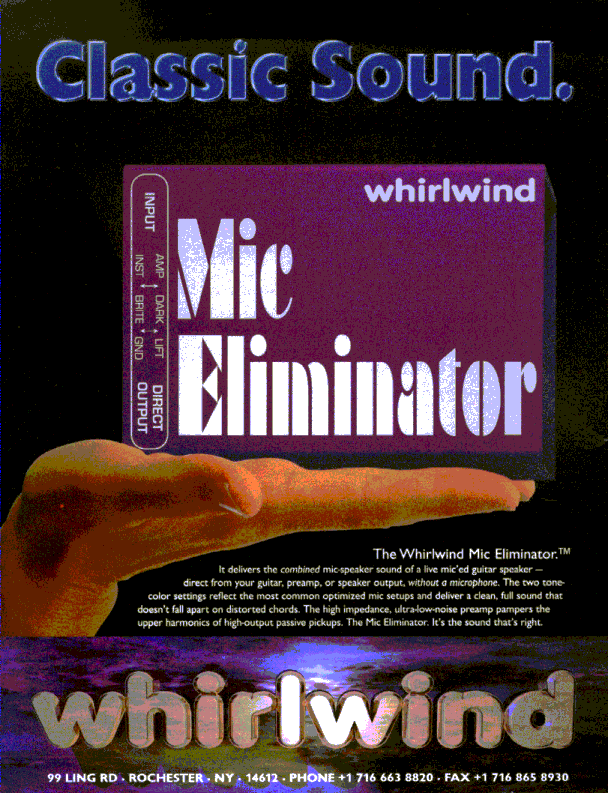 Additional specs, in 280 kB gif file
Whirlwind direct boxes official product page
To: Michael From: Al Keltz
Re: Need info about Mic Eliminator w/ speaker simulator
Mon, 14 Dec 1998

We are preparing a new catalog now and the web site is waiting for the new graphics and information. I have attached some information on the MicEliminator. It has a suggested retail list of $99.95 and is available from any Whirlwind dealer.
Please call, fax or e-mail if you have any questions or need additional information.
Al Keltz
Whirlwind Technical Support
http://www.whirlwindusa.com
sales at whirlwindusa.com
(888) 733-4396 Ext. 140 (Toll free)
(716) 865-8930 (Fax)
---
Harmony Central user comments?
DejaNews query: "mic eliminator" or "mike eliminator"
DejaNews query: "direct box" and whirlwind
[to do: verify queries]
---
Amptone.com ultra gear-search page
---
Home (amp tone and effects placement)