Home (amp tone and effects placement)
---
Zoom - 505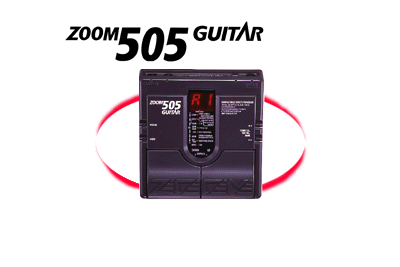 Official 505 (general distortion preamp/ fx processor) page at Zoom
Official 510 (distortion preamp) page at Zoom
---
The 503 is dedicated to amp simulation. The Zoom 505 Guitar MultiFX pedal ($150 list, $120 street) and 510 Dual Power Drive distortion/overdrive pedal both claim to have an "amp simulator", presumably more limited than the 503. The other, similarly shaped units do not claim to have an amp simulator feature: 504, 507, 508, and 509, and 506.
From the point of view of combining amp tone with effects while preserving clarity of amp tone, you would hypothetically do:
510 Dual Power Driver for distortion/overdrive
503 Amp Simulator
505 Guitar MultiFX

You would *not* do it the way multiFX are usually marketed, which would be this mis-guided chain:
510 Dual Power Driver for distortion/overdrive
505 Guitar MultiFX
503 Amp Simulator

That would put echo before power-amp saturation, confusing the "power amp" (503) with an overly complex signal to be saturated. The one limitation of my proposal is that you really only want time effects after the amp; there are certain effects that can also go very well before any distortion/saturation stage, especially EQ-related fx such as phase-shift and vibe.
A better packaging approach would be some form like preamp, amp sim, and post-amp units. The preamp would have phaser and wah and eq, with no time effects; the post-amp would have eq and phaser but also, especially, time-effects (echo, reverb, chorus, flanging, modulated delay, multitracking (multiple loud delayed signals without pitch shift or repeat), smart harmonizer.
The Zoom 3030 Guitar Processor/Preamp claims 3 types of amp simulation. $310 list, $250 Mus Friend.
The Zoom Super Player 8080 preamp processor claims built-in amp simulator. $800 list, $566 Mus. Friend.
---
505 Multifx processor ad, Guitar Shop page 0, Oct 1996: (this is a multifx-oriented unit. 503 is amp sim oriented, 510 is distortion/overdrive preamp oriented.) 24 user-program mem locations. Stereo line out/headph out with master level control. Rev, del, chor, flan, pitch sh, doubler, compressor, lim, autowah (env filt) 4-band eq (graphic?) , 8 distortions, amp simulator. 9v or optional adapter. 2 pedals: up/down program access, and bypass. 24 fx, 9 simult. Input for FP01 expression pedal for 2-oct pedal pitch bend (dig. wham), ped wah and vol ctrl. Acoustic guitar effect. Auto-chromatic tuner. Easy key-touch programming. Digital procesor for CD quality sound. $139 list.
---
Amptone.com ultra gear-search page
---
Home (amp tone and effects placement)