Home (amp tone and effects placement)
---
Yamaha DG-100, DG-80, DG-60

DG-60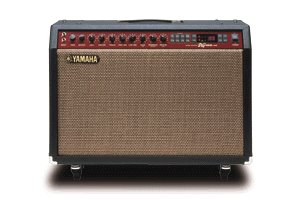 DG-100 212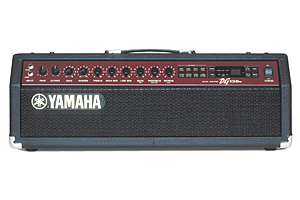 DG-130 HD


DG-130 HD
Free upgrade - Version 2.0 Software that you can download specifically designed to add tremolo, chorus, 80 new patches and MIDI effects control. ... For the separate head unit, the DG130H provides 130 watts of power that can be matched with the S412V cabinet.
Related to:
Yamaha: DG-1000 amp-modelling preamp/processor
official page for DG series
DG130H Digital Guitar Amp Head

DG60-112 60-Watt Digital Guitar Amp
DG80-112 80-Watt Digital Guitar Amp
DG80-210 80-Watt Digital Guitar Amp
DG100-212 100-Watt Digital Guitar Amp

The Yamaha DG100 2x12 combo modelling amp uses the same circuitry as the DG-1000 processor. The "amp modelling" claim seems uncertain. "Amp Select (Lead1, Lead2, Drive1, Drive2, Crunch1, Crunch2, Clean1, Clean2)". Display Controllers: Amp Select display LED x 8, Mode display LED x 3, 7-segment LED x 2-place.
Thus the "amps" that are modelled are called:
Clean1
Clean2
Crunch1
Crunch2
Drive1
Drive2
Lead1
Lead2
Which classic amps are these intended to be, exactly? Does the manual spell it out? This is a little far from the "dial-an-amp" user interface of Line 6, but is more explicit if you don't know what a Soldano or Boogie or Dual Rectifier sounds like or is used for.
Guitar Player review (local mirror saved) - Digital Dynasty: Five New Generation Modeling Amps. By Art Thompson. From Guitar Player, Dec. '99. Five digital amps. The Rocktron RepliTone and Yamaha DG80-112 receive Editors' Pick Awards.
Crate: DX-212 ($880)
Johnson: JT50 ($649)
Line 6: Spider 112 ($599)
Rocktron: RepliTone ($899)
Yamaha: DG80-112 ($999)
Official product page - excerpts:
Product Information for model: DG100-212. Description: DG Series Digital Guitar Amplifier. Rich Tube Tone from Digital Technology

Capturing the essence of tube tone with its Electric Circuit Modeling technology, provides artists with a truly flexible tonal palette from which to create rich soundscapes. Enhanced with onboard digital effects, generous high-quality power amp, Celestion speakers, and a rugged chassis complete with large caster wheels. User friendly interface provides an instinctively familiar approach to sound creation. Up-to-date technology and classic tone, the best of both worlds rolled into one.

Eight Preset Amp Types - Whether you play Rock, Jazz or Blues, the DG100-212's eight preset amp types provide you with the flexibility to create the tone you need.

Memory and MIDI - A total of 128 memory allocations are available for storing sound and control settings. Settings can be recalled from the front panel or with a foot controller via MIDI.

Tone Controls and Motor Driven Knobs - Yes it's digital, but it has knobs and they function like they should. Motor drives place them in their proper positions when a setting is recalled. Instinctively familiar operation, what could be more easy?

Speaker Simulator - Add the "live" characteristics of a speaker to the line out signal.

Flexibility - Match the DG-1000's sound capabilities with components of your liking for a truly personalized sound.

Digital Effects - Hall and plate reverb effects are standard digital fare but, the DG100-212 also features simulated spring reverb and tape echo effects for true vitage sound.

Celestion Speakers - Celestion "Vintage 30" speakers are utilized for the utmost in classic tone reproduction.
user comments at Harmony Central
Yamaha product announcements at Harmony Central - Find "dg"
---
Amptone.com ultra gear-search page
---
Home (amp tone and effects placement)